Kindai University, Kobe food company team up to make gluten-free vegan ramen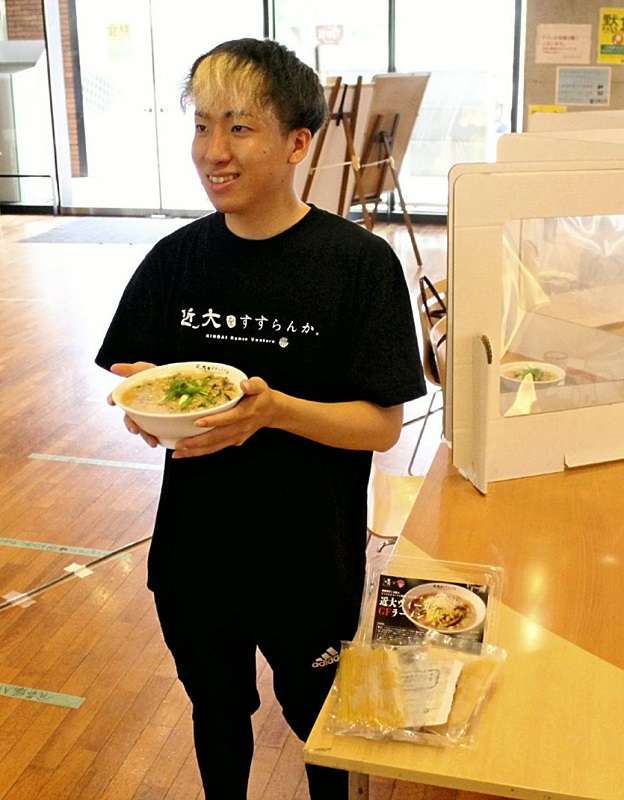 16:03 JST, July 26, 2022
HIGASHI-OSAKA, Osaka — Students at Kindai University in Osaka Prefecture joined up with Kobe-based Kenmin Foods Co. to create frozen gluten-free vegan ramen noodles. The ramen was on sale for a limited time online.
The collaboration was kickstarted through the efforts of Kenmin Foods and Masuo Onishi, 46, a graduate of the university who runs a ramen restaurant in Boston. In the United States, many people follow a gluten-free diet, which involves avoiding foods that contain wheat. Onishi consulted with Kenmin Foods President Yuki Takamura, 39, and the two developed noodles made from rice flour.
Onishi also serves as an advisor for a start-up support project at his alma mater. Anticipating that the demand for gluten-free products would increase in Japan as well, Onishi proposed to Natsuki Nishi, a senior at the university's Faculty of Agriculture, and other students the development of a gluten-free noodle recipe at the ramen shop that the students have run on campus since October of last year.
Nishi has participated in the project along with several students who applied for the project as campus interns. They decided to set their goal on developing vegan ramen, which meant using no animal-based ingredients. The stock is made from shiitake mushrooms, kelp and soybeans, instead of typically used chicken or pork bones, and is flavored with soy milk and soy sauce. The toppings are also plant-based.
The flavor was determined at a food tasting event in February that Onishi and Takamura attended. After repeated fine-tuning for commercialization, the frozen ramen "Kindai Vegan GF Ramen" was completed. From June 15, a limited amount of 50 sets, each with two servings, were available for ¥2,600 on their online store.
Starting June 20, the campus ramen shop began selling it as well, with 200 sets available. On the same day, a special kick-off event was held at the shop, offering one serving for ¥1,000.
Shuya Tanaka, a senior student at the Faculty of Science and Engineering who cooked the ramen with his friend, said, "The soup is so rich that it's hard to believe that no animal ingredients were used."
"It was difficult to bring out the umami and ramen-like qualities, but I think we were able to overcome the difficulties," Nishi said. "I want to make this product available to the world."
Add TheJapanNews to your Google News feed.