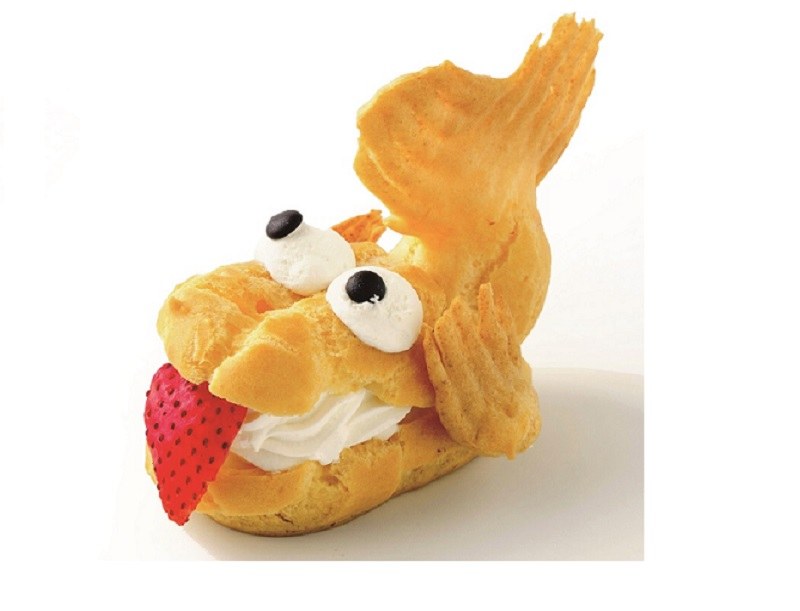 14:11 JST, July 19, 2022
A Nagoya Station specialty sweet has been revived after an 11-year hiatus. Named Shachibon, the cream puff is modeled on the famous Kinshachi golden tiger fish roof ornaments that sit atop Nagoya Castle's main tower keep.
A bakery has resurrected the sweet, and hopes are high that the confection will become the station's new "must have" item.
The Shachibon was first created in 2000 at Cafe Bon Voyage and became a popular dessert item that was available only in Nagoya Station. The cafe's Nagoya Castle parfait was topped with two of the cream puffs.
Renovations to Nagoya Station continued even after the JR Central Towers were completed in 1999, and Shachibon moved from shop to shop before disappearing in February 2011 with the closing of the last cafe that served the sweet.
Shachibon's revival was triggered by Piyorin, another fluffy Nagoya sweet made from Nagoya-Cochin brand eggs. Piyorin suddenly became popular nationwide after shogi sensation Sota Fujii ate one during a match. Piyorin is available at the Nagoya Station concourse.
The snacks Fujii eats during matches have become hot topics of conversation, and people have posted comments on social media saying, "By the way, does anyone remember the sweet called Shachibon, which was available before Piyorin?" or "I want to eat that cream puff again."
JR Tokai Food Service Co., which administers restaurants inside Nagoya Station, worked to revive Shachibon. The recipe was no longer extant, but a pastry chef who used to make Shachibon was found.
Whipped cream fills the tiger fish all the way up to its tail, and a strawberry slice is used for its tongue. The eyes are made from fresh cream and chocolate. Because they are handmade, Shachibon have various facial expressions, which makes the confection more adorable.
"It's been 11 years, but Shachibon returned to Nagoya Station after a long journey," a JR Tokai Food Service spokesperson said. "We hope it becomes a beloved sweet."
The cream puff sells for ¥594 for takeout or ¥605 to eat in at Cafe Danmark at JR Nagoya Station's Hirokoji Exit from 2 p.m. every day.
Add TheJapanNews to your Google News feed.