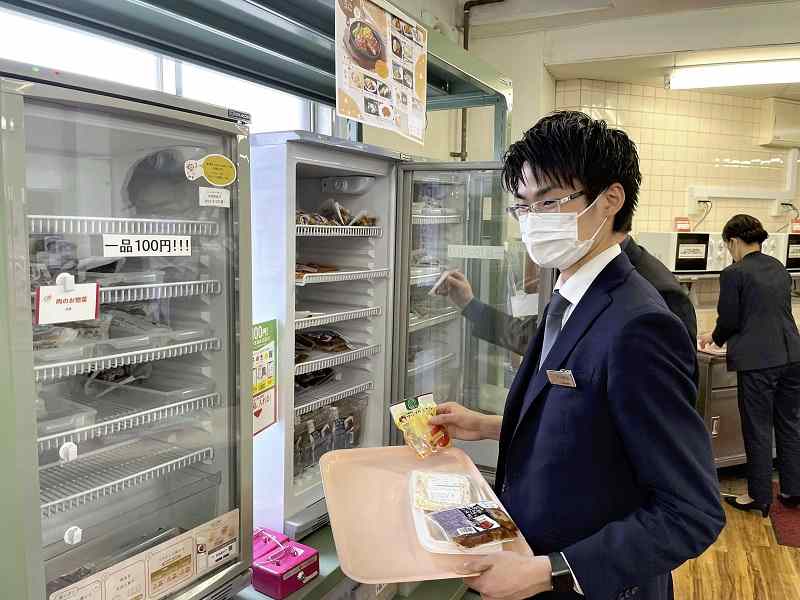 13:24 JST, July 19, 2022
Corporate cafeterias are no longer the only way for companies to offer employees reasonably priced meals. There are now various other approaches, such as services that stock office refrigerators with boxed rice and deli items. Some companies have begun food delivery services for telecommuting employees. As work styles have changed due to the novel coronavirus pandemic, some companies have wasted no time introducing new services as welfare benefits for employees.
Happo-En, a famous wedding hall in Tokyo, used to have a canteen where cooks from a food service company prepared lunch for employees, until it closed down amid the pandemic. In December last year, Happo-En introduced a storage-based corporate meal service developed by Okan Inc. in Tokyo. The service is called Office Okan.
Happo-En set up eight microwaves in the office's dining space. The company's approximately 350 employees choose the food they want to eat from about 20 different offerings, such as curry or coleslaw, kept in refrigerators. They can warm the dishes in a microwave if needed. Each item costs ¥100. Rice and miso soup are available for free from 11 a.m. to 4 p.m. on weekdays and until 6 p.m. on weekends.
In late May, Masahiro Ogawa, who works in the wedding hall operating company's digital transformation promotion section, was having a late lunch of kakuni braised pork and a salad.
"I like that I can choose what I want and adjust the amount to my preference," Ogawa said happily. "It's ready to eat after heating it for just one minute, so I can eat quickly even when I'm very busy."
Happo-En is located in a largely residential area with few restaurants or convenience stores nearby.
"Some of the employees are in charge of wedding banquets in the evening. The storage-based food service benefits employees with different work styles. It also saves on personnel costs as well as the time and effort to run a canteen," said Yoshimasa Hiranuma, who works at Happo-En's welfare benefits section.
Meal at home 'really helps'
Okan also started a corporate meal delivery service in September 2020. It has been contracted mainly by companies with many employees who have started working remotely to provide meals as a welfare benefit for them. Once a month, 10 kinds of vacuum-sealed, long-life deli items are sent to the homes of each remote-working employee in a refrigerated package. The items are produced with the guidance of a managerial dietician who checks the recipes.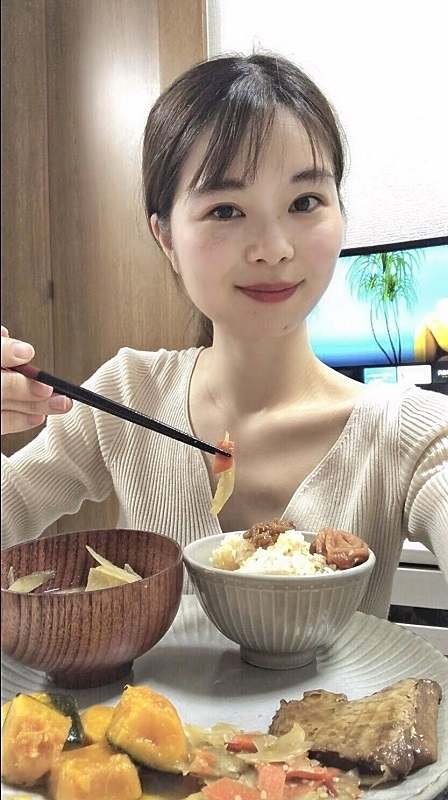 One day in early June, Eri Shimodaira had lunch delivered while working remotely. The meal included simmered mackerel with ginger, braised burdock root and tonjiru pork and vegetable soup.
"All I have to prepare is a bowl of cooked rice, and I can have a well-balanced, nutritious meal. It really helps," she said. The expenses are paid for by her company.
Corporate cafeterias are decreasing in number year by year. According to the Health, Labor and Welfare Ministry, there were 5,212 dining facilities in workplaces in fiscal 2020, which was 221 fewer than the previous fiscal year.
On the other hand, more than 3,500 workplaces have introduced Okan's storage-based service since the company introduced it in 2014, according to the company. Apparently, there are also some noticeable cases of companies that have large corporate cafeterias reviewing what to do with them, because of the rise of remote working.
Remote events 'here to stay'
Food Box is a hit delivery service provided by Nonpi Inc., a Tokyo-based company operating corporate cafeterias. The service caters remote corporate gatherings, delivering a box of drinks and snacks to the home of each participant. According to the company, the number of orders it receives has not dropped even when the pandemic seemed to be subsiding and more and more employees resumed commuting.
"There are many cases in which we deliver the boxes to both commuters and their remote-working colleagues who want to have a good time together," said Ayumi Sato, a publicity section officer of Nonpi. "It seems that remote gatherings are here to stay because there are no time or space restrictions to such parties."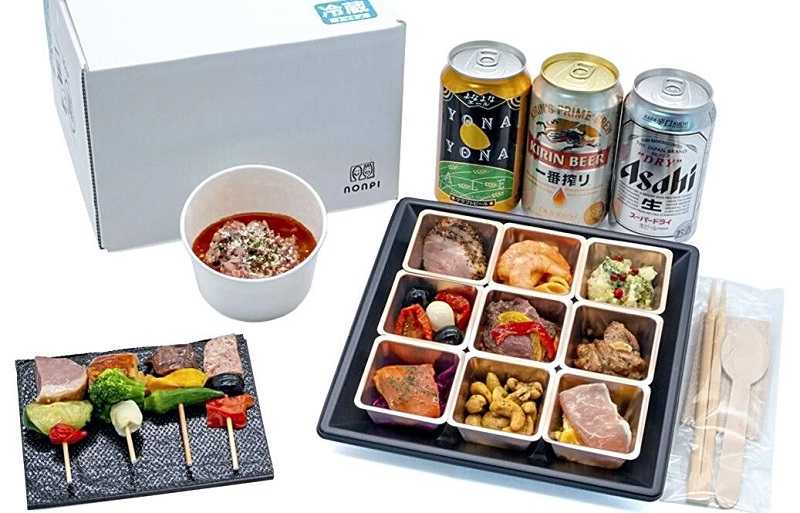 Nonpi started a lunch catering service for companies in March 2020. The service includes delivery to client companies of a lunch du jour prepared by a chef under exclusive contract to Nonpi. As more and more companies have introduced remote working and offices without assigned desks, the service has come to be used by 25 companies hoping to make lunchtime a good opportunity to further encourage casual chats among employees and cross-department communication.
"Corporate welfare benefit programs in the field of food have a direct bearing on the level of employees' satisfaction with their companies," said Teikyo University Prof. Miyuki Tsuyuki, who is well-versed in corporate social responsibility. "For companies, such programs are important policies to secure manpower, so I think these services will become even more diverse."
Add TheJapanNews to your Google News feed.