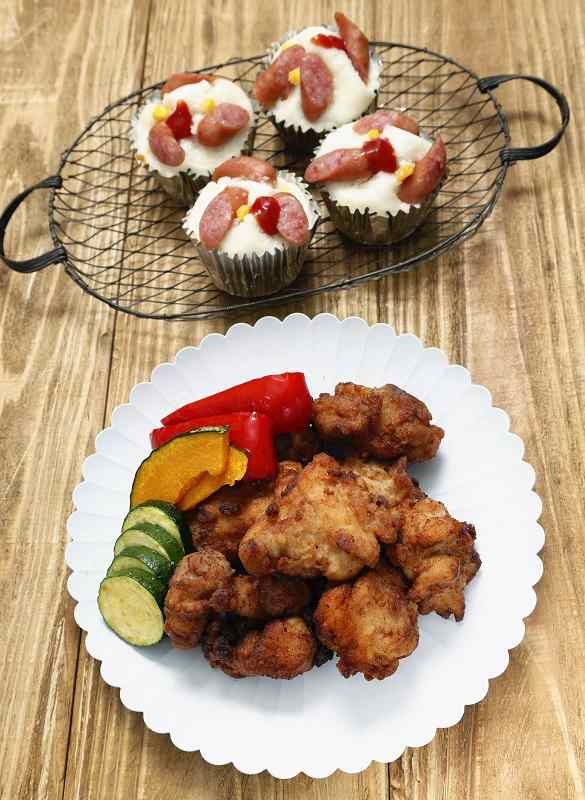 12:00 JST, July 16, 2022
Rice flour has been in the spotlight as of late as the price of wheat flour has risen sharply due to the Russian invasion of Ukraine and other factors. Rice flour can be used like wheat flour even though they have different textures. Here, food coordinator Hiro Takahashi gives some examples and explains how to use rice flour in cooking.
Because of the cost of milling, rice flour is not cheap. Yet the difference between the price of rice and wheat flour has been narrowing recently. Improved milling technology has also made it possible to produce rice flour that is extremely fine, which means it can be used for different purposes. You can now find packets of rice flour labeled "For sweets and cooking," "For bread" and so on.
"It's not only the quality that has improved. Rice flour has become easier to handle," said Takahashi, a rice flour cookery specialist.
First, Takahashi shared a recipe for karaage fried chicken using rice flour. For this recipe, you can use any rice flour regardless of its stated use. Since rice flour does not absorb much oil, it gives karaage a crispy texture even if you use rice flour that is not so fine. Brown rice flour, which is rich in minerals, is an excellent substitute. Adding French-fried seasonal vegetables as a garnish will make the dish nice and colorful.
Fried chicken using rice flour
Ingredients (serves 2):
2 chicken thighs
1 tbsp honey, or mirin rice wine
2 tbsp soy sauce
½ tsp grated garlic
½ tsp grated ginger
50 grams rice flour
Directions:
1. Mix honey, soy sauce, grated garlic and grated ginger.
2. Cut chicken into bite-size pieces, and rub the mixture onto the chicken. Let rest for an hour.
3. Sprinkle rice flour over chicken.
4. Put oil in a frying pan up to a 2 centimeter depth and heat to 170 C.
5. Put the chicken piece by piece into the pan skin side down and shallow-fry for 3 to 4 minutes.
6. When the meat looks golden brown, turn so that both sides are thoroughly fried.
Next, Takahashi recommends steamed rice-flour buns with sausage and corn. Start the preparations by pouring hot water into a frying pan and warm until it is steaming.
The dough rises fairly fast over the heat and can become dry immediately once it becomes firm, so it is better to complete all the steps quickly. Buns with a fluffy texture can be made with a steamer as well.
Sausage and corn steamed buns
Ingredients: (makes 4)
100 grams rice flour
1 tsp baking powder
75 ml milk
20 grams sugar
15 grams cooking oil
4 sausages
50 grams corn
Salt
A little ketchup
Directions:
1. Put flour and baking powder in a plastic bag and shake to mix thoroughly.
2. Put milk, sugar, oil and a pinch of salt into a bowl and beat well.
3. Add the flour mixture and combine quickly with a rubber spatula before adding corn. Unlike wheat flour, rice flour does not clump. So there is no need to sift it or fold in with the spatula.
4. When the dough becomes firm enough to scoop with a spoon, divide it among the baking cups lined with foil.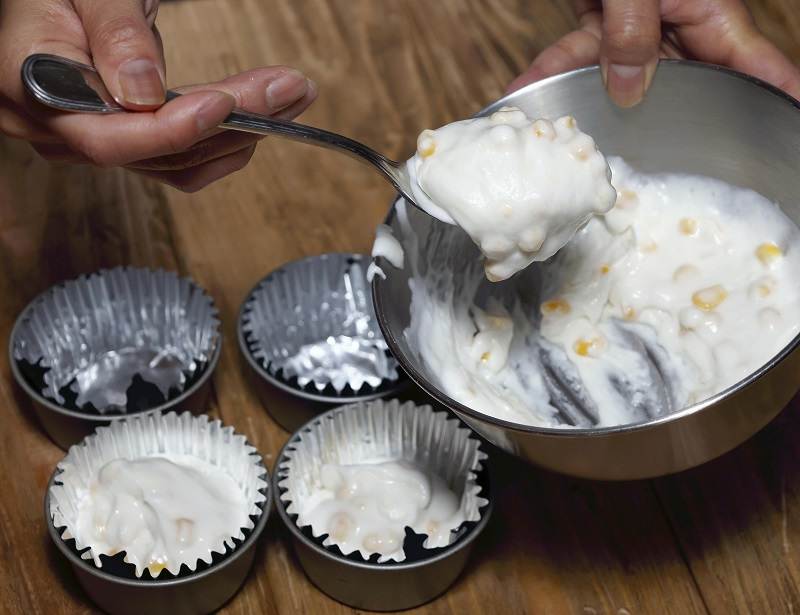 5. Cut the sausages into pieces and top the buns with them.
6. Place the cups in the pan, cover with a lid and steam for about 12 minutes on high heat.
7. Remove from the pan, cool and add ketchup as desired.
And why not mix things up? Use edamame instead of corn, for example. Put raisins inside or use chocolate chips as toppings and the buns become sweets.
Using rice flour will lead to more self-sufficiency in food.
"[Rice flour] can be used for tempura, meuniere and other dishes, too. The amount needed is the same as wheat flour. Give it a go and you'll discover its appeal," Takahashi said.
Add TheJapanNews to your Google News feed.