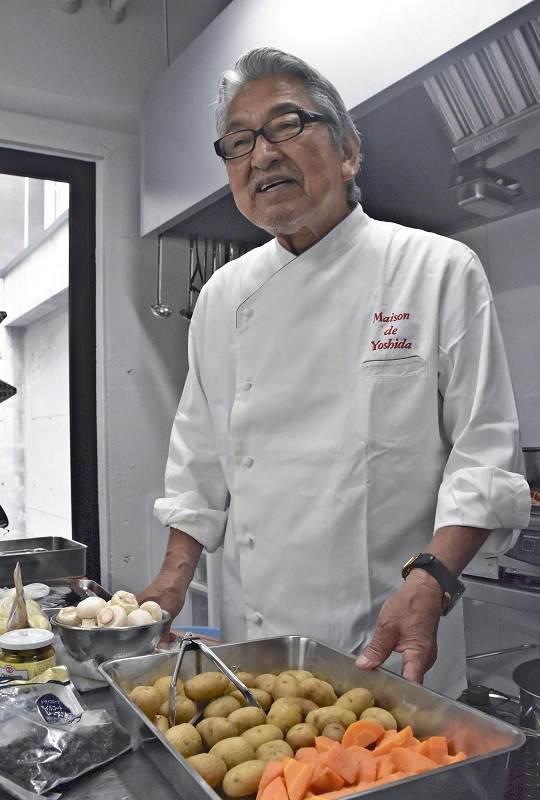 13:45 JST, June 14, 2022
FUKUOKA — A group of chefs from long-established local restaurants in Fukuoka will hold a charity dinner on June 19 where they will serve traditional Ukrainian dishes using ingredients produced in the prefecture. Proceeds from the event will go toward supporting those immediately affected by Russia's invasion of Ukraine.
Hakata Shokubunka no Kai (Hakata food culture association) intends to convey through the event their wish for peace and the message that cooking has no boundaries.
The association was formed in 1989 by chefs from well-established or famous restaurants that specialize in local or international cuisines. Over the years, it has developed new dishes, held food culture exchange events with overseas entities and organized dinner parties with children at orphanages as guests. Also, since 2018, it has held a one-night event in which a full-course dinner made by the chefs is served as part of efforts to make Hakata the "most delicious city in Japan."
The charity dinner was planned by Yasumasa Yoshida, a representative of the group. Yoshida is a French chef and his dishes have attracted celebrities and locals for the past 50 years. He currently operates Maison de yoshida Nakasu, a luxury French restaurant in Nakasu, a popular dining and entertainment area in Fukuoka.
When Yoshida was young, he trained with classmates from Russia and Ukraine at a cooking school in Switzerland. "I felt I had to do something for the people suffering," he said about Russia's continuous attack on Ukraine.
The dinner will feature about 10 chefs from different eateries, including Fujiyoshi, a yakitori restaurant established more than 60 years ago; Sushi Aso Hirao Sanso, a sushi restaurant; and Seikeitsai, a Chinese restaurant.
Yoshida will cook the main dish, chicken Kyiv, or cotelette de volaille, a traditional Ukrainian dish that consists of pounded chicken cutlets stuffed with flavored butter and coated with breading. Chicken produced in Fukuoka Prefecture will be used for the dish.
At the event, students from the Fukuoka City Kawazoe Ballet School, which has connections with ballerinas from Ukraine, will perform Ukrainian folk dances. Professional singers will perform under the theme of world peace.
Though the restaurant industry has been facing difficulties due to the novel coronavirus, Yoshida believes "a chef's mission is to always entertain people and give them peace of mind."
He said, "Each of us can only do small things, but when we work together, we can provide great help."
The charity event will be held at Hotel Okura Fukuoka for about 200 guests. All proceeds from the fee of ¥18,000 per person, excluding the cost of ingredients, will be donated to support Ukraine.
Add TheJapanNews to your Google News feed.