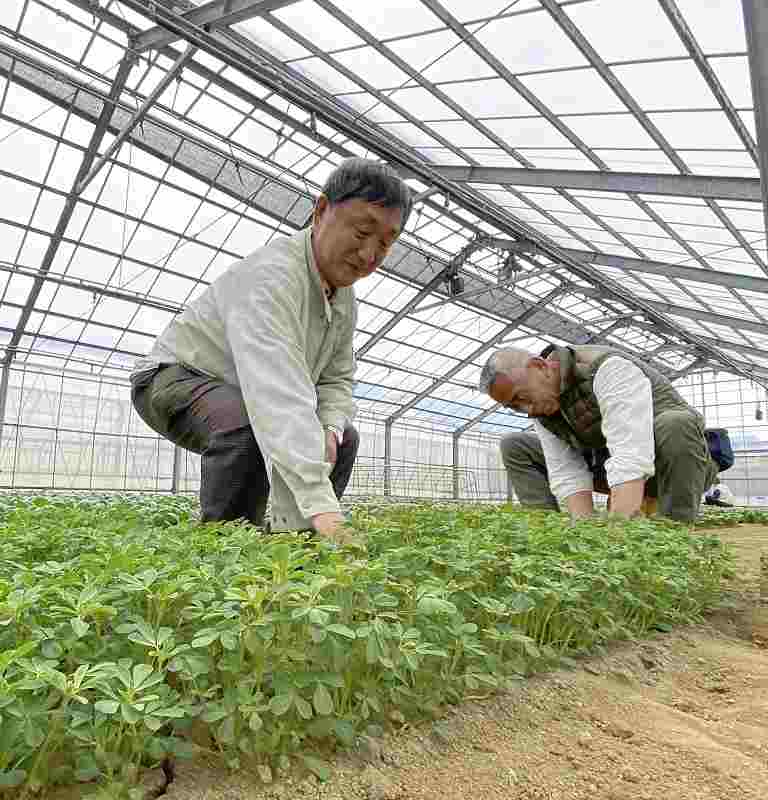 16:06 JST, June 7, 2022
Vegetables not common in Japan are growing in sales in the domestic market, and in one particular community that includes many foreign residents, food items popular in their respective countries are helping cultivate a nostalgic taste of home.
Japanese farmers are doing what it takes to grow imported vegetables to expand their sales channels amid sluggish nationwide vegetable consumption. And while the items are popular among foreign residents, they also serve as a source of mutual exchange through food cultures.
Tokyo's Edogawa Ward is home to more than 5,000 Indians, the largest such population in a municipality in the country. Inside a greenhouse located in a residential area of the ward, leaves of methi, or fenugreek in English, were flourishing in May.
The vegetable is common in India and its surrounding regions as an ingredient and spice in home cooking.
A district called Little India sits in the southern part of the ward. It all started with the Year 2000 problem, a programming quirk that sparked fears of havoc across all computer systems when the calendar rolled over from 1999 to 2000.
Japan took a proactive stance in preparation for possible problems, bringing in Indian engineers specializing in information technology. Those engineers subsequently became rooted in southern Edogawa Ward, then a newly developed residential area near central Tokyo.
Yoshikazu Nakadai is a farmer who for many years has grown komatsuna mustard spinach — a specialty of the ward known as an Edo-Tokyo vegetable. He has begun planting methi, too.
"I was looking for vegetables that could be game-changers in our local community, which includes many Indian residents, so we wouldn't have to depend solely on our existing brand-name vegetables," Nakadai said.
Methi, a legume grown in India and the Middle East, has a crisp texture and a slightly bitter taste. Japan imports dried methi, but its raw form was rarely available here.
Nakadai was encouraged to cultivate it when the Edogawa-Methi Promotion Circle, a group of local residents, approached him with the idea. Hiroshi Kobayashi and other members asked Edogawa Ward farmers to grow the item after Indian residents told them they were eager to have fresh methi.
The circle invited Indians to a tasting party, at which methi produced in the ward was highly praised. One participant said it "tasted better than India-produced methi."
Three farmers in the ward now grow the plant.
A Nepalese who runs a Nepalese Indian restaurant in the ward said she was impressed that she could obtain methi in Japan, adding the vegetable reminded her of her home country.
Aloo methi, a stir-fried dish featuring methi and potatoes, is popular at her restaurant, not only among Indians, but also with Japanese customers, she said.
Jagmohan Chandrani, who chairs the Indian Community of Edogawa, said: "I've gotten to know Japanese people who understand different cultures, and I feel very positive about them."
Some people are said to boast about eating methi in Japan after returning to India.
"The precious lifetime experience like this in a foreign country is something that won't be forgotten," Chandrani said.
According to the Agriculture, Forestry and Fisheries Ministry, annual vegetable consumption per capita in Japan dropped from about 115 kilograms in fiscal 1970 to less than 90 kilograms in fiscal 2020. This is believed to be because of changes in the Japanese diet such as an uptick in meat consumption and the popularity of fast-food restaurants.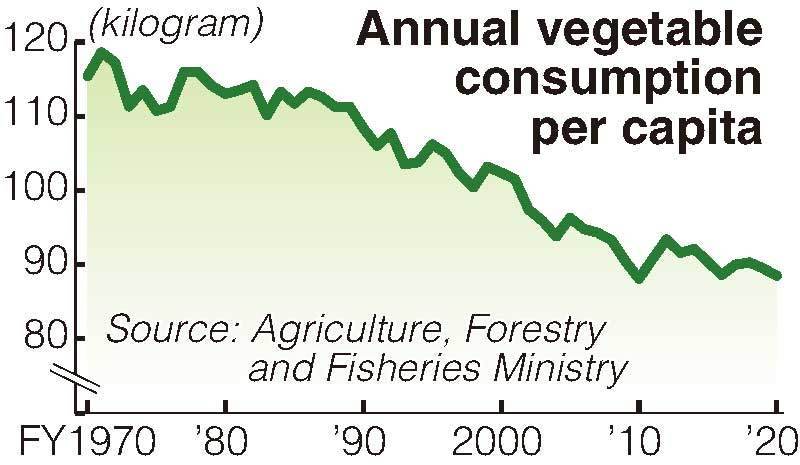 "The market environment for farmers is not secure," said Daigo Saito, a farmer in Toyama. "We have to find a way to survive."
Saito produces Vietnamese vegetables, such as long coriander, and ships much of what he produces to Vietnamese restaurants.
"No one was cultivating them, so I thought I could be the only one," Saito said.
Tokyo University of Agriculture Prof. Hironobu Shiwachi, an expert on foreign vegetables, said an increasing number of consumers seem to enjoy the feeling of traveling abroad at restaurants in Japan amid the coronavirus pandemic.
"There are many authentic spots that produce their own spices, and the demand for foreign vegetables likely will continue to grow," he said.
Add TheJapanNews to your Google News feed.