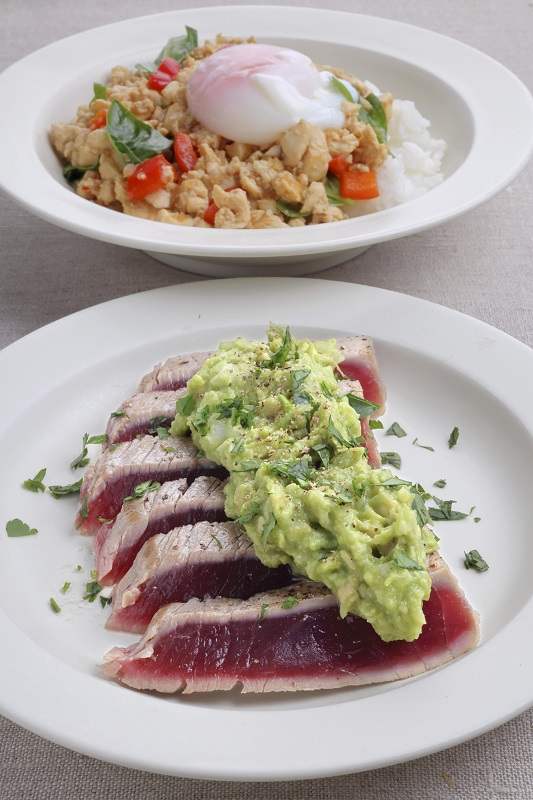 18:04 JST, May 17, 2022
Protein found in meat, seafood and soy products is essential to keep your muscles strong and is therefore highly recommended for elderly people. Cooking expert and nutritionist Rie Ushio shared some tips on how to take in this nutrient by delicious means.
"The pandemic has made many people inactive, so they should try hard to consume protein as it is the source of muscle," said Ushio, who has written a recipe book of high-protein dishes.
One of the two recipes she introduced is a tuna steak with avocado tartar sauce. The lean flesh of tuna contains protein at the same level as beef and chicken, but has less fat.
Ushio cooked the fish in a Western style. Grilled tuna is filling, and its rich aroma is appetizing. Avocados contain healthy fat and are nutritionally balanced, while lemon juice retains the color of the sauce.
Tuna steak with avocado sauce
Ingredients (serves 2):
200 grams lean tuna
1 clove garlic, cut in half
½ avocado
30 grams seasonal onion
2 tsp lemon juice
Salt
2 tsp olive oil
A pinch of coarsely ground pepper
Some Italian parsley
Directions:
1. Remove the avocado seed and peel. Mash it with a fork and mix with minced seasonal onion, lemon juice and two pinches of salt.
2. Sprinkle two pinches of salt and a little bit of pepper over the tuna. Heat the olive oil and garlic pieces in a frying pan over medium heat. When the pan's contents become fragrant, add the tuna to the pan.
3. Grill one side for about 30 seconds, then flip it over and grill for another 30 seconds, or cook it rare to make the dish juicy.
4. Cut the tuna into bite-sized slices and lay them out on a plate. Pour the avocado sauce over the tuna, then sprinkle with coarsely ground pepper and garnish with minced Italian parsley.
Since meat and fish require some energy to digest, tofu is a great way to take in protein when your body is too exhausted to consume meat or fish. Ushio recommends a gapao-style stir-fried tofu over rice. The dish is well seasoned by using nam pla fish sauce.
Ushio uses onsen tamago soft-boiled eggs instead of a fried egg, which is typically used in the gapao dish, to reduce unnecessary fat and keep the ethnic one-plate dish healthy.
Gapao-style fried tofu
Ingredients (serves 2):
300 grams momen hard tofu
½ red bell pepper
¼ onion
1 clove garlic
1 clove ginger
2 tsp sesame oil
1 tbsp oyster sauce
1 tsp nam pla fish sauce
1 tsp soy sauce
1 tsp sugar
8 basil leaves
2 cups steamed rice
2 onsen tamago soft-boiled eggs
Directions:
1. Wrap the momen tofu in paper towels and place a flat plate — which ideally weighs three times the tofu's weight — on top of the tofu as a weight. Let it sit for about 30 minutes to drain. Drain well to prevent a bland flavor. Meanwhile, cut the bell pepper into 1-centimeter-square pieces.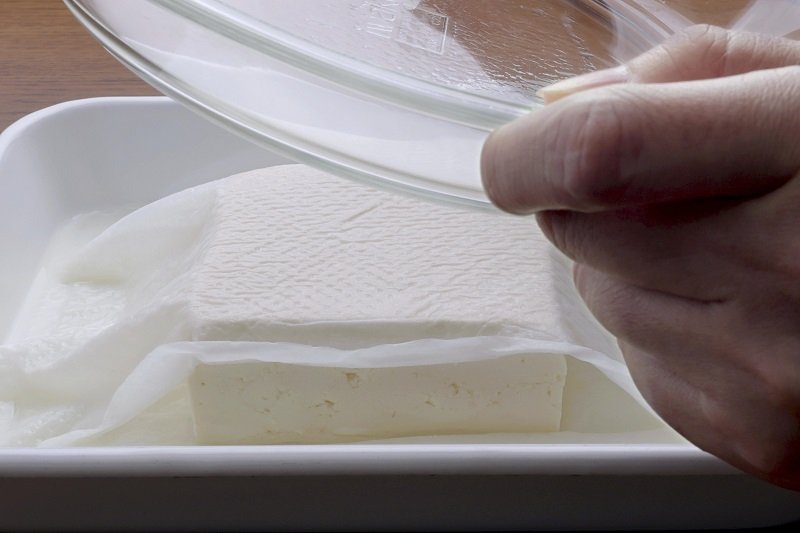 2. Finely chop the onion, garlic and ginger. Stir-fry them in a heated frying pan with sesame oil. When the onion has softened, add the tofu and mix by breaking it up.
3. Mix the oyster sauce, nam pla fish sauce, soy sauce and sugar separately. Then add the mixture to season, and turn off the heat. Add torn basil and mix. You can use red chili pepper to make the dish spicy.
4. Pour the stir-fried tofu over rice in a bowl and top it with an onsen tamago egg.
"A light portion of rice with a palm-sized portion of fish, meat and vegetables, while keeping things low-fat, will be a healthy high-protein meal," Ushio said. "A certain amount of carbohydrates and fat are necessary to stay healthy. Please always be mindful about your nutritional balance."
Add TheJapanNews to your Google News feed.