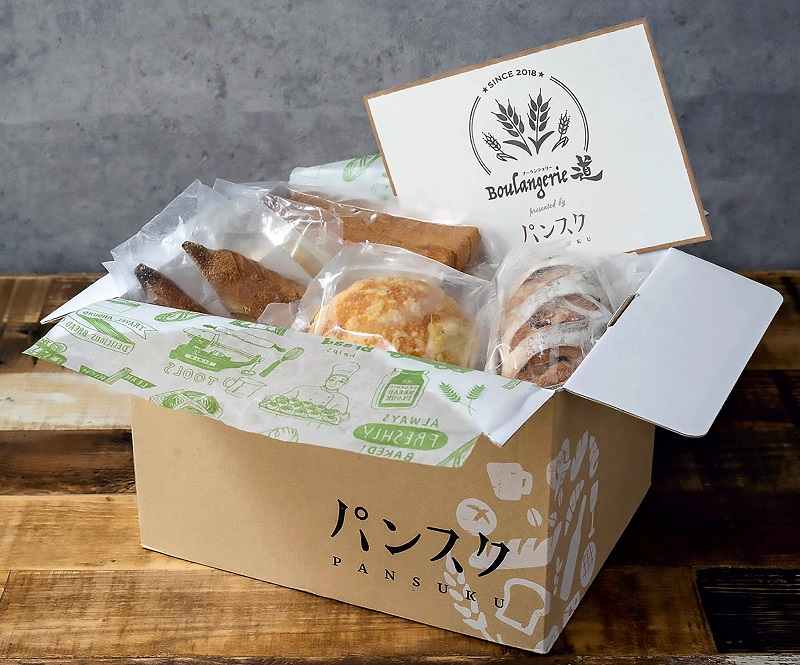 7:00 JST, May 10, 2022
A service to deliver frozen bread from popular bakeries right to your home is the hot new way to eat tasty treats from local establishments. The service is also helping bakeries that are suffering from a decline in sales amid the coronavirus pandemic.
Yuki Sakagami, 47, of Meguro Ward, Tokyo, regularly buys bread from the site Panmusubi, which works with 30 popular bakeries in 18 prefectures.
"I enjoy it because I feel like I'm at the bakery, even though I'm just making my selections online," she said.
She said she enjoys having savory breads as a meal but buys sweet breads as a snack for her son, a fifth-grade elementary school student.
Panmusubi was launched last October by Kaneka Foods Corp., a Tokyo-based subsidiary of chemical maker Kaneka Corp.
A set of eight or 10 breads, which is freshly baked and then stored in a commercial freezer, costs about ¥3,000 on average, excluding the delivery fee. The breads will last about two weeks to a month, and the website has instructions on how to properly thaw the baked goods, among other information.
"It never occurred to me to sell frozen bread," said Yuki Shioda, president of Esplan, a bakery in Yokohama and one of Panmusubi's member bakeries.
He said freezing the bread does not affect its taste.
Esplan received more than 100 orders through Panmusubi in November last year, when the store's sales were falling as a result of the pandemic. The bakery has gained new customers by expanding its sales channels nationwide.
"It's rewarding to see my bread reach people all over the country who love baked goods, many of whom I have no connection with," Shioda said.
Pan for You, based in Kiryu, Gunma Prefecture, runs a bread subscription service called Pansuku. The company's slogan is: "Let's take a trip to eat delicious bread."
Since the service launched in February 2020, it has gained more than 15,000 subscribers. New users have to wait as long as three months before they can subscribe.
A subscription to receive about eight frozen breads from among 50 bakeries nationwide costs ¥3,990 per month. Subscribers do not know where the breads will come from or what kinds will be included in their next package.
"We want our customers to feel the excitement of visiting a local bakery," said Pan for You President Kenta Yano.
The package comes with instructions, as well as how the breads are made. Each bread is placed in a special bag, which was invented by Pan for You, so it stays fresh for more than one month.
"These types of services help consumers find breads they wouldn't normally buy and allows them to make a delicious discovery that brings them happiness," said bread specialist Chikako Katayama. "The demand for frozen bread is expected to increase as the number of bakeries associated with the service increases."
Let it thaw
Ryuji Yamazaki, a technical advisor for Kaneka, shares tips on how to properly enjoy frozen bread at home.
Putting frozen bread in a toaster oven will only burn the outside and leave the inside cold, so Yamazaki recommends letting the bread thaw at room temperature for a few hours. The appropriate amount of time to leave it out depends on the season and the size of the bread.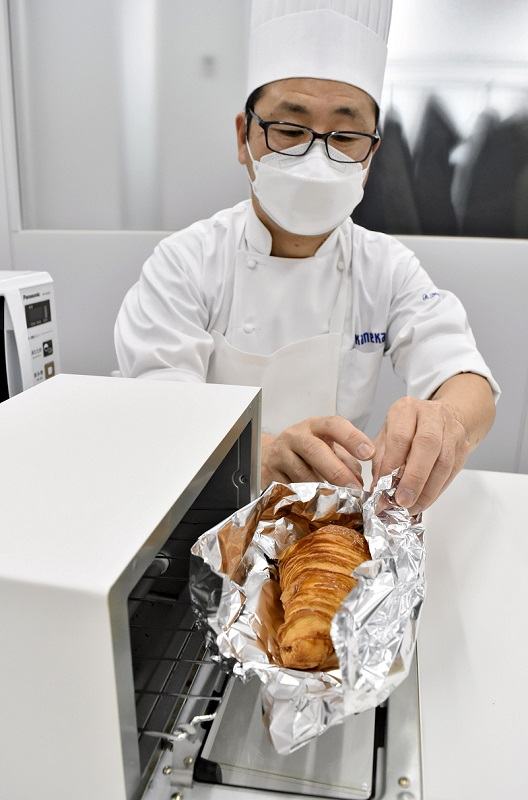 However, if you don't have time to let it thaw, use a microwave. Unseal the bag and heat it up for 30 seconds to one minute at 500 watts. The longer it is heated, the more light and fluffy the texture becomes, Yamazaki said. But don't forget to open the bag, otherwise, the bread will become soggy because of the steam inside the bag.
When using a toaster oven, the temperature and time should be adjusted to your preference. Breads that are supposed to be crispier, such as croissants, should be loosely wrapped — but not sealed — in foil.
Only savory breads should be reheated. Sweet breads, such as melon bread and ones that include chocolate, should be thawed at room temperature.
Add TheJapanNews to your Google News feed.