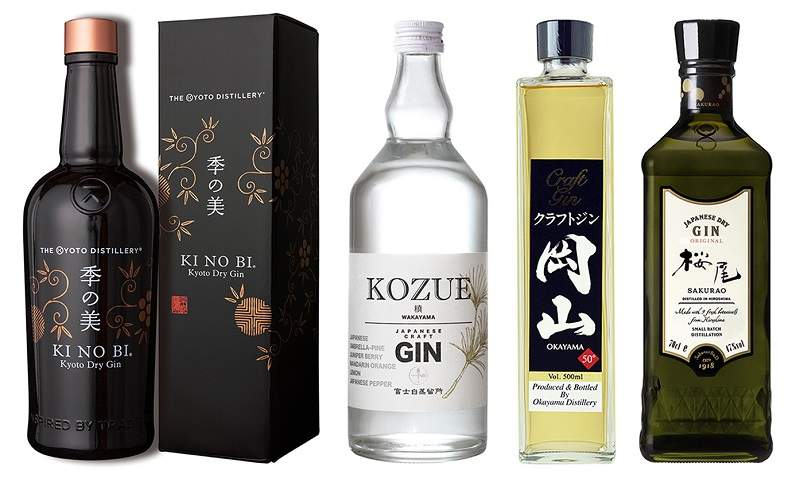 8:50 JST, April 26, 2022
OSAKA — Japanese gin makers are raising a glass or two in celebration as exports of the spirit skyrocket on the back of growing popularity fueled by craft gins containing carefully selected ingredients that provide distinctive flavors.
Production of gins featuring Japanese ingredients such as cherry blossoms is increasing, and new gin makers are entering the market in a flurry.
The export volume of Japanese gin has surged about 850-fold in the past five years, and some observers suggest the spirit could even become as well-known around the world as Japanese whisky.
Gin is a spirit made from grains such as corn or barley that has been infused with botanicals, plant-derived ingredients that add aroma. Gin originated in Europe and is often used in cocktails such as gin and tonics and gimlets. The global shortage of whisky has pushed up prices, prompting some drinkers to turn their attention to gin.
According to trade statistics, Japan exported 5 kiloliters of gin in 2016. This figure has soared since 2017 and reached 4,248 kiloliters in 2021.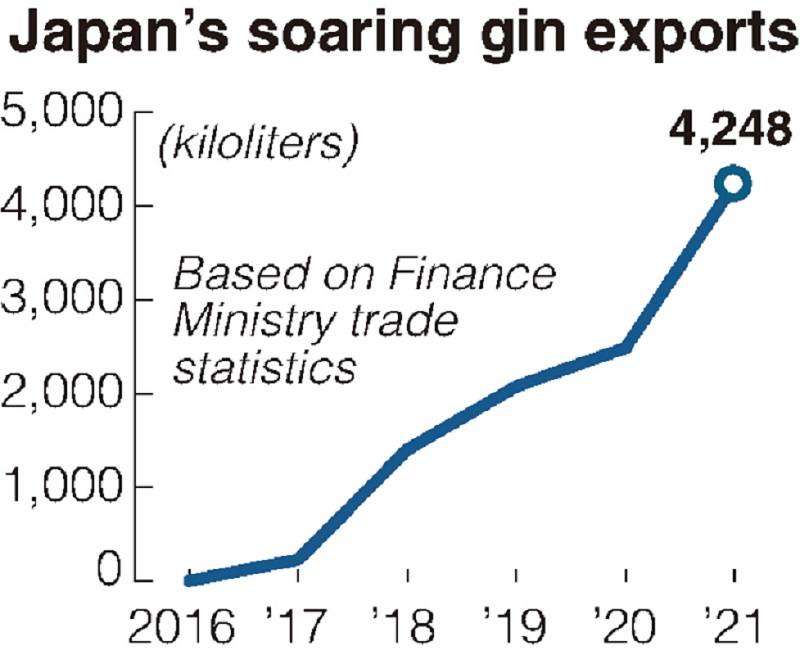 Almost 90% of these exports came from the Kansai region, spurred by the popularity of Roku, a gin Suntory Spirits Ltd. produces at its plant in Osaka. Roku has been a sensation because its distinctive aroma includes hints of cherry blossoms and sansho Japanese pepper. This gin came on the market in 2017 and is now exported to about 60 countries.
With more people around the world opting to drink at home during the novel coronavirus pandemic, the export volume of Roku in 2021 jumped about 60% from the previous year.
This past January, Suntory Spirits invested about ¥3.2 billion to double production capacity at the Osaka plant. Starting this month, the company will export its more affordably priced Sui gin to six countries including South Korea.
"We want to make gin and soda a new bubbly cocktail as popular as others blended with soda water," said Suntory Spirits President Hideki Kanda, referring to whisky highballs and lemon sours, which are made from shochu distilled liquor and lemon juice.
Small and midsize liquor companies have been creating craft gins. Entering this market is relatively simple because making gin does not require a lengthy aging process like whisky, and gin can be produced in facilities used to make other spirits such as shochu.
The Kyoto Distillery, a craft gin maker in Kyoto, started domestic sales in 2016 and exports the following year. Its gin features ingredients sourced from the ancient capital, such as water from the Fushimi area and top-quality green tea from the neighboring city of Uji. The distillery now exports gin to about 30 countries in Europe, Asia and elsewhere.
Nakano BC Co., based in Kainan, Wakayama Prefecture, produces a gin that gets its aroma from the needles of Japanese umbrella pine trees cultivated on Mt. Koya, part of a World Heritage site in the Kii mountain range. This gin is exported to about 20 countries and is known for an aroma akin to being in the middle of the forest.
"The slightly sharp taste has been a hit with drinkers," a Nakano BC representative said.
"Craft gins are a perfect fit for the global trend toward enjoying high-quality alcoholic beverages," said Takuya Kano, head of the alcoholic beverage research company Sakebunka Institute, Inc. "Japanese distillers, blenders and brewers have demonstrated their skill with whisky and sake, so I think Japan might just establish itself as a noted gin producer."
Add TheJapanNews to your Google News feed.