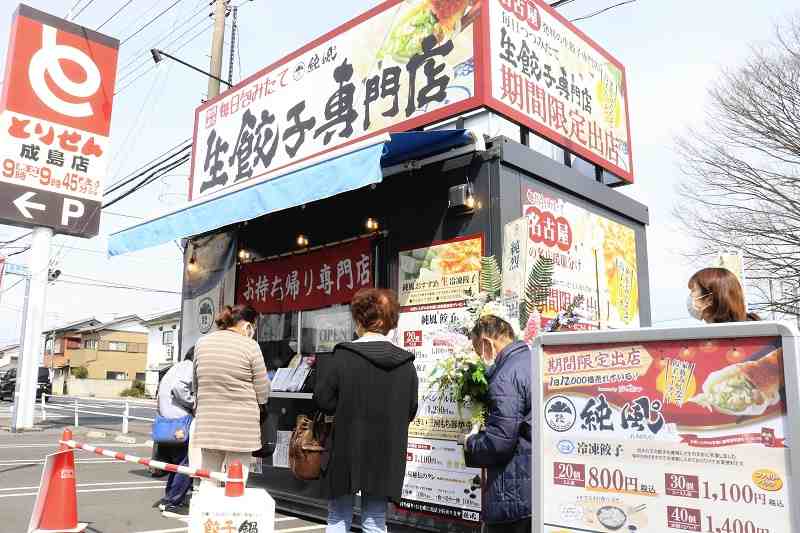 13:04 JST, April 19, 2022
People lined up before the portable Junpu store selling gyoza dumplings even opened on March 10, its first day at the parking lot of a supermarket in Tatebayashi, Gunma Prefecture. The store is moved from location to location via a container food truck the size of two cars, and then set up.
At the store set up at the Narushima branch of Torisen Co., a set of 30 frozen gyoza sold for ¥1,100 and fresh dumplings for ¥1,200.
"They are easy to cook and can be preserved in small portions," said a 49-year-old woman in the neighborhood, who purchased three boxes of dumplings.
Customers continued to queue at the portable shop even about two hours after it opened.
Valid for three months 
A Junpu store operates at the same location for up to three months. The store is subsequently loaded onto a truck then moved to another supermarket or home improvement center to sell food there. Thus, a year or more may pass before the shop comes back to this Torisen store location.
"Isn't it interesting, since it sounds like a fun idea?" said Shinichi Mashio, 61, the president of event planning company Grand Chariot Co. in Ashikaga, Tochigi Prefecture. He launched the mobile food business in July 2020 as the Tabisuru (traveling) Gyoza Project amid the coronavirus pandemic.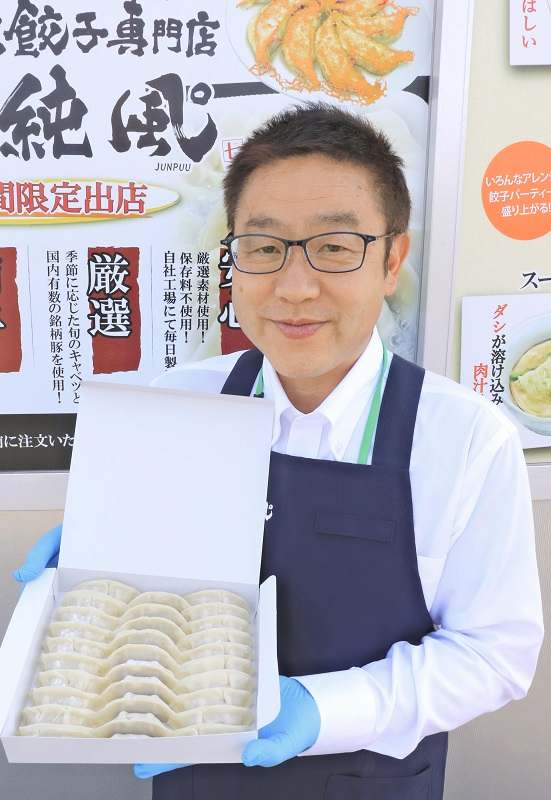 He opened 12 Junpu stores in Tokyo, Saitama, Chiba, Ibaraki, Tochigi and Gunma prefectures. Each of the 12 has been making their "three-month-long journeys."
Grand Chariot's main business is the planning and organizing of music events, as well as exhibitions and the sale of fashion accessories. The company's business was going well after posting annual sales of ¥500 million in 2006.
However, many events were postponed or canceled in March 2020 because of the pandemic. Sales in the event business dropped by 80%, and annual sales for the fiscal year that ended in November 2020 dipped to half of the previous year's, the lowest since the company's formation.
To keep paying salaries to his employees, Mashio sought business opportunities and was put in touch with Nagoya-based popular gyoza takeout store Shinpu through an acquaintance.
Mashio procured gyoza from Shinpu and sold them at a food truck in Ashikaga for two to three months from April last year. The product was so well received that some customers had to wait for 1½ hours to buy their gyoza. Mashio decided to put his hopes in the dumpling business.
With the support of Shinpu, Grand Chariot employees were able to learn how to make the dumplings and where to purchase vegetables for the ingredients. These employees are now in charge of each Junpu store.
Know-how 
Grand Chariot uses its expertise in event planning to create new dumplings and sales methods, rather than simply making and selling gyoza the way they were taught.
For example, it makes sauce in which the gyoza is dipped with Nagoya's famous hatcho miso. The firm also offers different types of gyoza every month at ¥1,200 for a set.
"We are an event company," Mashio said. "Our job is not only to sell gyoza but to make customers happy and help them enjoy their meals at home."
As the venue of his gyoza stores, Mashio chose home improvement centers and supermarkets, which are likely to continuously attract customers to a certain extent, even amid the pandemic. He told owners that allowing his gyoza shops at their venues would be an effective use of their otherwise idle space in parking lots.
Five Junpu stores are run at Torisen branch stores.
"Some customers come to our supermarkets for the gyoza," said the person in charge at Torisen. "It's beneficial for us, too."
Thanks to such strategies, one Junpu store sells more than 17,000 gyoza on some days. There are signs that annual sales will recover to the pre-pandemic level.
Mashio hopes to run gyoza stores at 50 locations nationwide in the future.
"We would also like to hold events where people can enjoy various gyoza from all over the country," he said.