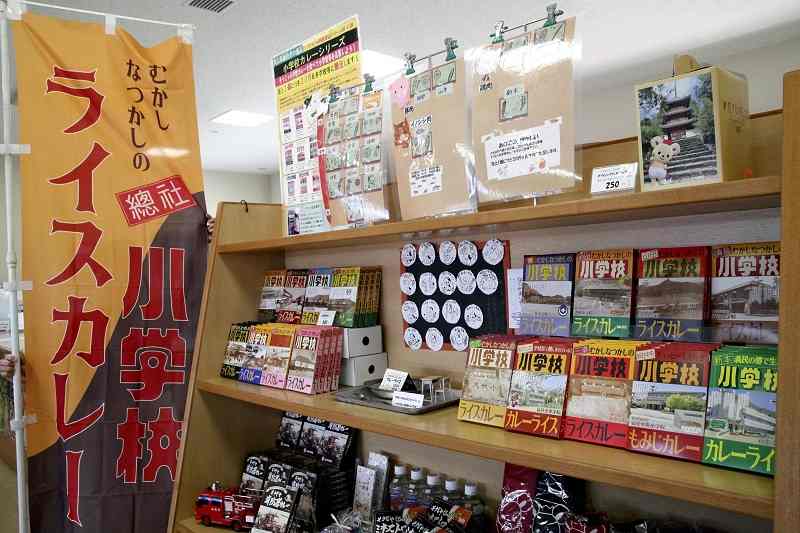 14:43 JST, April 12, 2022
SOJA, Okayama — Nostalgia is on the menu in the form of retort pouch curries using old recipes for elementary school lunch meals in Soja, Okayama Prefecture, and present-day schools are also benefitting from the hot-selling products.
All 17 elementary schools in the city are represented in the ready-to-eat lineup of Soja Elementary School Curry, which uses local specialty ingredients and first hit the market in 2016, and has become popular by evoking memories of one's school days.
The schools themselves benefit from a "support fund" based on sales, with the funds used for books, unicycles, balls and other educational materials.
The idea was first floated by the city government as a way to revitalize local communities through an item familiar to and fondly remembered by all generations, in this case school lunch curry and rice.
The extra-governmental organization Soja Chitabe Kosha started research to replicate the taste of school curries for the period between 1965 and 1975, interviewing former school cooks and students from that era and looking into archives.
In 2016, the organization started sales of curries from two elementary schools, Soja and Tokiwa. By September 2018, it had commercialized curry varieties from all of the city's 17 schools, including merged or newly established ones.
In the development process, local specialties were added to the recipes of the nostalgic era so as to give each school's curry its own unique characteristic and add variety to the set. For example, the Jinzai Elementary School curry features daikon radish, that of Ikeda Elementary School has three kinds of mushrooms, and Showa Elementary School's has boar meat. The Kushiro Elementary School curry is packed with sweet potatoes and burdock, while Shimpon Elementary School's uses brown sugar.
Following the example of the central government's "furusato nozei" system, in which people can make tax-deductible donations to the municipalities of their choice, Soja Chitabe Kosha established a "support fund" system that recycles money back to the schools according to sales results. The schools receive ¥20 for each ¥300 package sold.
A total of 163,308 packages had been sold through the end of 2021, with schools receiving about ¥3.27 million. The money has been put to a variety of uses, from purchasing items such as balls, books and unicycles to funding activities for children's associations.
In 2018, a vending machine was installed in the departure lobby of Haneda Airport's Terminal 2 in an area dedicated to vending machines selling local specialties from across the country. This has helped give Soja's school curries a nationwide presence.
The curries can be purchased in sets, including the full 17, which has become popular among curry lovers looking to experience various flavors. Mayor Soichi Kataoka provides such sets as gifts while on business trips.
The Kibiji Tourist Information Center in Soja has a special section for school curry sales. Staff member Masumi Kanenobu provides descriptions of the curries, such as their level of spiciness and ingredients, on a bulletin board resembling a school blackboard.
On top of tourists, local residents are often seen visiting the section with their families, with parents fondly recalling their school days and expressing surprise at the wide variety as they make their purchases.
"They are popular because customers can have fun choosing which ones to buy," Kanenobu said.
In addition to the Kibiji center and supermarkets in the city, the curry pouches can be purchased online at chitabe.shop-pro.jp