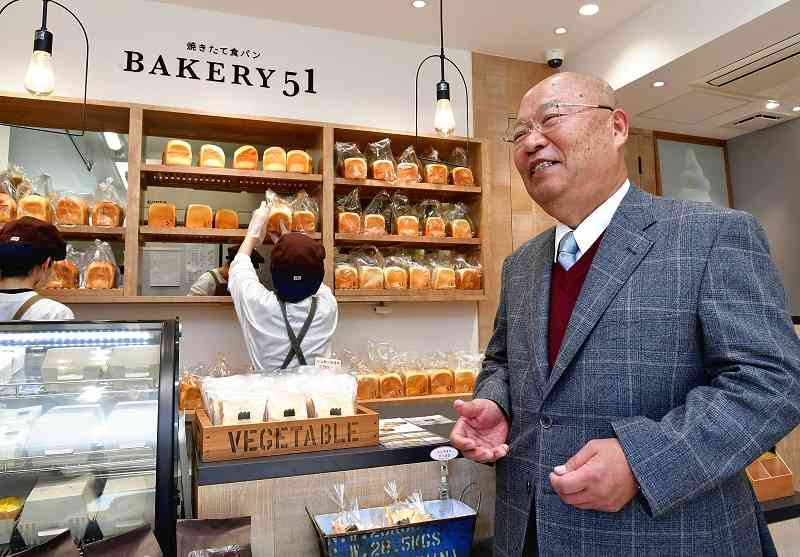 12:48 JST, April 5, 2022
SAKAI — As customers walk into Bakery 51, which specializes in shokupan white bread, they are enveloped by the delicious smell of freshly baked bread.
The shop's most popular item, the Shittori nama shokupan, is perfectly moist and tastes great without it even being toasted, partly because it contains honey and fresh cream. Its natural sweetness spreads over the taste buds and the pleasant aroma of wheat overwhelms the olfactory senses.
The price of ¥550 per loaf might seem a little on the expensive side, but sometimes, as many as 300 loaves are sold per day at the bakery in Sakai, Osaka Prefecture.
Bakery 51, which opened in October 2021, is owned and operated by Isokazu Kitani. Before opening the bakery at the age of 76, Kitani ran a secondhand goods shop, a completely different industry.
Kitani's unwavering entrepreneurial spirit is unusual as many people his age have already settled into retirement. It is also worth noting that he was bold enough to open a new business amid the coronavirus pandemic.
"I like starting new things, no matter how old I am," Kitani said. "Otherwise, life gets a little boring."
Proving that he is not just all talk, he has worked several jobs and attempted various professions. After graduating from university, Kitani worked for a company that sold machine parts and was sent overseas. At 32, he left the company without a plan.
He decided to return to his hometown of Sakai. He used the retirement money he received from the company to renovate the first floor of his parents' house and opened a greengrocer. Without knowing much about the business, he traded in his leather shoes for rubber boots and went to auctions at wholesale markets.
Many people did not understand his career change. One person said to him: "You graduated from a good university and worked for a good company. What a waste!"
Kitani did not mind such comments and instead, focused on his business. By working hard to find out what homemakers wanted, as well as purchasing interesting products, he realized how good it felt to make a sale.
Four years later, he expanded his greengrocer to a supermarket to sell fish and cooked foods as well. Then opened two more shops.
When business began to decline as a result of large supermarkets opening, he made a quick decision to switch to selling used goods, which he had realized was a promising industry.
He mostly sold used clothes, but also sold rare vintage items, making his shop more well-known, leading him to open up more shops in Kaizuka and Higashi-Osaka, both in Osaka Prefecture.
Like most businesses, Kitani's shops were severely impacted by the pandemic that started in spring 2020. The number of customers drastically dropped, and he was forced to temporarily close his shops. Even after he reopened, the number of customers did not return to pre-pandemic levels, partly because flea market apps were starting to be widely used.
Although he took such steps as working to increase online sales, he had fewer opportunities to interact with customers and no longer felt fulfilled at work. Around that time, he saw an ad for a business seminar on running a bakery.
His family strongly objected to the idea, including his eldest son Hiroyuki, who is the managing director of the company operating the secondhand goods shops. People said he shouldn't start a new business during these turbulent times. But Kitani could not be convinced otherwise.
"If a new store opened up, it would bring vitality to the community," Kitani said, both to himself and his family. "Because everyone is feeling hopeless nowadays, it's the perfect time to take on a challenge like this."
To have his breads taste more authentic, he purchased a bread machine from France. Following the advice of professionals, he went through much trial and error. Seeing that Kitani was serious, his son decided to support him and posted on social media about the preparations leading up to the grand opening.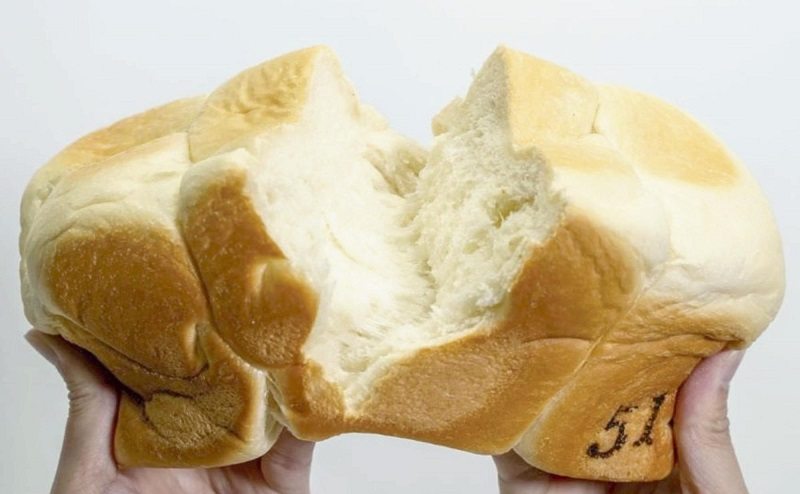 After seeing customers lined up in front of the bakery on opening day, Kitani said: "I felt rewarded. I was so happy."
"I want to have more regular customers and have the bakery become more deeply rooted in the community," Kitani said.
His current goal is to have the community become more familiarized with the bakery's paper bags, which bear the shop's logo. The name Bakery 51 comes from Kitani's first name, Isokazu, which can also be read as "51" in kanji.
"I want to offer more menu items and participate in various events," Kitani said. "There's no end to what I want to do."
Neither his age nor the pandemic will dampen his enthusiasm to try new and challenging endeavors.