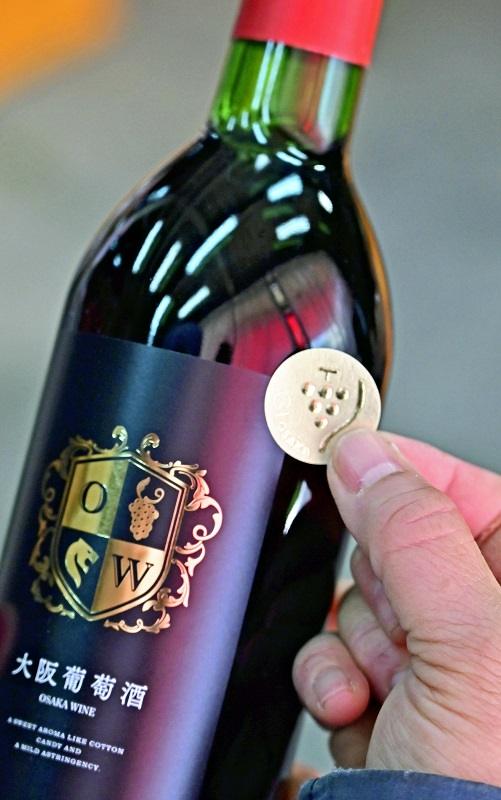 13:17 JST, March 15, 2022
OSAKA — Winemakers in Osaka Prefecture are hoping to expand sales channels and consumption by capitalizing on the certification of Osaka wine under the Geographical Indication (GI) system, a government framework aimed at protecting regional products.
With the increased brand recognition, Osaka vintners have also mounted efforts to market their products overseas, including Katashimo Wine Foods Co. in Kashiwara, which said orders from Shanghai and other overseas cities have surged since the addition of Osaka wine to the GI product list last June.
Founded in 1914, the company previously exported about 300 bottles a year, but the figure jumped to about 2,000 from June to December last year.
The Osaka Wineries Association comprising wine producers in the prefecture held a tasting event in Shanghai last year where Osaka wine was well received for its "lightness and refinement."
"The [GI] designation has raised the wine's profile significantly," said Toshihiro Takai, the 70-year-old president of Katashimo Wine Foods.
Under the GI system, the government protects the branding of food and drink products linked to a specific region, and products that meet certain criteria can exclusively bear the GI label.
Osaka wines must be made entirely from grapes grown in the prefecture, have a specified sugar and alcohol content, and be produced and bottled in the prefecture, among other criteria.
According to the Osaka Regional Taxation Bureau, the average price overseas of Japanese wine with a GI label is said to be about four times higher than that of Japanese wine without the designation.
Grape cultivation began flourishing in Osaka in the Meiji era (1868-1912). In the early Showa era (1926-1989), Osaka had the largest area of vine cultivation in Japan. However, the cultivation area in 2020 was about 40% of the size during the 1963 peak of grape cultivation. The aging of farmers and the conversion of farmland into housing lots are among some of the factors in the decline of grape cultivation in the region.
In a bid to revive the sector, businesses linked to the local wine industry have pinned their hopes on the GI designation.
The winery association has been conducting research on optimum grape harvest times and sugar content to make the most of the characteristics of Delaware grapes, the main variety grown in the prefecture.
When the association submitted its application for GI certification to the National Tax Agency in the spring of 2021, it was highly evaluated for its efforts to make premium products based on traditional techniques, as well as for the aftertaste and pairing versatility of its wine.
Producers hope to boost consumption of Osaka wine through winery tours, taking advantage of the wine-growing region's proximity to urban areas.
"Compared to other wine-producing areas, Osaka has not been well-known, but the GI designation is likely to help raise its profile," said Kensuke Ebihara, a professor of wine law at Meiji Gakuin University. "I hope producers will strive to improve the quality of their wines by taking advantage of the characteristics of local grapes using traditional methods and aim to produce wine that is recognized globally."