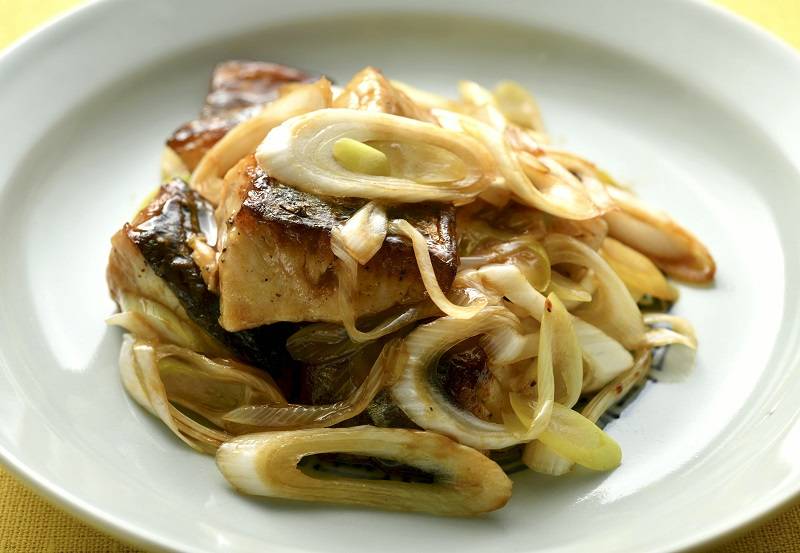 13:00 JST, March 15, 2022
"It's great that we can eat seasonal fish year-round in Japan," food researcher Wu Wen said. Wu uses sawara, or Spanish mackerel, for this recipe. The fish is in season and rich in fat at this time of year. She also uses chopped leeks, which add a dash of sweetness to the dish.
Stir-fried dishes are usually cooked at a high temperature, but Wu said: "I don't cook them using high heat. For households, taking some time is OK."
The main ingredients are sawara, which has a good flavor that is not too distinctive, and leeks, which become even softer around this time of year.
"In Japan, leeks are considered to be a condiment," Wu said. "But in China, they're seen as a main ingredient and are said to improve the flow of energy."
The dish is quite simple, but be sure to prepare it carefully.
Stir-fried Spanish mackerel
Ingredients (serves 2):
2 sawara fillets (200 grams)
½ tbsp starch powder
1 tbsp oyster sauce
½ leek
1 tbsp sesame oil
2 tbsp sake
Salt
Pepper
Directions:
1. Cut each sawara fillet into three equal pieces, sprinkle some pepper, 1 tablespoon sake and ¼ teaspoon salt, and set aside for 10 minutes. Dry the fish and coat lightly with the starch. The starch helps keep the umami, making it easier to blend the flavors even with only a dash of seasoning.
2. Thinly slice the leek diagonally.
3. Add the sesame oil to a cold frying pan, place the sawara pieces skin-side down in the pan, and cook slowly over low-to-medium heat to prevent burning. When the bottom half of the sawara pieces turn white, flip them and cook briefly, and then add the oyster sauce.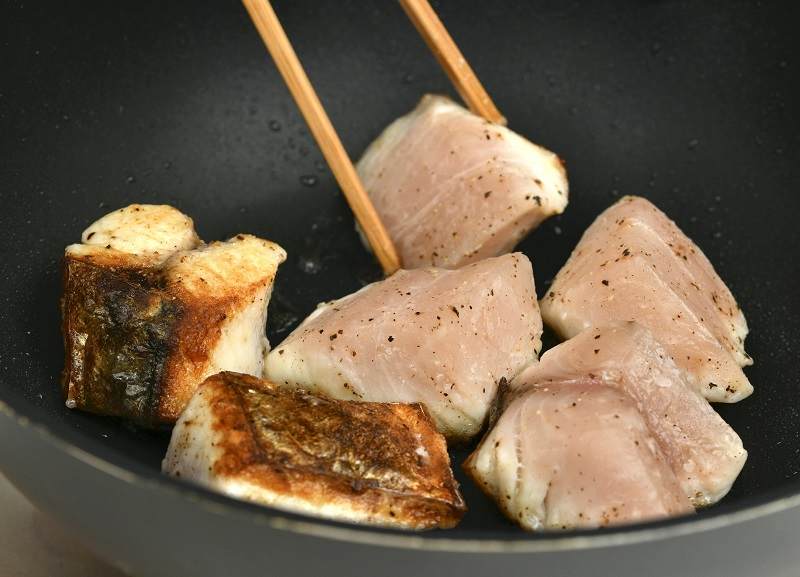 4. Cover the fish with the leeks and sprinkle 1 tablespoon sake. Cover the pan with a lid and steam over low heat for 2 minutes. Mix thoroughly before serving.
Both the sawara and the leeks were shiny, with the texture of the fish fluffy and the leeks crunchy outside and tender inside. The fish umami and the sweetness of the leeks, combined with the richness of the oyster sauce, go well with rice.
"A dish is more tasty when the ingredients aren't stirred and fried too much," Wu said.
Enjoy flavor of leek oil
Wu recommends making leek oil to better enjoy the flavor of the vegetable.
Put ½ sliced leek and 100 milliliter sesame oil in a pan over low heat. Cook the leeks to release the water content and turn off the heat just before they turn golden brown.
Serve the oil on hot vegetables or hot tofu, or add it to potato salad instead of mayonnaise.
"Eat it as soon as possible before the oil oxidizes," Wu said.