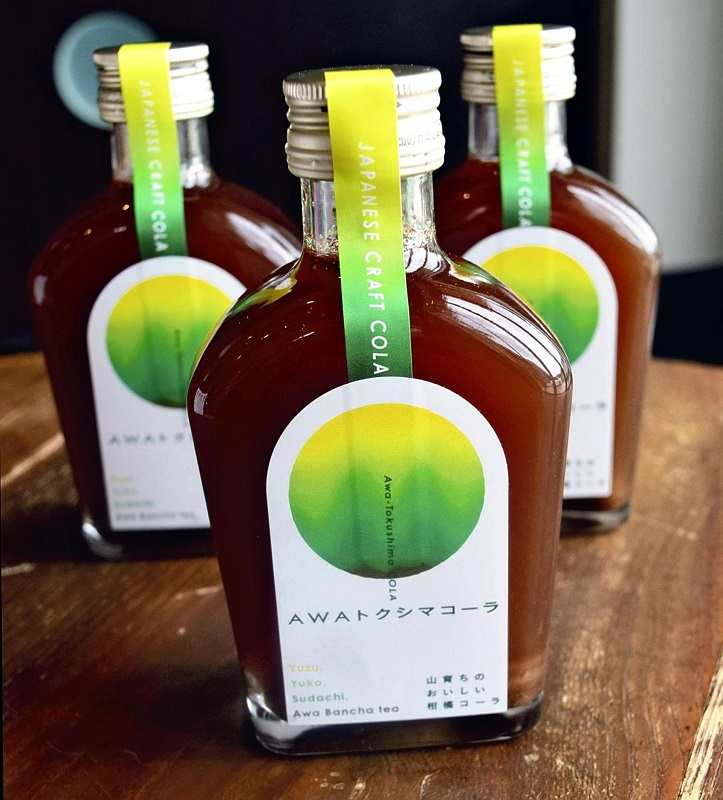 18:15 JST, September 20, 2021
TOKUSHIMA — A new craft cola has come along, combining sudachi, yuko and yuzu citrus with Awabancha tea and an original blend of spices.
Dubbed Awa Tokushima Cola, the drink is available at souvenir stores in Tokushima Prefecture and at high-end Seijo Ishi supermarkets mainly in the Kanto region. It is said to be selling well.
Awa Tokushima Cola was developed by Bando Foods, Ltd., a manufacturer and seller of ponzu sauce and other food products in Kamikatsu in the prefecture, with the cooperation of Tokyo-based Tomo's Craft, which also produces its own craft cola.
Bando Foods grows sudachi, yuko, yuzu and Awabancha tea at its farm and processes them into juice, ponzu and other products. The company sells its wares both at home and abroad.
President Takahide Bando learned about the popularity of craft cola on the internet last year and decided to make his own, using ingredients he handles. Bando asked Tomoka Furuya, who is involved in a variety of food-related businesses and created the pioneering craft cola Tomo Cola, to help him fashion a new recipe.
Furuya added spices that go well with such ingredients as sudachi citrus, a specialty of Tokushima Prefecture, ultimately creating a cola with a spicy, refreshing and elegantly sour flavor.
With its label bearing an image suggesting earth, greenery and the sky, the drink was named Awa Tokushima Cola to promote the prefecture. It was introduced at an exhibition in February this year, and caught the attention of an official of Seijo Ishii Co.
The cola went on sale at Seijo Ishii's supermarket stores, mainly in the Kanto region, from late April.
The 200-milliliter bottle, priced at ¥1,620, contains a concentrate, so you need to mix one part Awa Tokushima Cola with three to four parts soda water.
"I tried to express the unique qualities of Tokushima with the cola. Since it contains Awabancha tea, mixing it with milk will make a drink like spiced tea. It would also be interesting to compare the taste of local craft colas from all over Japan," Bando said.
Awa Tokushima Cola is also available on Bando Foods' website.