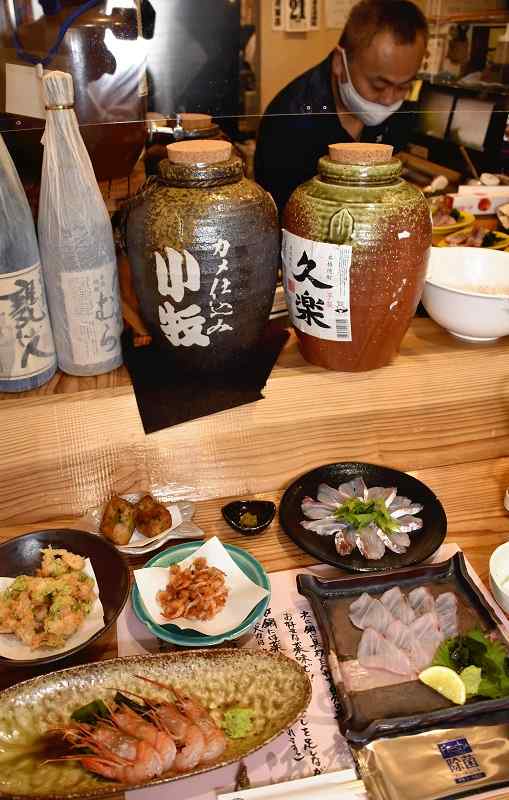 16:44 JST, September 14, 2021
KAGOSHIMA — Deep-sea fish, which used to be discarded because of its strange appearance, is now being promoted as a new delicacy in Kagoshima Prefecture.
A research group comprising the local government, the fisheries industry and academia was launched in August 2020 to promote the consumption of deep-sea fish caught in Kagoshima Bay, locally known as Kinko Bay. Certain areas of the bay reach depths up to 200 meters.
More than 30 restaurants have joined the effort by including deep-sea fish on their menus.
"We want more people to know about how good it tastes," said one person involved in the efforts.
Kinko Bay is a mostly enclosed bay and is quite deep, which is rare in Japan. Trawling the seafloor is a common method of fishing in the area, including in Kinko Bay. However, as deep-sea fish were not considered a food source, they were discarded.
Prof. Jun Ohtomi, who specializes in deep-sea organisms at Kagoshima University, suggested that "deep-sea fish could be a new source of revenue for fishermen," and formed the group with a fish wholesaler in Kagoshima City. The Minami-Satsuma city government was also brought in because fishermen in the city actively catch and sell jack-knife shrimp, a species of deep-sea shrimp.
The group introduced deep-sea fishes and crustaceans caught in the waters near Kagoshima Prefecture, including deepwater longtail red snapper and razor mud shrimp, to restaurants. The deep-sea delicacies were referred to as "Unmaka Shinkaigyo" (delicious deep-sea fish).
Although the initiative started with only about 10 restaurants serving deep-sea fish, it has grown to more than 30 restaurants as of July.
Each restaurant has been developing its own menu featuring deep-sea fishes and crustaceans.
Shuan Tomo, a Japanese cuisine restaurant in Satsuma-Sendai in the prefecture, has been working with the group since November 2020.
The restaurant has been serving dishes such as shabu shabu hot pot using deepwater longtail red snapper and satsumaage deep-fried fish cake with hime amaebi shrimp.
"Customers seem to really like the fish and have said, 'deep-sea fish is delicious, and it has completely changed the image I had of them,'" said Tomomitsu Ando, the owner of the restaurant. "I hope people will become more interested [in trying] deep-sea fish."
The group has applied to have the name "Unmaka Shinkaigyo" registered as a trademark to strengthen its brand.
"We'd like for this to continue rather than it just being a short-lived fad," said Ohtomi. "We're determined to develop deep-sea fish dishes as part of Kagoshima's culinary culture."
'Sacred area of deep-sea fish'
Deep-sea fish have had a major effect on revitalizing Numazu, Shizuoka Prefecture. The city's fishermen tend to catch a lot of deep-sea creatures because parts of Suruga Bay can be about 2,500 meters deep, resulting in a thriving industry.
The Heda district of the city is home to the world's largest deep-sea crab, the Japanese spider crab. It is a popular spot and has become known as a "sacred area of deep-sea fish."
Various events, such as a deep-sea fish festival, where the public can try delicacies, are also being held.
"By having more people eat deep-sea fish, it will help protect the traditional trawling method," said Toshimi Sato, secretary general of Heda tourism association. "We would also like to continue conserving the deep-sea fish population because it is important for tourism and research."
Add TheJapanNews to your Google News feed.