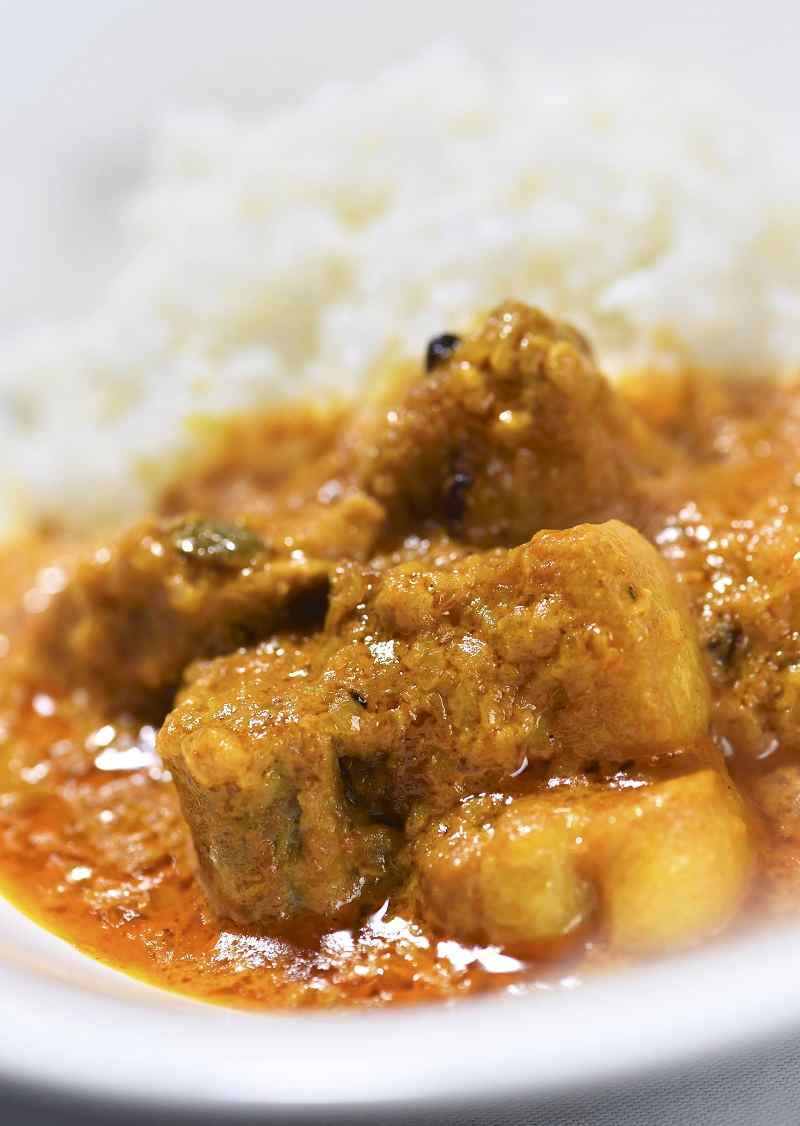 16:46 JST, September 14, 2021
Curry is one of the most popular home-style dishes in Japan. Chef Yasuyuki Takara, who specializes in French cuisine, shared his recipe for spicy pork rib curry, prepared with seven different spices to really bring out the fragrant flavors.
Curry is not widely eaten in France, Takara said. However, it is easy for Takara to make various curry dishes as he began making curry when he was a high school student working part-time at a coffee shop. He also used to make curry in the kitchen for restaurant employees when he trained as a cook using "whatever was in the fridge."
Takara has come up with an elegant curry sauce using the French cooking technique of mixing spices with water. Other than spices and seasonings, Takara uses nothing but pork ribs for the curry.
"Pork ribs are rich in fat, which brings out the flavors when it's heated," he said.
Four kinds of powdered spices are dissolved in water: turmeric, which brightens the color of the dish; fragrant cumin; coriander; and cayenne pepper. The amount of cayenne pepper, which adds a pungent kick, can be adjusted according to preference.
"Dissolving the spices in water brings out their flavor and makes them easier to blend," he said.
To enrich the aroma, crush a cinnamon stick and whole cardamoms and cloves with a meat mallet before placing them in room-temperature oil. Cook them over low heat to help their fragrance seep into the oil, tilting the pan to swirl the spices.
"This process is called tempering in cooking," Takara said. "Be careful not to burn them."
Add garlic, ginger and onion, and cook until browned before adding the cooked meat, tomato puree and yogurt. Then add the dissolved spices and simmer. Add fresh cream.
The sauce is thick like a regular curry and is full of flavor thanks to the combination of the onion's sweetness, the tomato's flavor and the yogurt's sourness. The meat is tender, too.
Pork rib curry
Ingredients (serves 4):
600 grams pork ribs
1 onion
40 grams tomato puree
60 grams plain yogurt
80 ml fresh cream
5 grams turmeric powder
5 grams cumin powder
10 grams coriander powder
0.2 grams cayenne pepper powder
6 whole cardamoms
6 whole cloves
½ cinnamon stick
1 clove of garlic
2 knobs of ginger root
Rice
Directions:
1. Mix turmeric, cumin, coriander and cayenne pepper powder and 5 grams of salt in 500 milliliters of water.
2. Cut pork ribs into bite-size pieces and sprinkle with 5 grams of salt. Put 20 milliliters of salad oil in a frying pan and pan-fry the meat. When both sides of the meat are browned, remove it from the pan.
3. Put 30 milliliters of salad oil in another frying pan and stir-fry crushed cardamoms, cloves and the cinnamon stick over very low heat to bring out the flavor.
4. Add chopped garlic, ginger, onion and 2 grams of salt to the pan with cardamoms, cloves and the cinnamon stick.
5. Add tomato puree, yogurt and the meat. When the liquid has disappeared, add the water with turmeric, cumin, coriander and cayenne pepper. Cover with a lid and simmer for about 30 minutes. Remove the lid and simmer until it becomes thick. Add fresh cream and bring to a boil. Put rice in a bowl and pour the curry on top of the rice.
Flavorful pickles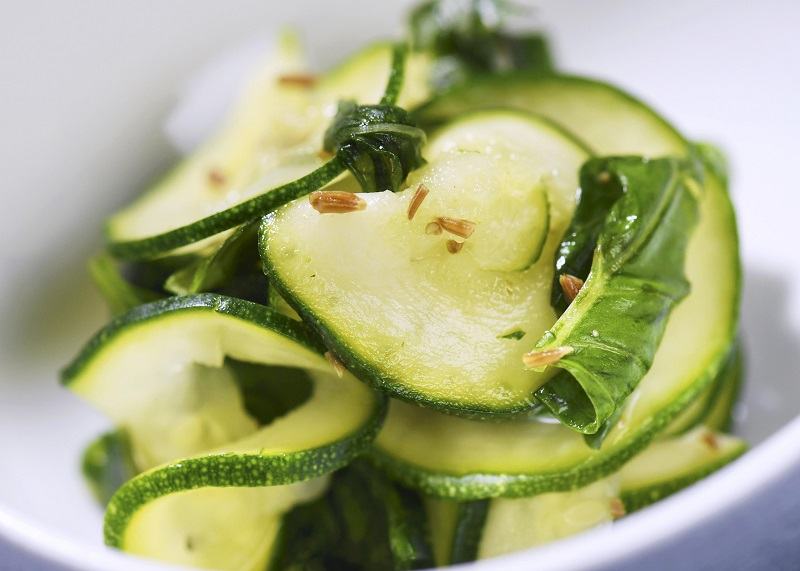 Cumin can be used in another way, Takara said.
"Cumin seeds are easy to use, and their flavor and aroma spread in the mouth with each bite," he said.
He described how to prepare pickled zucchini and basil, which goes well with his curry. Cut half of a zucchini into thin slices, then toss them with two pinches of salt and two teaspoons of rice vinegar. Let the dish sit for about one minute. Add two pinches of cumin seeds. Mix lightly and drain. Add four shredded basil leaves and serve.
Add TheJapanNews to your Google News feed.