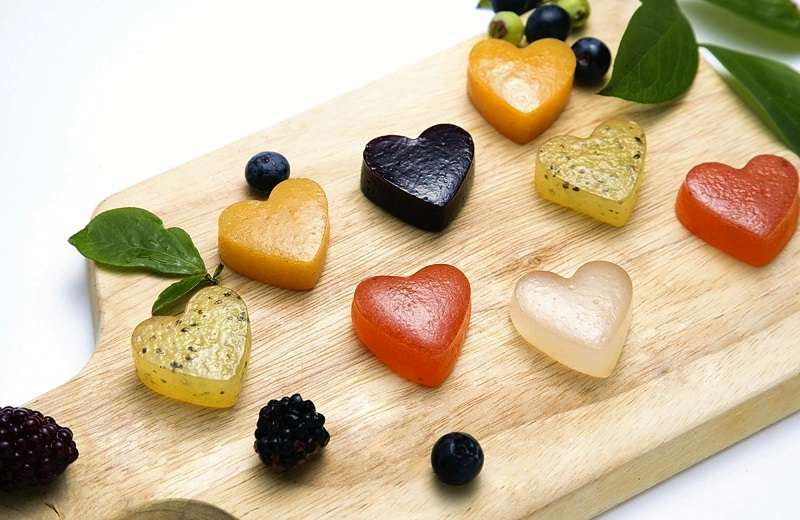 16:51 JST, September 14, 2021
TOTTORI — Kudzu starch cake made with specialty fruits from Yazu, Tottori Prefecture, has become especially popular lately thanks to its unique texture and refreshing fruit taste.
Fruits Kudzumochi was developed by Yazu Factory, an agricultural product processing factory in the town, using five kinds of fruits that include Hanagosho persimmon and Nijisseiki pear, both of which are local specialties.
Yazu Factory was established in 2012 at a former school lunch center in the town to develop and sell specialty fare showcasing local agricultural products. In 2017, it started making one-kilogram packages of kudzumochi made with the persimmon and the pear, and sold them to izakaya dining pubs and other professional kitchens in the Kansai region. After spending six months creating kudzumochi products for general customers, Yazu Factory developed Fruits Kudzumochi.
The heart-shaped, 10-gram bite-size kudzumochi comes in five flavors — Hanagosho persimmon, Nijisseiki pear, strawberry, kiwi and blueberry. All are handmade using fruits grown in the prefecture, and contain no artificial flavorings or colors. Yazu Factory said Hanagosho persimmon kudzumochi was particularly difficult to make. Since the paste of the fruit and kudzu were not enough to express the flavor of the fruit, the factory tried to bring out the taste of the persimmon with various means, such as by including dried fruits.
As kudzumochi can be refrigerated for only a few days, the products are sold frozen. The sweets will be ready to consume after they are left at room temperature to thaw for about 10 minutes.
"We were able to make beautifully colored sweets using only fruit juice," said an official of Yazu Factory. "You can discover the true flavor of the fruits in the sweets."
Fruits Kudzumochi is available at online stores such as Base, Inc. and Stores.jp, Inc., priced at ¥380 for five pieces or ¥1,500 for 20 pieces.