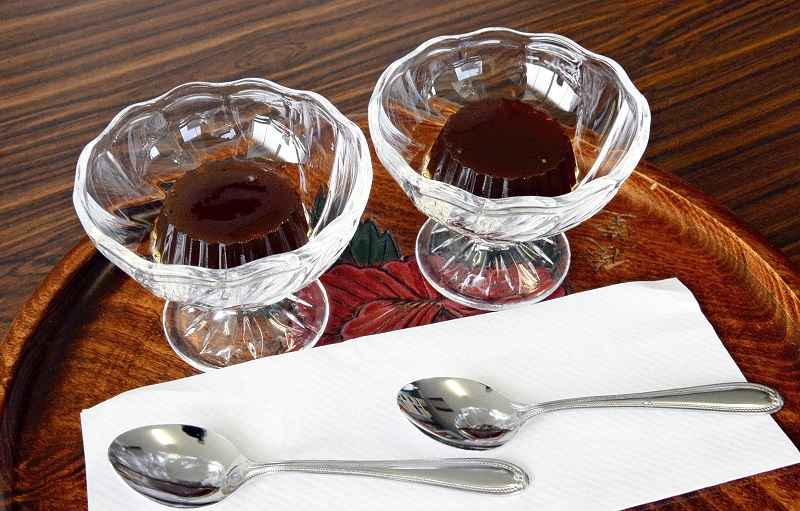 15:30 JST, August 31, 2021
FUKUOKA — Thirst-quenching and mild-tasting, mugicha barley tea is an ideal beverage for keeping hydrated in summer. The caffeine-free drink is considered so healthy that even babies and pregnant women can enjoy it. But did you know that its roasted aroma also makes mugicha an excellent ingredient for summery desserts?
Total shipments of barley, the raw material of mugicha, came to about 77,000 tons in 2020, up about 50% from a decade ago, according to the national mugicha industry association.
Barley comes in two main varieties: two-row and six-row. Saga Prefecture boasts the nation's top two-row barley cultivation.
At Sanei Kosan Co., a barley tea manufacturer in Karatsu in the prefecture, President Tetsuya Ogata showed me how to make barley tea jelly as a summer sweet.
To make it, he had boiled mugicha, added sugar and hardened it with agar. It just looks like coffee jelly.
The roasting of barley in the tea-making process brings out mugicha's aroma, which goes surprisingly well with the jelly's sweetness and smooth texture.
"This jelly has been appreciated at exhibitions and taste tests in Japan and overseas," Ogata said. "It can be used as baby food or nursing food."
Mugicha jelly
Ingredients (Serves 4 to 6):
3 mugicha tea bags
3 tbsp sugar
Appropriate amount of kanten agar
Directions:
1. Boil 1 liter of water in pan. Add tea bags and simmer for 5 minutes on low heat. The longer it is boiled, the stronger the tea tastes.
2. Turn heat off. Take out bags when just warm.
3. Add sugar and then kanten. Gelatin or agar can be used instead of kanten. Cook over low heat while stirring to dissolve ingredients. Turn heat off when it comes to boil, and pour it into a container.
4. Let cool, then leave in fridge to harden. Serve with condensed milk, cream or soy flour if you wish.
There are a variety of recipes that go beyond jelly. For example, food processing company Hakubaku Co.'s website includes a recipe for mugicha sherbet.
Mugicha sherbet with fruit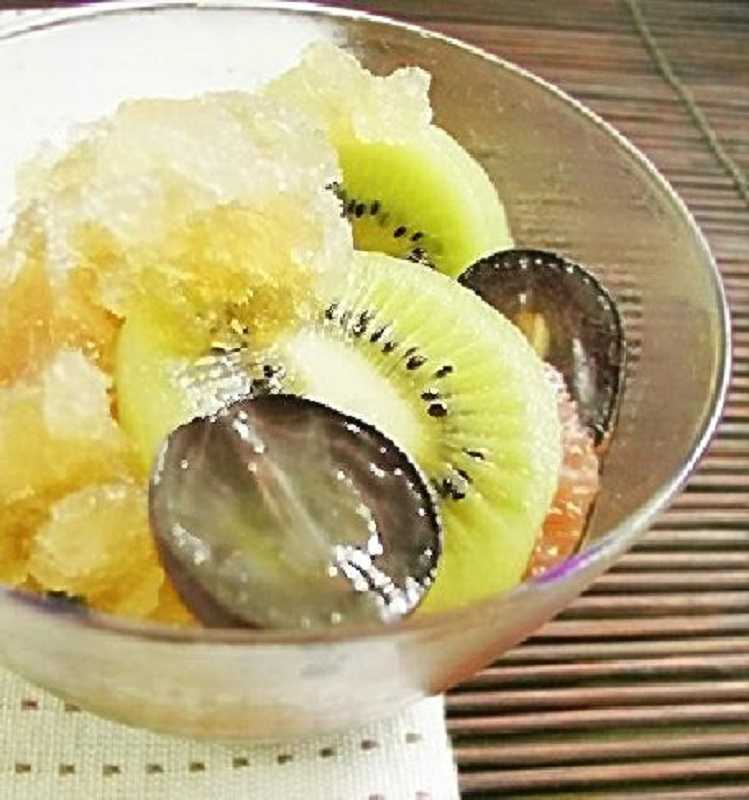 Ingredients (Serves 2 to 3):
5 tbsp mugicha
1 tbsp lemon juice
2 tbsp sugar
Appropriate amount of fruit (kiwi, peach, grape, blueberry, others)
Directions:
1. Mix mugicha, lemon juice and sugar well in bowl and freeze.
2. Cut fruit into bite-size pieces.
3. To make syrup, heat 3 tablespoons of mugicha mixed with 3 tablespoons of sugar over medium heat. Turn heat off when it comes to a boil and let it cool.
4. Mix fruit and syrup in a different bowl and chill in refrigerator.
5. Put fruit on a plate. Shave frozen mugicha with fork or spoon and serve next to the fruit.
Scientific evidence
Kyushu University Prof. Kiyoshi Toko, who specializes in the senses of taste and smell, recommends a beverage recipe combining 30 milliliters of barley tea with 100 milliliters of milk and 5 grams of sugar.
"Mugicha's umami and bitterness are similar to those of light coffee," Toko said. "By adding milk's richness and salinity, and the sweetness of sugar, the drink will taste just like coffee and milk."
Meanwhile, researchers are studying the health benefits of mugicha.
The tea's distinctive roasted aroma comes from a compound called alkylpyrazine created in the process of roasting. According to research by Nagoya-based food manufacturer Kagome Co. and others, alkylpyrazine can help improve blood flow. The smell also helps the brain produce more alpha waves, which are associated with relaxation.
A study by Shizuoka University and others has revealed that barley tea helps protect stomach mucosa and has antioxidant and anticarcinogenic effects.
Finish it while it's fresh
Tea bags are popular for brewing barley tea at home. You can simply leave a bag in water to brew, but boiling it amplifies the aroma. If you make tea by adding tea bags to boiling water in a kettle, don't use the lid as the bags may swell and burst inside the kettle.
To make it with cold water, put a bag in a container before filling it up with water to brew strong tea. Also, do not leave the tea bag in the container.
"Barley tea is perishable. So please drink it all within 24 hours even when you keep it in a refrigerator," Ogata said.
Add TheJapanNews to your Google News feed.