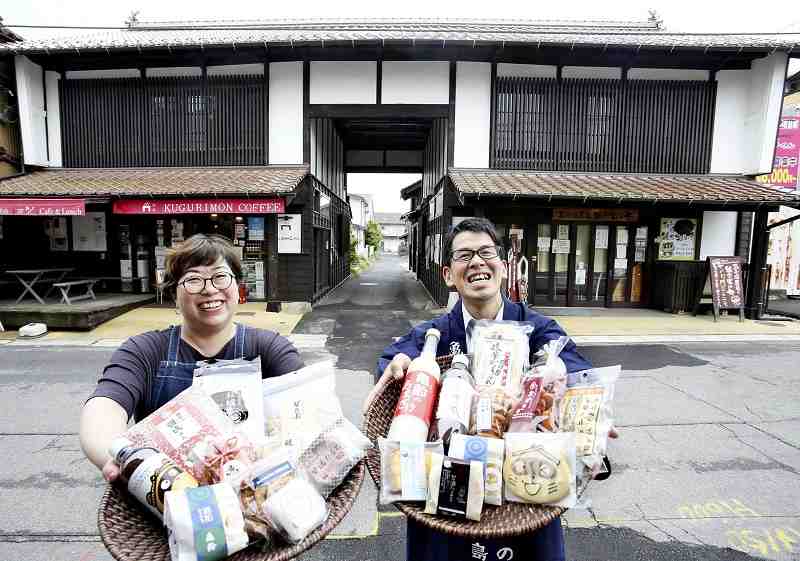 14:32 JST, August 12, 2021
HIROSHIMA — Crispy sweet rusks containing daiginjo-top quality sake are not the only booze-infused sweets available at the Kugurimon tourist facility in Higashi-Hiroshima, Hiroshima Prefecture. Fried-dough karinto cookies made from sake lees as well as sweet sake cookies and other items are also on offer at the facility located in the Saijo district in the center of the city, where many sake breweries stand side by side.
The area is a famous sake producing zone and is comparable to the Nada district in Hyogo Prefecture and the Fushimi district in Kyoto Prefecture. Merchant families started brewing sake during the Meiji era (1868-1912) in the area located in a basin at an altitude of 250 to 300 meters, which enjoys a cool climate and an abundance of groundwater.
Currently, there are seven sake producers in the district.
In recent years, there has been a growing trend in the area for breweries and confectionary stores to work together to develop a variety of sake sweets. Now, they sell more than 50 varieties.
One of the most popular sweets, amazake tart, priced at ¥238 per piece, is made from highly evaluated local sake lees and local rice flour. The creator of the sake cup-shaped tart, Takashi Miyake, opened the Kashi Kobo "mike" confectionary shop in 2009.
He started producing sweets in cooperation with local sake breweries as he wanted to spread the word about Saijo district's extensive sake-brewing history.
Miyake set out to use amazake sweet fermented rice drink as an ingredient, but there were no breweries in the district at the time that made it. So he began producing his own using koji, a mold used in sake production, which was provided to him by Hakubotan Brewery.
He trialed new sweets recipes, using rice flour to retain the mellow flavor of the sake. He limited the use of sugar in order to bring out the taste of the sake.
After experimenting seven times, he was able to come up with a product in 2011 that he felt he could put on the market.
The sweet has now become his shop's signature product, selling as many as 1,800 pieces a month.
"More and more customers want to enjoy trying sweets that have a sake taste to them," Miyake said.
Miyake has since found a brewery that makes amazake for him.
'Tough time'
The stage was set for the sake sweets to spread when a Saijo confectionary sales event was held in conjunction with the National Confectionary Exposition in Hiroshima in 2013.
Four sake brewers formed a planning committee in the hope of expanding the sake-lover customer base by using the brew in sweets, as sake has a strong image of being a "drink of pleasure for middle-aged men."
With about 10 confectioners preparing their own sake sweets, Emi Sueyoshi, who runs a coffee shop, acted as a coordinator and led the event to a successful conclusion.
Since then, the sales event had been held regularly in May as a sake sweets exhibition and includes as many as 20 vendors with about 1,000 visitors coming out per year.
"Through sweets, we now have more opportunities to let people know about Saijo's local sake," said Sotaro Ishii, an employee of Kirei Brewery Co., who is involved in the planning of the event.
However, the coronavirus pandemic has been casting a dark shadow over the region. The sweets exhibition was canceled for the last two years and the tourism industry has been left in tatters.
In May, the planning committee launched a new initiative and started selling an assortment of products such as sake lees karinto online, resulting in sales of about 250 items, more than the 100 expected, in the course of about one month.
One customer sent a message saying, "It's a tough time, but good luck," according to the committee.
Sueyoshi has vowed to make a comeback after the pandemic is contained. "We would like to attract more people to the city again with many famous confections created by local businesses," she said.
Add TheJapanNews to your Google News feed.