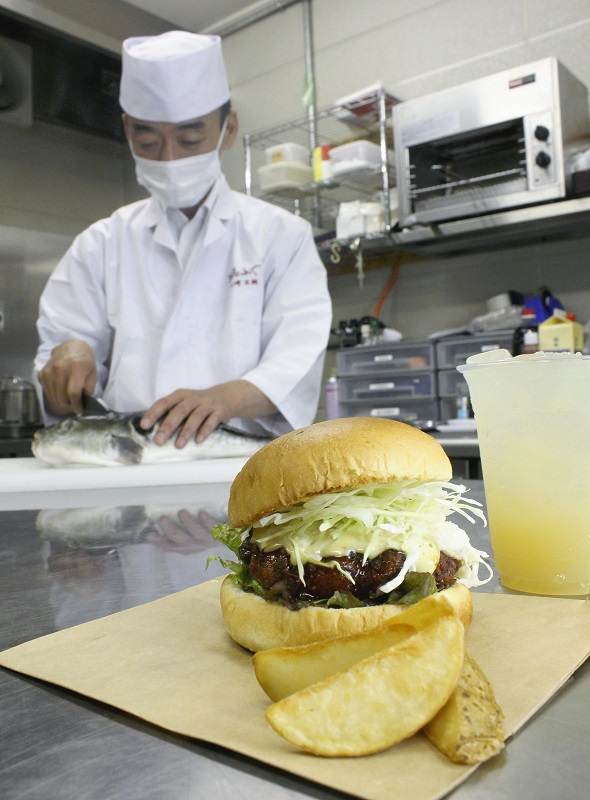 14:40 JST, July 27, 2021
OSAKA — Blowfish restaurants are developing new dishes using the fish and trying to increase online sales in Osaka, which is said to consume more than 60% of the country's blowfish. While many restaurants earn most of their annual revenues in winter, quite a few have gone out of business because the number of customers declined in the last winter season due to the coronavirus pandemic. Hoping to protect Osaka's food culture, restaurant owners are trying to come up with various ideas to survive the difficult summer period.
Blowfish at home
In late June, Kanmonkai Co., based in Matsubara, Osaka Prefecture, which operates about 70 Guenpin tiger puffer fish restaurants across the country, started selling a blowfish burger using a patty made from the flesh and cartilage of the fish, which costs ¥1,000 including tax for delivery.
The fish burger has a chewy texture that is complemented by a refreshing spritz of ponzu sauce. The company hopes the burger, which is available both in stores and through delivery, will help acquaint young people with the taste of blowfish.
Masayuki Ikeda, who is in charge of public relations for Guenpin, said, "We expect that customers may return next winter; we have to endure the current difficulties by taking various measures."
Another blowfish restaurant Fugumaru, in Osaka's Kita district, is putting effort into selling ingredients online for a blowfish hot pot dish called tecchiri as well as the restaurant's original ponzu sauce.
Usually, the restaurant earns 70% of its annual sales from November through February. However, the number of people having year-end and new-year parties declined drastically last winter and sales did not reach 20% of the usual annual amount.
During the pandemic, the monthly rent of ¥350,000 has become a heavy burden on the restaurant. "As far as I know, more than five restaurants went out of business," restaurant owner Takahiro Onishi said.
"For now, opening a restaurant just results in loss," Onishi said, adding that he is placing expectations on demand for online shopping.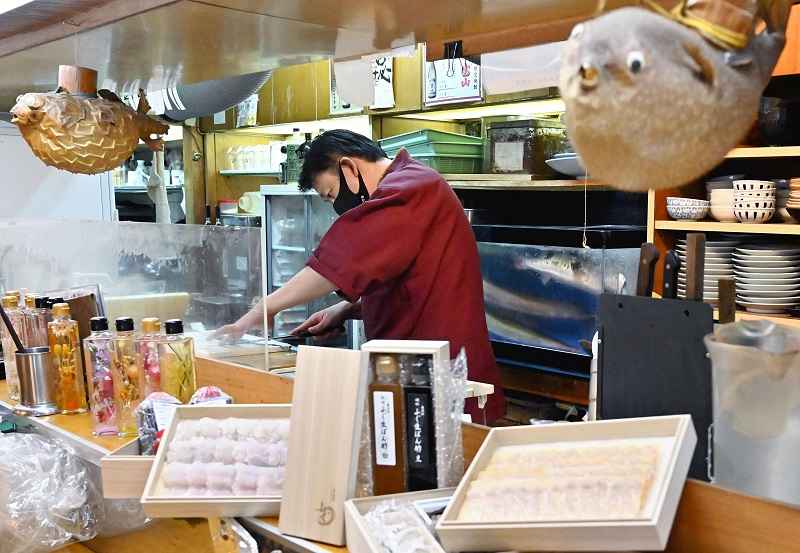 Business closures
Since last autumn, blowfish restaurants have been closing down one after another.
The Zuboraya blowfish restaurant in Osaka's Shinsekai district closed down in September last year, ending its 100-year history. Miyamagobou in Fujiidera, Osaka Prefecture, which operated about 10 Taitenfugu blowfish restaurants, incurred debt of about ¥600 million and declared voluntary bankruptcy in March this year.
The Osaka branch of Teikoku Databank Ltd. said that more and more blowfish restaurants are likely to go under or close down after this summer.
Blowfish is often the chosen option for large parties. The coronavirus pandemic is inarguably bringing change to the long-established food culture.
"Now is the time not only for tecchiri restaurants but also for the entire blowfish industry to adapt to the changes of the times," Yoshitaka Sasai, a representative of the nonprofit organization Naniwa Gyosai no Kai, said. "I hope they will devise new ways to eat blowfish and pass them on to the next generations."
Blowfish capital
Blowfish is known as a high-class dish that represents Osaka.
In the past, there used to be large blowfish catches in Osaka Bay and the fish became increasingly popular among the general public. Then in 1948, the Osaka prefectural government created an ordinance on blowfish cooking licenses ahead of other prefectures in Japan.
Currently, there are about 110,000 people who have a blowfish cooking license in the prefecture — five times the 20,000 or so licensed to prepare the poisonous fish in Tokyo. Over the past years, annual blowfish catches have been 8,000 to 9,000 tons, including farmed blowfish. However, catches dropped to 7,000 tons last year, down 20% from the previous year, according to preliminary figures. This is evidently because the COVID-19 outbreak has led to a sharp decline in dine-in restaurant demand.
Add TheJapanNews to your Google News feed.