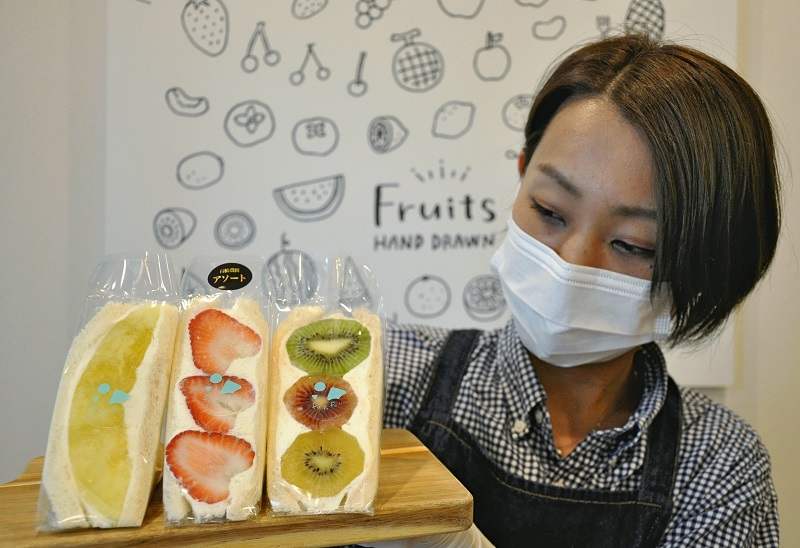 12:08 JST, July 6, 2021
MATSUE — Once photos of the fruit sandwiches of Fufufu Izumo located in Izumo, Shimane Prefecture, went viral on social media, customers began flocking to the shop to get their hands on the tantalizing diagonally cut sandwiches comprised of fluffy white bread enveloping plump, appetizing, locally grown fruits sumptuously embedded in fresh whipped cream.
The shop dubbed its colorful creations "moedan," combining "moe," a recently popular phrase used to imply a rush of strong affection for something and "dan" being an abbreviation of "danmen," which means "cross-section" in Japanese, stemming from the sandwiches aesthetic.
J Communication Co., the shop's Tokyo-based operating company, decided to expand after realizing the product's popularity and opened Ebisu and Shibuya branches, both in Shibuya Ward, Tokyo.
"We were very particular about the sandwiches' cross-section look," J Communication President Yutaka Moriyama said. "We'd like our customers to enjoy both the appearance and deliciousness of our sandwiches."
The fruit sandwiches were originally sold at the Fuku no Karaage and Coffee shop in the Cotorget complex in Unnan in the prefecture, but began being sold at the take-out-only shop which opened in Izumo last December.
While the shop specializes in the colorful treats, preparing a dozen varieties daily, items such as tapioca and juice are also on the menu.
Immediately after its opening, support for the sandwiches surged thanks to customers enamored with their unique aesthetic posting photos across several social media platforms. Recently, a long line of customers have been seen stretching out from the store daily.
As the availability of fruit tends to limit the number of sandwiches that can be prepared, the shop often sells out before it closes its doors at 5 p.m.
The shop uses seasonal fruit purchased from farms as well as fruit and vegetable wholesalers. The sandwiches are filled with a mixture of fresh cream and mascarpone cheese, giving them an elegant sweetness.
"We work to come up with the best combination and distribution of fruit and fresh cream so that the whole sandwich is delicious up until the very last bite," said Mayumi Sasaki, a member of the shop's staff.
The shop takes care in arranging the ingredients in such a way that the fruit can easily be seen, she said.
Anticipating an increase in take-out demand amid the coronavirus crisis, a second shop was opened in Kawasaki, and later the two Tokyo branches.
"People's impression of Izumo is positive, and our sandwiches are selling well," Moriyama said. "I would like to heighten the publicity of not just our sandwiches but of Sanin regional fruit as well."
Prices range from ¥450 to ¥1,200 per serving.
Add TheJapanNews to your Google News feed.