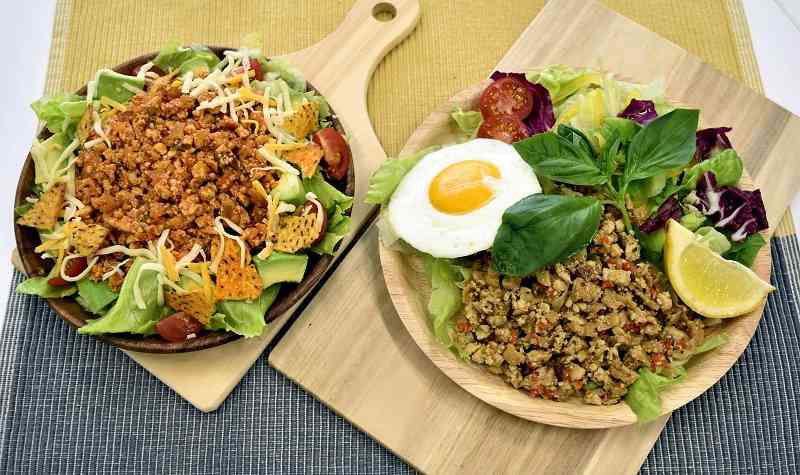 18:40 JST, May 25, 2021
Tofu's been getting a makeover. Innovative variations on the protein-rich bean curd have been cropping up on shelves, mainly in response to rising demand from younger consumers seeking healthy and tasty menu options.
In November last year, tofu retailer Asahico in Saitama Prefecture released a hardened Tofu Bar. The stick comes in two flavors: dashi stock and citrus-infused chili yuzu kosho. The product contains twice as much protein as standard tofu and the cholesterol-free snack seems to have hit the spot among health-conscious youths.
"It's easy to eat," Asahico's marketing manager Mio Ikeda said. "You can even snack on the job and easily take in some protein. It's actually a popular snack for office workers."
The idea for the Tofu Bar was somewhat of an accident. During a stay in the United States on business three years ago, Ikeda found that tofu had become a popular source of protein across the Pacific and that it was firmer than what was often eaten in Japan.
After seeing how tofu was being adapted to American palates, such as grilled and used as a salad topping, she said she decided to take a cue from the freewheeling American kitchen.
In March, Asahico released processed tofu products that are intended to taste like meat. The "tofu meat" comes in a variety of flavors such as Mexican taco and Thai basil gapao. One type is meant as an ingredient for maze-gohan seasoned rice.
Gunma Prefecture's Sagamiya Foods Co. updated in September last year their soybean-derived somen-style brand of noodle and renamed the product Tanpakushitsu no Toreru Tofu Nyumen (hot tofu somen noodle for high protein intake). The packaging now boldly displays the company's tofu noodle as protein-rich and low in carbohydrates and calories. In March, Tanpakushitsu no Toreru Tofu Somen, which is served cold with dipping sauce, was released in two flavors.
Sagamiya says its sales have tripled since the revamp, with women in their 20s to 40s being the main purchasers.
"An idea to clearly show the products' potency may have been accepted by health-conscious consumers," a Sagamiya spokesperson said.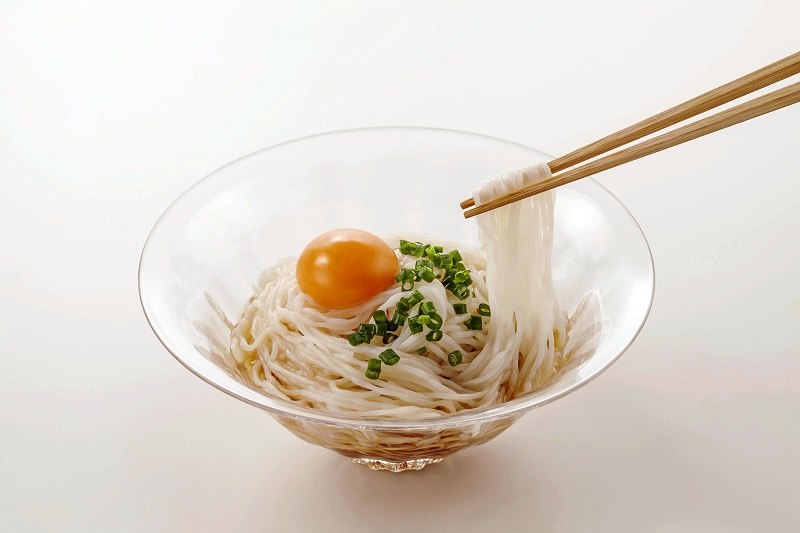 Added value
Domestic consumption of soybeans — the raw material for tofu — has been flat in recent years at around 470,000 tons a year, according to the national tofu association, or Zentouren. In 1998, a block of tofu usually sold for about ¥100, but by 2019, the price dropped to about ¥63, according to the Internal Affairs and Communications Ministry's Family Income and Expenditure Survey.
Tokyo Shoko Research Ltd.'s survey found 21 tofu makers and retailers filed for bankruptcy in fiscal 2019, up 75% from the previous year.
"Although soybean prices have risen, fierce competition has made it difficult to raise the price of tofu," a Zentouren spokesperson said. "In recent years, there's been a move to stimulate new demand by finding value in health foods."
While tofu has received attention as a healthy food rich in vegetable protein, Takeshi Nikawa, a professor of biomedical science at Tokushima University, said it was still also important to take in animal protein for a balanced diet.
Nikawa, an expert on the relationship between nutrition and muscle, conducted experiments in which mice were given animal protein that helps build muscles and plant protein that helps maintain muscles. He changed their ratios to examine differences in muscle quantity. He found the least muscle decrease in the group that was given equal portions of animal and vegetable protein.
The recommended daily intake of protein is 60 to 65 grams for men and 50 to 55 grams for women.
"Please be mindful to eat a good balance of animal and plant protein, while also making sure to exercise moderately," Nikawa said.
Add TheJapanNews to your Google News feed.