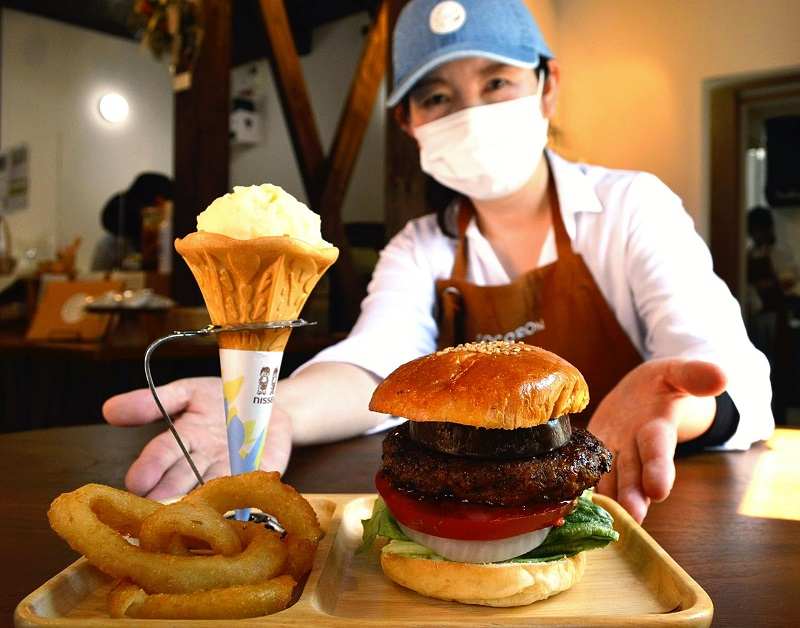 18:43 JST, May 25, 2021
IZUMISANO, Osaka — Her hamburger recipe had won a contest. But was it good enough to become commercially successful?
Miyo Okuno is one of a number of entrepreneurs getting a chance to give their business dream a test run by means of a project that recently started in Izumisano, Osaka Prefecture.
Prospective business owners are making use of a shared facility created from an abandoned house in Izumisano that allows them to open trial shops to gain experience before opening their own enterprises.
The project is a collaboration between the public and private sectors that allows novice business operators to open small "challenge shops" in Share Base Tsumugiya, a renovated vacant house located in front of Izumisano Station on the Nankai Line. Equipped with cooking facilities, it can be used by those wishing to open their food-related establishments.
"We hope that this facility will become a springboard for a new wave of vitality for the city," said a person involved in the project.
Share Base Tsumugiya is a project of Value Renovations Sano (VRS), which was established chiefly by the municipal government, with the aim of reviving and revitalizing urban areas by offering support to those looking to open a business.
One challenge shop is the hamburger stand run in the afternoon by Izumisano resident Okuno, whose main selling point is the use of local produce.
Although Okuno had never even worked at a restaurant, she attended a restaurant management school for six months and learned business administration and basic cooking knowledge through practical training.
The spark that led her to open a hamburger shop of her own was lit at a contest for recipes using locally produced ingredients held over January and February this year. Her recipe for a hamburger made from a minced Inunaki pork pate, Senshu onions and mizunasu eggplants took the Grand Prize.
Learning she could open a challenge shop in front of the station gave her added incentive. "Even though I'm just an amateur, I wanted to try to achieve my dream," she said.
Her featured item is the Sanomae Burger, which is chock full of local ingredients and served on a bun made from the Omimai brand of rice. On her opening day on April 9, her stock of 30 burger sets sold out in an hour and a half.
"I got a variety of opinions after having people try it for themselves," she said. "I want to keep making it better."
She said she is looking for a place in the city where she can open her own full-scale hamburger shop.
Among the other challenge shops within Tsumugiya are a bar, a coffee shop and a bakery, which operate on varying days and times. With the latest declaration of a state of emergency, the shops are for now mainly limited to takeout.
VRS charges fees starting at ¥3,600 a day for food establishments and from ¥1,100 a day for retailers, and continues to accept applicants to open shops.
"Ideally, we want them in the end to go out on their own and open businesses in the city, which will in turn revitalize the city," said Kuniaki Nishino, VRS manager and the municipality's director of local community revitalization. "As the first step to doing that, we'd like people to use this facility to build a brand image."
Add TheJapanNews to your Google News feed.