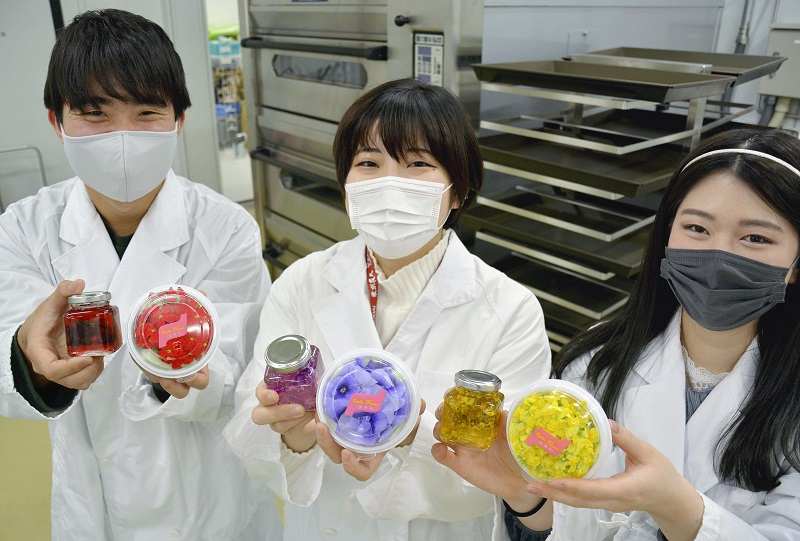 17:23 JST, April 13, 2021
SAGAMIHARA — A research team at the Tokyo University of Agriculture has developed jams using edible flowers, which have seen a drop in demand as a result of the truncated business hours of food-serving establishments amid the coronavirus crisis.
The team, which consists of an associate professor and students from the university's Faculty of Agriculture in Atsugi, Kanagawa Prefecture, have taken the initiative to not only assist in the production of edible flowers but also reduce food loss through the sale of this new jam. The team also plans to use a portion of the sale's proceeds to support medical workers currently tackling the pandemic.
"Edible flowers" is a collective term for small, vividly colored flowers that are added to various dishes. Such flowers that lack strong aromas are typically chosen so as not to spoil the dish's flavor, with many of them being used raw.
The use of edible flowers in hotels and high-end restaurants has been widespread in Japan since the 1980s, growing in demand in recent years thanks to their photogenic nature. The coronavirus crisis, however, has changed that.
Kyoko Kato of Kato Kaen, a flower farm in Isehara in the prefecture, which has produced edible flowers for about 20 years, lamented the situation, saying, "Sales have dropped to an eighth of what they were prior to the pandemic."
Late last year, Haruko Noguchi, associate professor of the faculty's Department of Agricultural Innovation for Sustainable Society, learned about the troubles edible flower farmers faced from a university alumnus who works as a fruit and vegetable wholesaler. She then began exploring different ways to utilize the flowers along with 10 of the department's students.
Noguchi and her students began to take notice of the fact that although fresh flowers can only maintain their vivid colors for about a week, they have about a six-month shelf life if they are freeze-dried. Considering this, they hit upon the idea of making three kinds of jam using blue-purple violas, red sunbrittenias and yellow snapdragons. Six to eight flowers are used per 100-gram jar. The flowers are boiled in such a way that they retain their shape, and an aroma is added with herbal teas specially chosen to complement each flower.
To adequately accentuate the flowers contained in the glass jars, the group also devised a technique to perfect the firmness of the jam by adjusting the amount of a gelatinous agent.
"Making the jam more firm makes the flowers look beautiful without creating unnecessary air bubbles," said Anna Oba, a 22-year-old student at the university. Oba said these jams boast a light and fresh flavor and recommends using them as an ice cream topping or adding some to a cup of tea.
The group purchased about 360 packs of 20 flowers from a production cooperative in Toyohashi, Aichi Prefecture — Japan's largest production center — and made about 1,000 jars of jam. About 760 of these jars were given as commemorative gifts to the university's graduates and new students. The team also began selling the remaining 240 jars in April under the name "Taberu Ohana no Jam" (Edible flower jam) for ¥500 each at a shop called "Atsumaru," that sells Atsugi specialties near Hon-Atsugi Station on the Odakyu Line.
Some of the proceeds will go toward the donation of medical gowns and other items through the Nippon Foundation.
Add TheJapanNews to your Google News feed.