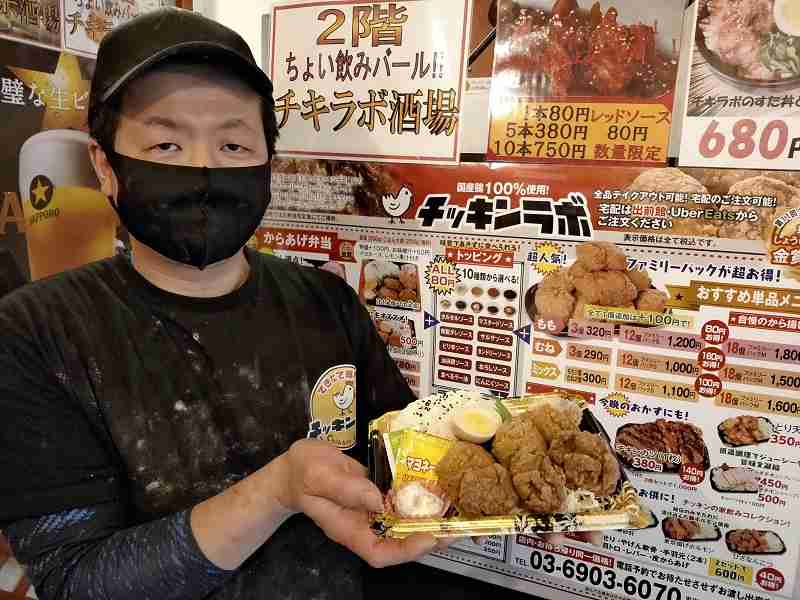 16:21 JST, March 16, 2021
While a number of izakaya pubs and family restaurants are closing in the wake of the coronavirus outbreak, shops and restaurants that specialize in karaage fried chicken are having the opposite experience.
These places specialize in different kinds of karaage, serving up regional flavors from across Japan and increasingly even fried morsels inspired by Taiwanese and South Korean tastes. As more people work from home, many have also started making karaage on their own. This growing appreciation for karaage can be seen in several examples.
Karaage specialty shops
Chikkin Labo is a karaage specialty shop that is about a 5-minute walk from JR Otsuka Station in Tokyo. Here, you can either dine in or have your fried chicken to go. A 51-year-old customer said he buys karaage at Chikkin Labo up to three times a week. "I like their crisp and juicy chicken," he said. "Whenever I'm not sure what I want to eat, I tend to fall back on fried chicken because it's so filling."
The shop, which opened in 2019, uses chicken from Iwate Prefecture and carefully marinates the meat to make it tender. Chikkin Labo's karaage became popular thanks to its juiciness, and last year the shop won the top prize in the karaage bento lunch box competition held by the Japan Karaage Association.
Hiroyuki Soma, 40, manager of Chikkin Labo, said: "Our restaurant is popular among businessmen in the neighborhood. We also have a wide range of customers, including homemakers who are having a hard time preparing meals during the pandemic. Under the state of emergency, it has become common for people to order takeout, increasing the number of our customers."
The city of Usa in Oita Prefecture is said to be the birthplace of shops that specialize in karaage. According to the city, shortly after World War II, a Chinese restaurant bought substandard chicken from a poultry farm at low prices, made karaage with the meat and sold it. The karaage became popular and the owner of an izakaya pub in the neighborhood decided to open a shop that specialized in it — an idea that eventually spread to the neighboring city of Nakatsu and other areas.
More recently, after a karaage shop in the prefecture began opening other branches in various locations around the country in about 2010, karaage shops came to be widely recognized and appreciated.
Major restaurant chains also entered the market, riding on the popularity of the business model and its low overhead costs. Leading izakaya chain Watami Co. has been operating about 80 karaage stores under the name Karaage no Tensai since 2018. Karaage no Tensai offers three flavors: black soy sauce, salted koji and spicy miso. "We are opening stores in shopping districts close to residential areas to increase convenience for customers," Norikatsu Suga, manager of the Watami brand's public relations office, said.
Karayama of Arcland Service Holdings Co., which operates the Katsuya chain of restaurants, is popular for its crispy karaage, which is wrapped in stretched chicken skin and then deep fried. Karayoshi of Skylark Holdings Co. is also enjoying the support of customers thanks to its chicken, which is marinated in an original sauce made of malt and soy sauce before being deep-fried.
Finding your favorite
The Hakuhodo Institute of Life and Living said the recent boom in karaage is the result of the popularity of high-protein meals. It also said that karaage is drawing attention thanks to the growing demand for precooked and takeout meals amid the pandemic.
The institute said people are spending less time on cooking, opting instead to buy precooked and takeout meals, as there is an increase in the number of working families and single-person households. Also, there is a major trend of people preferring to have meat in one of their side dishes.
According to market research firm Fuji Keizai Co., the size of the karaage market is expected to more than double from ¥43.1 billion in 2017 to ¥111 billion in 2021.
Akemi Natsuyama, chief researcher at the Hakuhodo Institute of Life and Living, said: "Many people find it troublesome to make kaarage at home, and fried chicken is cheaper than tonkatsu pork cutlet. The boom is likely to continue, with the increase of the number of karaage shops and restaurants, as people can enjoy finding their favorite flavor like they do for ramen."
Add TheJapanNews to your Google News feed.