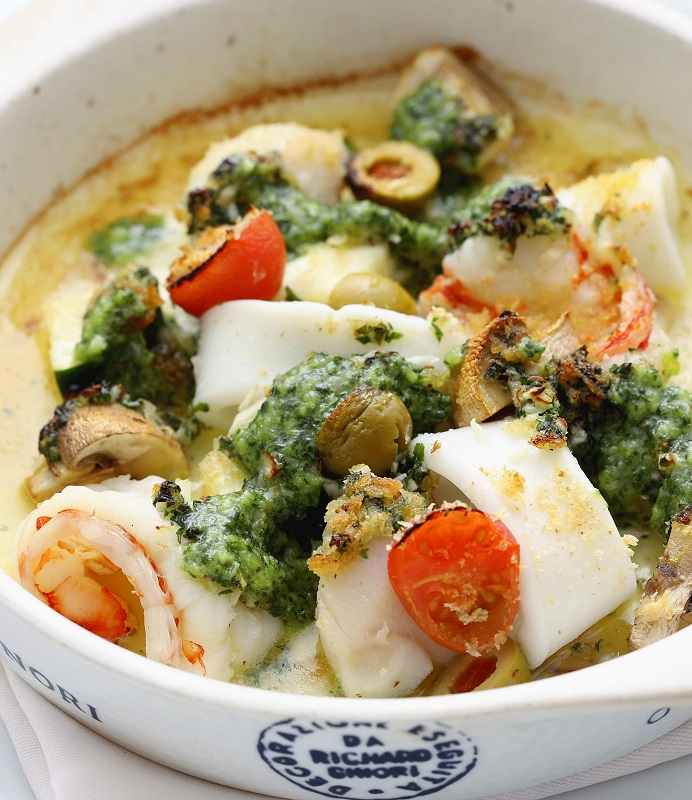 14:35 JST, March 9, 2021
Amid the coronavirus pandemic, dishes that give you a feeling of traveling are nice. Italian chef Yahei Suzuki shared how to cook seafood with garlic butter, a kind of dish that brings on the exotic and relaxing air of the Mediterranean thanks to its aromatic herbs, including parsley.
Suzuki said garlic butter is the key to the taste of the dish. It is used to cook escargot or white fish at restaurants in Italy, or to make garlic toast.
"It's good on beef steak, too," Suzuki said. "You can make a large amount of garlic butter and use it in various dishes." It can be kept in a freezer.
The concentration of salt in garlic butter should be about 1%. The salt concentration of salted butter is about 1.5%, so unsalted butter is used.
Suzuki said the trick is to let the butter come to room temperature before cooking. Butter will soften faster if cut into thin slices and stuck along the inner sides of a bowl.
For the seafood dish, Suzuki chose fresh shrimp, squid and scallops. All of them were placed in hot water just after the heat has been turned off after boiling, and left for about five minutes before use.
If raw seafood is grilled in an oven with the garlic butter, the parsley's aroma will be gone by the time the seafood is cooked, according to Suzuki.
The savory aroma of garlic and butter stimulated my appetite. The squid, shrimp and scallops were all plump and juicy, while the aroma of the parsley and garlic penetrated my nose. They went well with the seafood.
Seafood with garlic butter
Ingredients (serves 2):
100 grams unsalted butter
10 grams finely chopped parsley leaves
10 grams finely chopped shallot, or onion
10 grams minced garlic
2 scallops, fringe removed
4 shrimps
1 squid tube
3-cm piece of zucchini
4 pitted olives
2 cherry tomatoes
2 mushrooms
Bread crumbs

Directions:
1. Cut butter in thin slices and place them in a bowl. Let them reach room temperature.
2. Remove the head and shells from the shrimp, open the back and remove the guts. Peel the squid and cut it into round slices.
3. Halve the tomatoes and olives and quarter the mushrooms. Cut zucchini into 1.5-centimeter-thick slices and then quarter them.
4. Mix butter with a spatula. Add parsley, shallots, garlic, 1 gram of salt and a pinch of pepper and mix them well. Move the mixture to a bowl and cool in a refrigerator.
5. Bring a pot of water to a boil and add salt equivalent to 1% of the volume of the hot water. Turn off the heat and add the shrimp, squid and scallops, in that order. Leave for about five minutes until they slightly change color. Remove them from the hot water and immediately put them in ice water. Drain and pat dry. Bring water to a boil again and lightly boil zucchini slices. Remove them from the hot water and put them in ice water. Drain and pat dry. Cut scallops in half.
6. Place the seafood, zucchini and mushrooms in a baking dish and sprinkle butter shavings on top. Add cherry tomatoes and olives. Sprinkle with breadcrumbs.
7. Bake in a toaster oven until breadcrumbs are browned.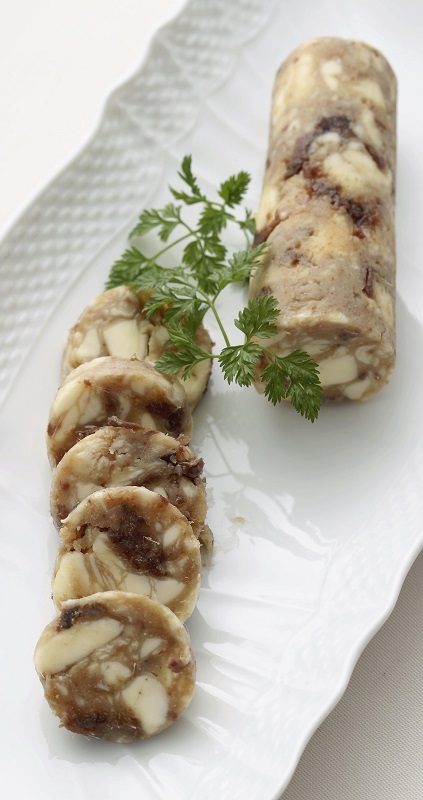 Anchovy butter
By changing the ingredients, other flavors of butter can easily be made.
Mix unsalted butter with chopped anchovies in a ratio of 3 to 1. Wrap in plastic wrap in the shape of a bar, cool in the refrigerator, and it's done.
"The fishy smell in anchovy butter will disappear when heated, so I recommend spreading it on bread and toasting it. It's also good to make sauce with the butter for sauteed white fish," Suzuki said.
Add TheJapanNews to your Google News feed.