Japanese Conductor Opens Opera Season in Odesa, Provides Encouragement to Ukrainian Audience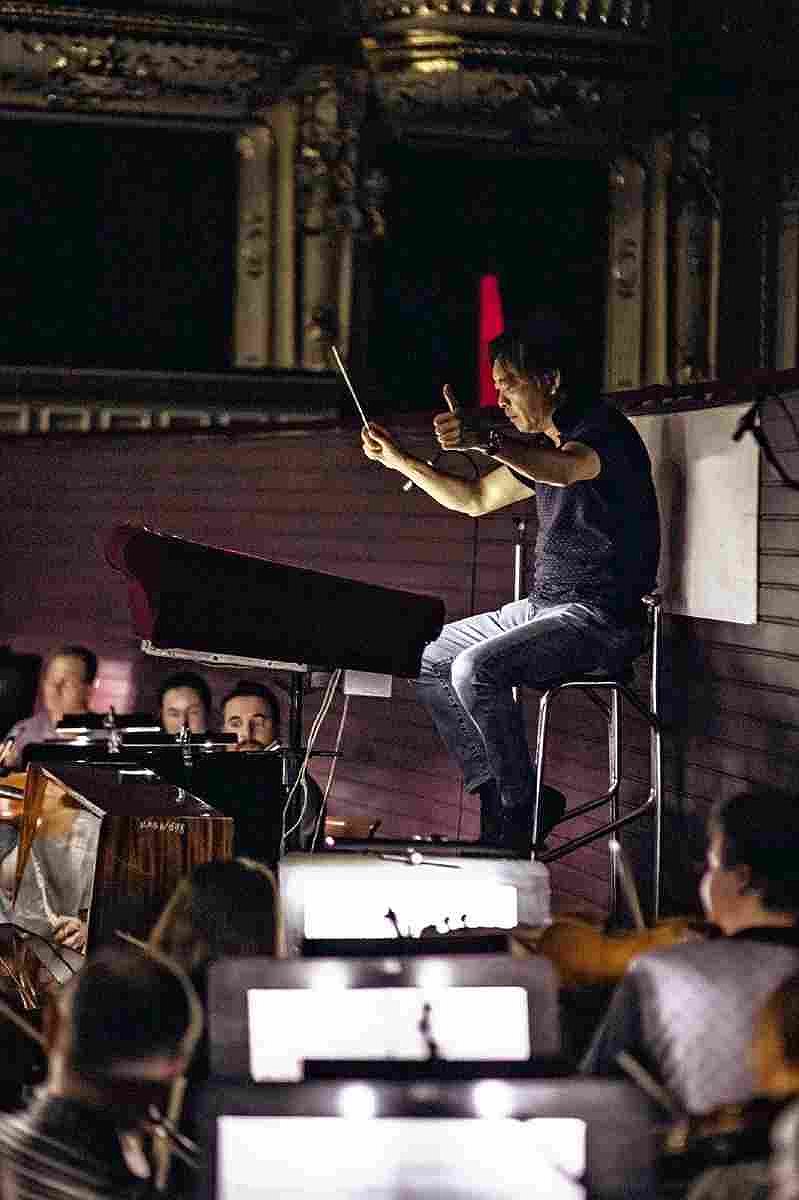 16:20 JST, September 12, 2023
Japanese conductor Hirofumi Yoshida, who is based in Italy, was in the pit for the opera season opener of the Odesa National Academic Opera and Ballet Theatre in the southern Ukrainian city of Odesa on Sunday. Yoshida, 54, conducted Puccini's opera "La Boheme" as the opera house's principal guest conductor.
Yoshida entered Ukraine by road from Moldova on Sept. 5 and rehearsed the opera with the theater's orchestra several times. The nearly full audience of 1,500 people received the Puccini masterpiece with loud cheering and gave the performance a standing ovation. Quite a few of audience members were clad in military uniforms and some said, "Thank you," with tears in their eyes. "I think the performance was food for the soul," Yoshida said proudly after the performance. But he added that the occasion made him keenly aware that Ukraine is at war.
Yoshida moved his career base to Europe when he was 29 and has held some major posts, such as principal guest conductor of Il Teatro Comunale di Bologna in Italy. He visited Ukraine for the first time in December 2020 at the invitation of the Odesa theater and conducted Puccini's "Madama Butterfly." He assumed the post of the opera house's principal guest conductor in January 2021 during the global lockdown period caused by the novel coronavirus pandemic. Then, Russia invaded Ukraine in February 2022. In June last year, Yoshida received a request from the Odesa theater, which had just resumed operation, to conduct the opening performance of the 2023-2024 season. He accepted the opportunity for his second time visiting Ukraine.
However, Yoshida was offered to guest conduct because the opera house's music director, a Belarusian conductor who is also an acquaintance of Yoshida's, was suddenly fired. Apparently, the theater took issue with the fact that the conductor had performed at an opera house in Azerbaijan that is linked to the husband of a Russian singer who is on the Ukrainian government's sanction list. While Yoshida boosted the morale of the audience and received good feedback from the performance on Sunday, he said he also had mixed feelings. "I've never heard [the Belarusian conductor] agrees with the invasion," Yoshida said.
Elimination of Russian culture and Russian artists continues in Ukraine and some other countries. However, in Italy, where Russian operas were shunned at one point, the shunning emphasized the existence of the works and even led to reevaluation.
"The invasion is unforgivable," Yoshida said. "But music has power to transcend borders and touch people's hearts. It must not be affected by ideologies."
Add TheJapanNews to your Google News feed.