Hosoda's animated film to come to life in Shiki Theatre Company's largest-ever production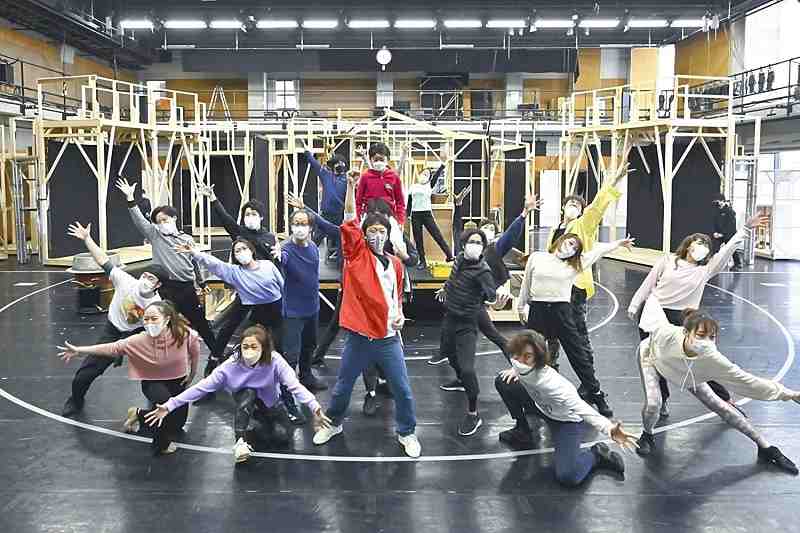 13:11 JST, April 28, 2022
The Shiki Theatre Company's original musical adaptation of "Bakemono no Ko" ("The Boy and the Beast") will begin April 30 at the JR-East Shiki Theatre Aki in Minato Ward, Tokyo.
The theatrical adaptation of director Mamoru Hosoda's animated film of the same name will be Shiki's largest-ever original musical. The story is a coming-of-age tale about a violent, bear-like monster named Kumatetsu and a lonely boy, Kyuta. The boy becomes Kumatetsu's pupil, and they develop a master-apprentice, father-son relationship.
Shiki's main genres are original musicals and foreign ones such as "The Lion King."
The theater company's original musicals include the masterpiece "Hadaka no Osama" ("The Emperor's New Clothes") written by dramatist Shuji Terayama and directed by Keita Asari in 1964. Since Chiyoki Yoshida become the company's president in 2014, Shiki has been focusing on this genre.
"All of our works are life-affirming: Let's do our best tomorrow!" Yoshida said regarding why "Bakemono no Ko" was adapted. "This spirit can be seen in 'Bakemono no Ko,' too, and the theme of a parent-child relationship is suitable for a musical as well."
At an open rehearsal, director Go Aoki and other instructors repeatedly checked the actors' pronunciation and wording of the lines so the audience can clearly hear the lyrics. Aoki last directed for the company in 2018 when it staged "Shakespeare in Love."
"Shiki is a wonderful place to put on plays," Aoki said. "I thought Shiki would have a corporate structure, but it's actually a classic theater company." Looking back, Aoki searched for presentation techniques distinctive of the stage. "Emotions expressed in movies, whether uplifting or silent, can be expressed in a musical's songs," Aoki said. "I want emotions to gush through songs."
"Bakemono no Ko" comprises 25 songs. "I composed songs that would bring out the characters' personas from the moment they start singing," said Chikae Takahashi, who wrote the script and lyrics. "The theme song that Kumatetsu sings is the first and best song that I wrote. I bet the audience will sing the tune when they leave the theater."
Two actors take turns in the role of Kumatetsu: Akitaka Tanaka, who played Simba in "The Lion King," and Junichiro Ito, who is well-known for his father roles such as Mufasa in "The Lion King" and King Triton in "The Little Mermaid."
Tanaka, who first practiced kendo under his father's influence, said he was "instinctively" familiar with the relationship between sword-fighter Kumatetsu and his student Kyuta. "I'm diving into the role while exploring my relationship with my own father," Tanaka said.
Ito said: "It'll be great if our performance gives hesitant people a supportive push." The musical is composed and arranged by Harumi Fuki.
Add TheJapanNews to your Google News feed.