Erika Ikuta returns to 'Les Miserables,' this time as the tragic Eponine
11:00 JST, June 25, 2021
Erika Ikuta has a brilliant track record as a pop star. A leading member of female idol group Nogizaka46, whose very appeal sells over 300,000 copies of photobooks bearing her likeness, has also been making steady progress toward achieving her childhood dream of starring in musicals.
Born in Dusseldorf, Germany, in January 1997, Ikuta made her CD debut as a member of Nogizaka46 in 2012. She has also appeared in many musicals, including "Romeo and Juliette" and "Mozart!"
But out of all the musicals she has seen, Ikuta said she has been most moved by "Les Miserables," which has been performed in Japan more than 3,300 times since its Japanese premier in 1987. An avid theater buff, Ikuta has been in the audience at performances both in Tokyo and London.
Of course, she has also regaled theatergoers with a number of appearances as a performer in the musical, herself. Having previously played the role of Cosette, the foster daughter of Jean Valjean, twice in the Japanese production, Ikuta is currently making her third appearance in her favorite musical, this time making her debut in the tragic role of Eponine.
"Cosette is a ray of light in the story, while Eponine is the opposite, trapped in the dark. The more happily Cosette laughs, the tougher it is for Eponine. I didn't understand that when I was playing Cosette. It's interesting to look at [the story] from a different perspective," Ikuta said.
The vocal ranges demanded to play the two characters differ completely as well. According to Ikuta, Cosette has a voice "like flying into the sky," while Eponine's voice is distinctively powerful, reflecting an inner strength and the character's reluctance to show any weakness. Ikuta's voice has a delicate clarity, so it was no small feat for her to produce a voice suited to Eponine.
The fruit of her efforts was particularly evident in Eponine's biggest scene.
Eponine wanders the nighttime streets all alone, nursing a broken heart of unrequited love, while singing "On My Own." The piece requires the vocalist to sing from deep down in their stomach, producing a voice as if it steadily swells up from the ground.
I got goosebumps listening to Ikuta's rendition of the song at a May 27 performance.
Veteran musical actress Kumiko Mori, who plays the role of Eponine's mother in the production, was also amazed at Ikuta's transformation. At a press conference on opening day, Mori remarked: "She brought out such a completely different character, I couldn't believe this was the same girl who played Cosette last time. I wondered where on earth she learned how to do that!"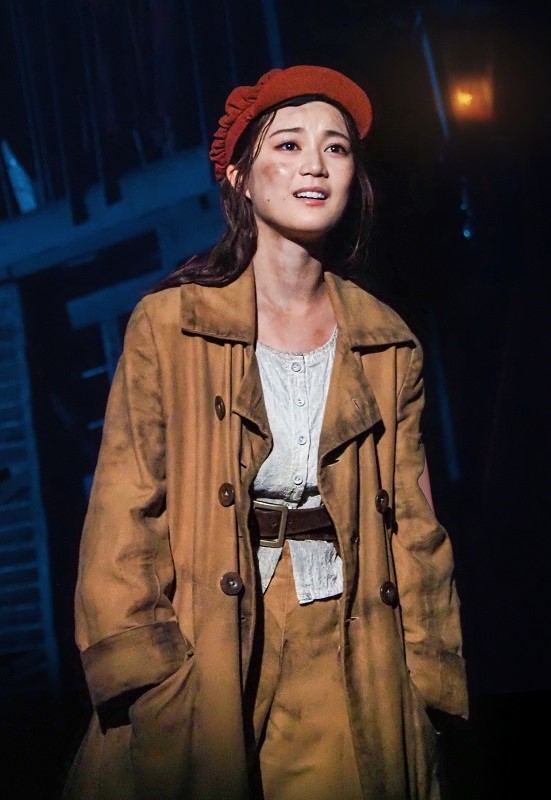 Since 2017, Ikuta has appeared in the musical every two years. Asked what "Les Miserables" means to her, she said: "It's a benchmark of my life. How I have lived the past two years gets directly reflected in how I play the character. Through the role, I am urged to think about the larger meaning of everything."
"If I can duly make Eponine my own character, it will give me confidence to work in the theater community and also build trust as an actress. In turn, I think it will lead to setting new goals and finding more and more things I want to do," she added.
Even after delivering another fantastic performance, Ikuta continues to aim for new heights.
"Les Miserables" will run at the Imperial Theatre in Yurakucho, Tokyo, until July 26, before traveling to the Hakataza theater in Fukuoka, the Festival Hall in Osaka and the Matsumoto Performing Arts Centre in Matsumoto, Nagano Prefecture, through October.
10 questions for Erika Ikuta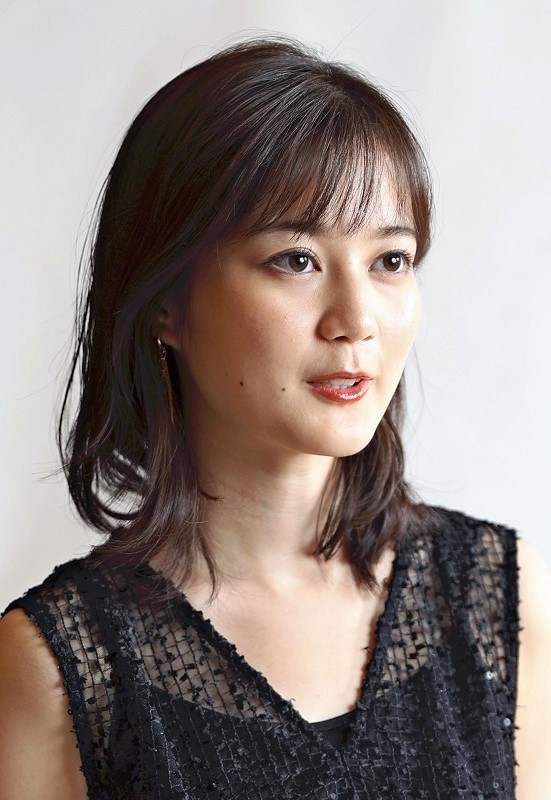 Q: What private lessons have you taken so far?
A: I took piano lessons from when I was 5 to around 20. I also used to take ballet and calligraphy lessons.
Q: What's your favorite film?
A: "Okuribito" (Departures)
Q: Favorite music?
A: "Bang Bang," a collaborative track featuring Jessie J, Ariana Grande and Nicki Minaj
Q: What's the most memorable musical that you've seen abroad?
A: "Wicked," the first musical I saw on Broadway, when I was 18.
Q: What's your favorite song in "Les Mis"?
A: "One Day More." It's very uplifting.
Q: Which musical do you most want to appear in someday?
A: "Pretty Woman"
Q: How do you prepare for a role?
A: Looks are important in creating a convincing character. I start by trying to make my physical appearance match the character as close as possible. When I played the role of a ballet dancer, I went on a diet and slimmed down. To play Eponine this time, I went to the gym and exercised my core.
Q: What made you decide to join Nogizaka46?
A: When I was auditioning for musicals and kept getting rejected, I saw an ad scouting members [for Nogizaka46]. I applied because I figured dancing and singing on stage could lead to work in musicals, which is what I wanted to do.
Q: Favorite Nogizaka46 song?
A: "Danke Schon" (on which Ikuta sang from center stage)
Q: How would you describe the perfect pop idol?
A: Someone who brightens the world with contagious laughter.
Add TheJapanNews to your Google News feed.