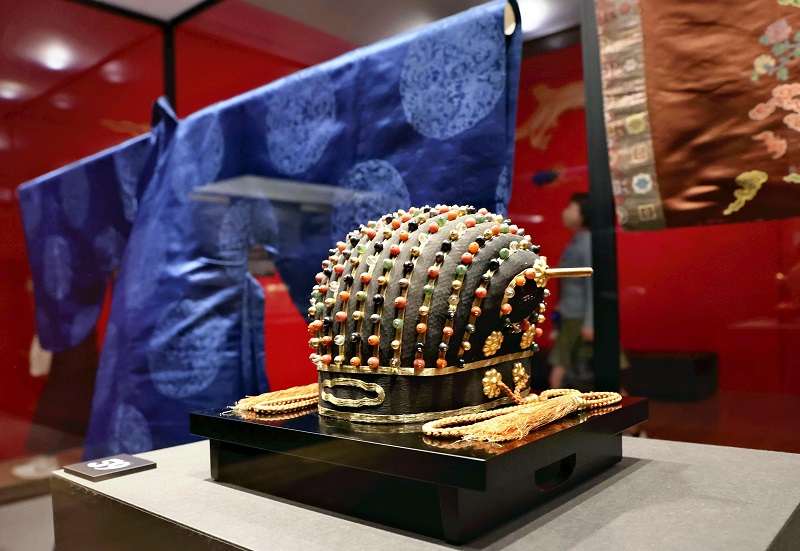 7:00 JST, May 4, 2022
An exhibition honoring the half-century since Okinawa Prefecture was returned to Japanese sovereignty opened Tuesday at the Tokyo National Museum in Ueno, Tokyo.
"Special Exhibition Commemorating the 50th Anniversary of Okinawa's Reversion to Japan RYUKYU" will run through June 26. Ryukyu is the name of the kingdom that ruled Okinawa for centuries.
The about 280 cultural assets on display include the Tamanchabui royal crown with ornamental hairpin, a national treasure that is adorned with gems in various colors. Visitors can also view swords and other treasures, many of which originally belonged to the Sho family that reigned in the kingdom for about four centuries from 1470.
Through these artifacts, the exhibition showcases the culture, history and aesthetics of Ryukyu and Okinawa.
On the May 15 anniversary of Okinawa's reversion to Japanese control, a traditional Ryukyu dance performance will be given at the museum. The event will include kumiodori, an important intangible cultural asset, and commentary will be provided by Shinji Kinjo, the artistic director of the National Theatre Okinawa.
The exhibition is part of the Tsumugu project, a joint endeavor by the Cultural Affairs Agency, the Imperial Household Agency and The Yomiuri Shimbun to promote Japanese art. The show will travel to the Kyushu National Museum in Dazaifu, Fukuoka Prefecture, from July 16.