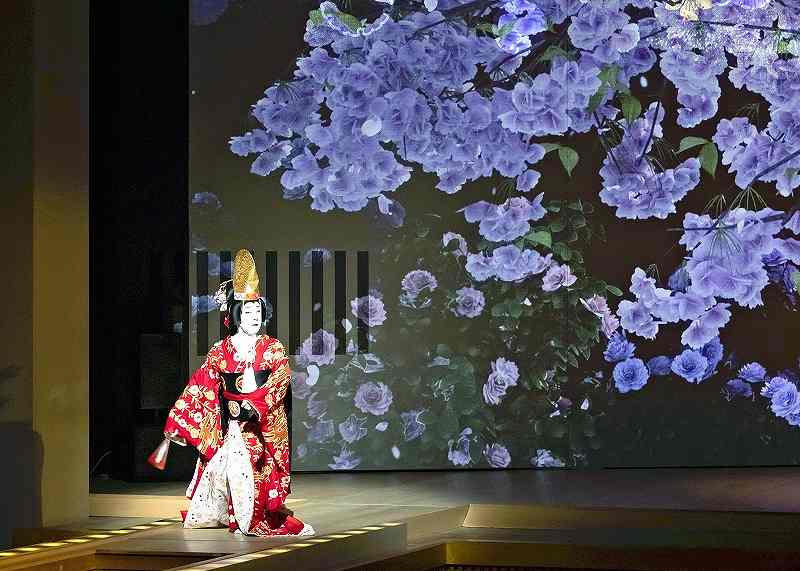 18:41 JST, March 25, 2021
Kabuki is an art form in which the adherence to tradition and formality is highly valued. But, amid the coronavirus pandemic, new initiatives incorporating digital technology are being introduced in efforts to modernize the performing art and expand its fan base.
The steps, which include livestreaming and performances featuring new technologies, are being led by kabuki actors in their 40s and in the prime of their careers, as they strive to enliven the art form in the difficult days of the pandemic.
A kabuki performance titled "Moon, Snow and Flowers: Performing Arts Celebrating the Natural Beauty of Japan" was held on Feb. 28 at the National Theatre in Chiyoda Ward, Tokyo. Onoe Kikunosuke, 43, danced gracefully against a backdrop of images of cherry blossoms and falling snow cast on both sides of the stage using projection mapping technology.
"I want to convey the charms of traditional culture by being creative, especially at a time like this," he said.
Kabuki venues, such as the National Theatre and the Kabukiza Theatre in Chuo Ward, Tokyo, have limited audience capacities to about half the number of seats available since performances resumed in August last year.
"Even though tickets sold out, we ended up in the red," a theater official said.
These actors in their 40s, who have played prominent roles on the major theaters' stages, are regarded as being the "generation responsible for the kabuki world." The performers are working to attract people hesitant to attend shows and gain new followers through efforts such as streaming performances online.
In June last year, Matsumoto Koshiro, 48, launched an online initiative called "Zoom Kabuki" to livestream his performances. Kabuki masterpiece "Chushingura" was the first play livestreamed under the project. He showed a playful side by placing his performance side by side with footage of his grandfather, the late Matsumoto Hakuo I.
Koshiro teamed up with Ichikawa Ennosuke, 45, late last year to stream the next program, "Yaji Kita," which is currently available on paid streaming services.
Ichikawa Ebizo, 43, has a YouTube channel through which he actively communicates with fans online. In February, he livestreamed a performance inspired by "Sanbaso," a dance piece that is a prayer for a good harvest, to commemorate the establishment of a nonprofit organization he represents. Using new video technology, Ebizo danced with computer graphics depicting fantastical natural scenery integrated into his live performance.
Kataoka Ainosuke, 49, has appeared on a smartphone app. Disguised as a lion spirit, Kataoka dances in scenes captured by a smartphone's camera, allowing viewers to enjoy kabuki in the palm of their hands.
Meanwhile, Onoe Shoroku, 46, runs an online talk show, called "Kioichoyawa," with kabuki actors and others as guests.
"Actors in their 40s today are a generation embracing new things and searching for the future of kabuki," theater critic Osamu Inumaru said. "Even amid a crisis, they're likely to see it as an opportunity to create something new."
Add TheJapanNews to your Google News feed.