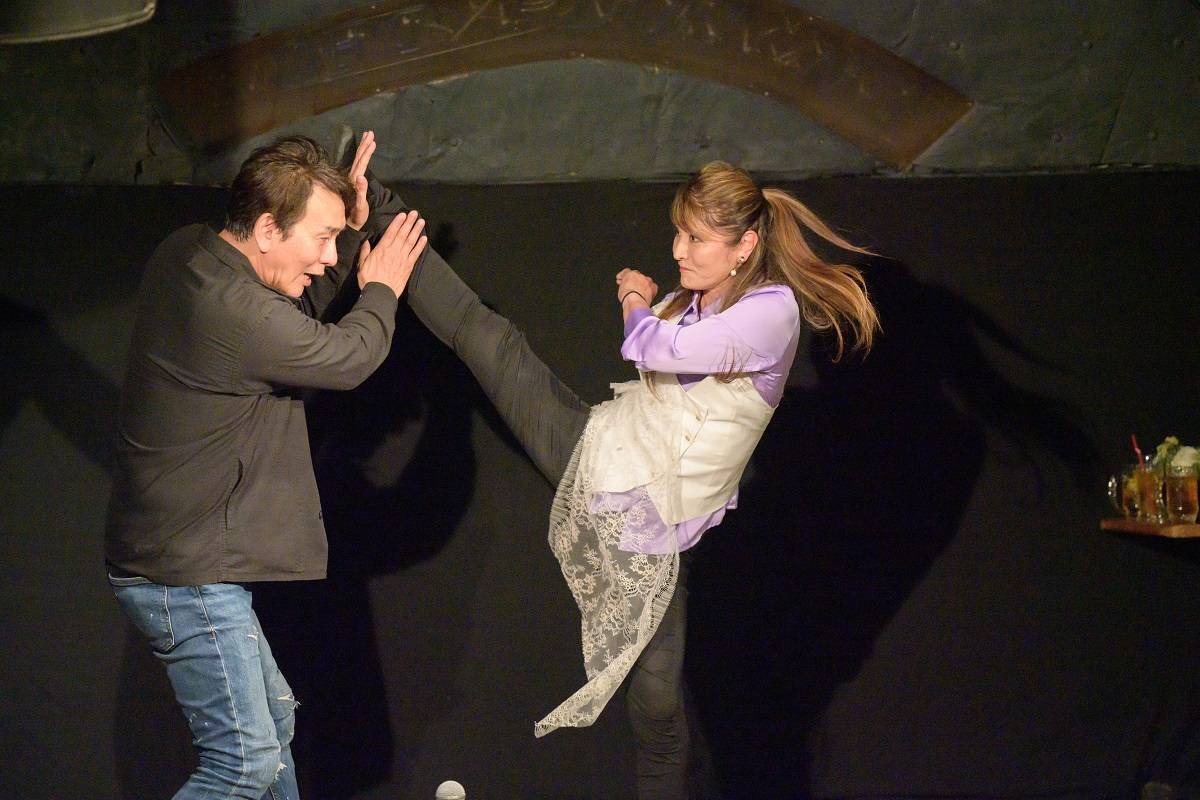 12:00 JST, June 9, 2023
Never did I imagine such a day would come in my lifetime. Kanreki Matsuri 14, the latest edition of an event that I organize, was graced by the appearance of none other than Etsuko Shihomi, Japan's first female action star. Better known as Sue Shiomi overseas, she is now a flower arrangement artist.
Kanreki Matsuri is a talk event featuring veteran suit actors — those who played superheroes or villains in full-body suits and masks, usually after transforming from a human persona — who have reached the "kanreki" age of 60 or older. Featured are those who played the red-costumed leader of the superhero team in the Super Sentai tokusatsu sci-fi series, led by Kazuo Niibori and including Junichi Haruta, Toshimichi Takahashi and Tsutomu Kitagawa. In recent years, the event has been joined by pre-60 "youngsters" like Kenji Takechi and Kihachiro Uemura in supporting roles.
When it comes to Shihomi, there are countless films and TV shows from the 1970s and 1980s that could be regarded as her most definitive work: the "Onna Hissatsuken" ("Sister Street Fighter") series, "Uchu karano Message" (A message from the universe), "Satomi Hakkenden" ("The Legend of Eight Samurai") and so on. For tokusatsu fans, the signature character that instantly comes to mind is super heroine Bijinder and her human persona Mari from the tokusatsu TV drama "Kikaider 01." Fans wearing Bijinder T-shirts could be seen at the event.
Coming on stage, Shihomi seemed amazed by the enthusiasm of the audience made up of grownups still children at heart, and greeted them by saying, "I'm grateful that so many people continue their affection for tokusatsu heroes."
Shihomi, who was 17 when she started playing Bijinder, talked about the day-to-day grind of going to shoots while also attending high school. She said with a laugh, "I remember how surprised I was when I saw the costume [for Mari], and wondered, 'I'm going to be going around in this miniskirt?'"
On the other hand, she clearly recalls the seesaw used during filming. The seesaw worked just like those found on playgrounds, and Shihomi would stand on one end while performing her role. Timed to the script, male members of the Japan Action Club (the predecessor of Japan Action Enterprise) would leap from a stepladder onto the other end, sending Shihomi sailing high. Apparently that was how the jump scenes by Mari were shot. Unlike trampolines, jumps using seesaws can be done without a run-up, making it possible to film the transition from acting to a jump in one take.
"We were doing things like in Cirque du Soleil way back in the Showa era [1926-89]," Shihomi said with a smile.
After the talk about her reminiscences, Shihomi performed a one-on-one fight with Haruta. In a special bonus, Koichi Sakamoto, a director of the Super Sentai and Kamen Rider series who was in the audience, got the scene going by calling out, "Start, action!"
The venue was filled with oohs and ahs from the audience as Shihomi performed high kicks and slick moves that were unchanged from her days as an action star.
What's more, Shihomi made a quick costume change on stage and proceeded to passionately sing two old French pop songs, showing that she really is the complete package as an entertainer.
She even gave us the pleasure of seeing her do the "Change! Bijinder!" pose. It made me really happy to see that she still cherishes the time she played tokusatsu heroines.
"I pray that Japan's tokusatsu superheroes will shine bright forever and continue providing hope and courage for the future to boys and girls," she said at the end.
In those days, we watched superheroes and superheroines perform physically demanding roles under circumstances much tougher than today. That's what makes us now try our hardest in whatever we do. When Shihomi said, "Thank you," we were able to convey to her directly that it was we who were the grateful ones. It was a truly wonderful night.
Add TheJapanNews to your Google News feed.