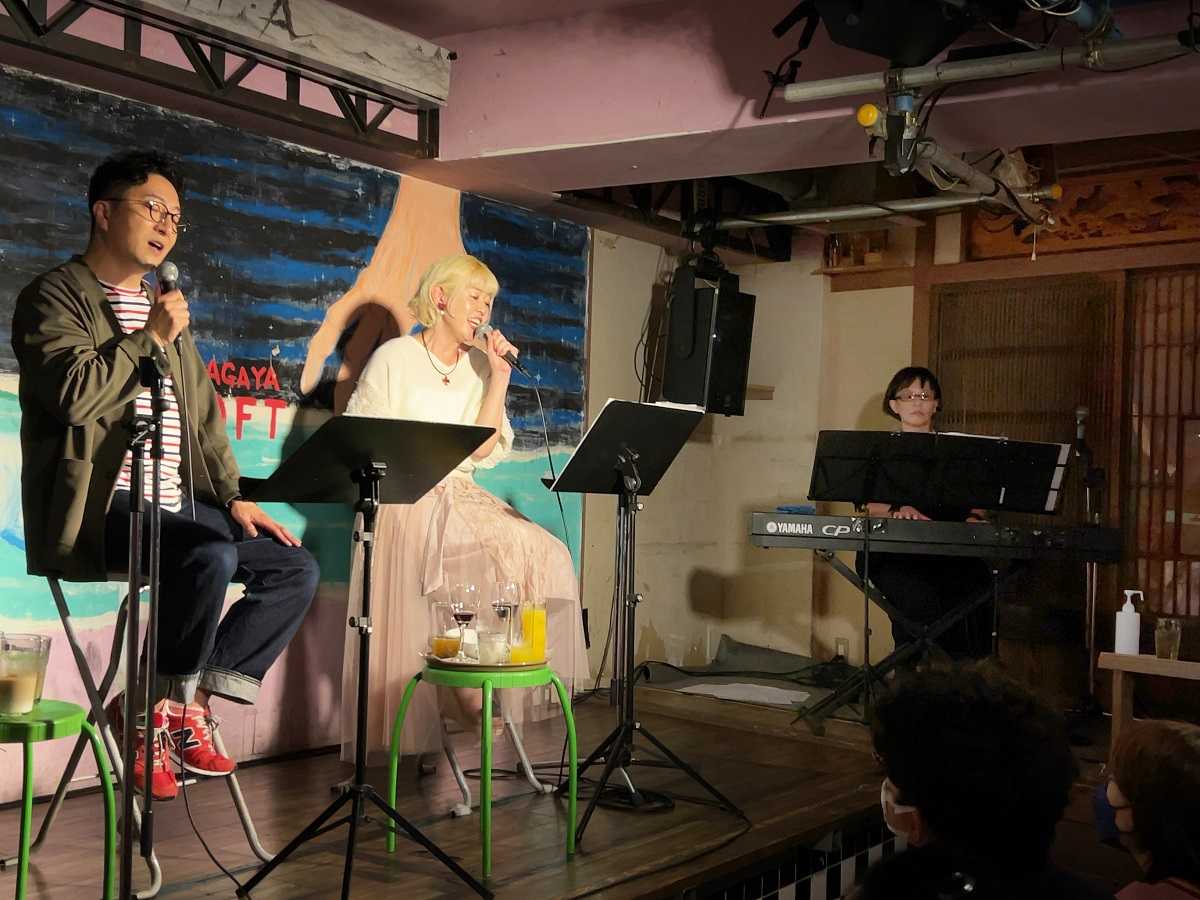 12:00 JST, May 12, 2023
Back in April, I organized a music and talk event featuring anime song singers Mayumi Gojo and Tsuyoshi Matsubara for the first time in 3½ years. It was billed as "Gomatsumatsuri," combining the first parts of their surnames, "go" and "matsu," with "matsuri," meaning "festival." At the concert, they sang anime songs, or anison, to live keyboard accompaniment.
The last time the event took place was toward the end of 2019, the year the two celebrated their 20th year in the business. I blithely asked them questions like, "What do you want to do next year?" and enjoyed listening to them sing Christmas songs. Little did I suspect that soon we would be battling a pandemic and having to deal with everyday restrictions, with holding events completely out of the question. And in those long months of the early pandemic, I found it hard to handle the fact that there was no clear timeline for when events could resume. I think it's a miracle that we've been able to restart. When you have not held an event for 3½ years, one just assumes that the audience will not come back. When we opened the door, however, the venue filled with familiar faces, which made me very happy.
This time we let members of the audience sing out as long as they wore masks. Their voices are indispensable to many of Gojo's songs. They were still somewhat hesitant, but hearing the audience response parts live, I savored the fact that some normalcy has returned at long last.
The show's highlight was undoubtedly in the second half when Gojo and Matsubara sang songs from musicals to keyboard accompaniment. On the keyboard was Midori Aramaki. Since the event was the first in some time, we decided to include popular songs that had been performed in past Gomatsumatsuri concerts. The audience thrilled as the duo performed "Les Miserables" pieces, with Gojo singing "On My Own" and Matsubara performing a medley of "Do You Hear the People Sing?" and "Finale."
The concert also featured pop songs — Matsubara sang "Kimi ga Inai Kara" (Because you're not here) and Gojo sang "Soshu Yakyoku" (Suzhou night song), choices that perfectly suited both of them.
Then came the anison, which also featured piano accompaniment. In memory of Ichiro Mizuki, who died in December last year, the duo both performed songs originally sung by the legendary singer. Matsubara, a student of Mizuki, recalled that after he signed on to sing the theme song of Super Sentai series "Kaizoku Sentai Gokaiger," he immediately informed Mizuki. Five minutes later, Matsubara emailed his teacher again, saying, "Please don't tell anyone yet as it hasn't been officially announced." But Mizuki was so overjoyed that he had already emailed a number of other people. This goes to show just how much Mizuki cared about his fellow singers. In another episode Matsubara related, Mizuki invited him for a drink and told him, "I've been really lucky."
Gojo said she would happen across the fortunate Mizuki quite often in Shibuya and elsewhere.
"He was always beaming, so it was easy to see it was him," she said.
From Mizuki's expansive anison repertoire, Matsubara chose the theme song of "Mu no Hakugei" (The white whale of Mu) and Gojo the theme song from "Babil 2." Their heartfelt performances somehow made me feel as if Mizuki were there listening to them, smiling.
They wrapped up the concert with a marvelous duet of "A Whole New World." It may be too early to say we're in the "post-COVID" period, but still, I hope we can slowly, step by step, return to our normal lives.
Add TheJapanNews to your Google News feed.