12:15 JST, March 24, 2023
"Yudo," a new film about a family running a public bathhouse, opened in theaters last month with a star-studded cast that features Gaku Hamada.
The movie is the brainchild of Kundo Koyama, who might best be known as the scriptwriter of the award-winning film "Okuribito" (Departures). He also crafted the screenplay for "Yudo" to promote the idea behind the title — a merger of "yu" (hot baths) and "do" (method), to form the meaning: "hot bathing method."
Koyama since 2015 has been publicizing the term so the custom of visiting a sento (public bathhouse) and regularly taking hot baths will be seen as traditional Japanese culture — in the same sense as sado (tea ceremony) and shodo (calligraphy).
Hamada plays the role of Goro Miura, the younger brother of protagonist Shiro (played by Toma Ikuta). Shiro is an architect who returns home, where Goro operates a sento public bathhouse called Marukin Onsen.
He brings with him plans to knock down the bathhouse and put a condominium on the site, an idea he conveys to Goro. The younger sibling objects to the notion and gives the cold shoulder to Shiro, who lives free and easy in a big city.
Then a small fire occurs at the bathhouse and Goro has to be hospitalized. At the behest of Izumi (Kanna Hashimoto), a face-of-the-franchise employee at Marukin Onsen, Shiro spends several days as acting manager of the bathhouse.
He comes in direct contact with various patrons — regulars, married couples, parents with children and the like — and learns their life stories that have unfolded at the bathhouse. His thinking gradually starts to change.
Hamada recently sat with The Yomiuri Shimbun to discuss the film and his long acting career.
Colossal Kyoto bathhouse set
Hamada has worked with Koyama on the satellite TV channel WOWOW for many years as the narrator of a movie-related show, which Koyama hosts. So the actor had heard of the concept of "Yudo" from Koyama at an early stage.
"Mr. Koyama, Mr. [Masayuki] Suzuki as the director, and Toma-san playing the lead — I was really excited at the prospect that a world that was once unimaginable to me could come true. I decided to commit myself to the project because these three people were involved," Hamada said.
Shooting took place at a colossal sento set at the Shochiku Studio in the Uzumasa district of Kyoto.
"It was amazing," Hamada said. "Just one step inside the set and I automatically took on the demeanor of a son of the bathhouse, I think."
Said Hamada about his role as Goro: "He's an honest and nice guy who loves the sento culture and wants to take good care of it, despite being under pressure because of various problems such as depopulation and other social issues."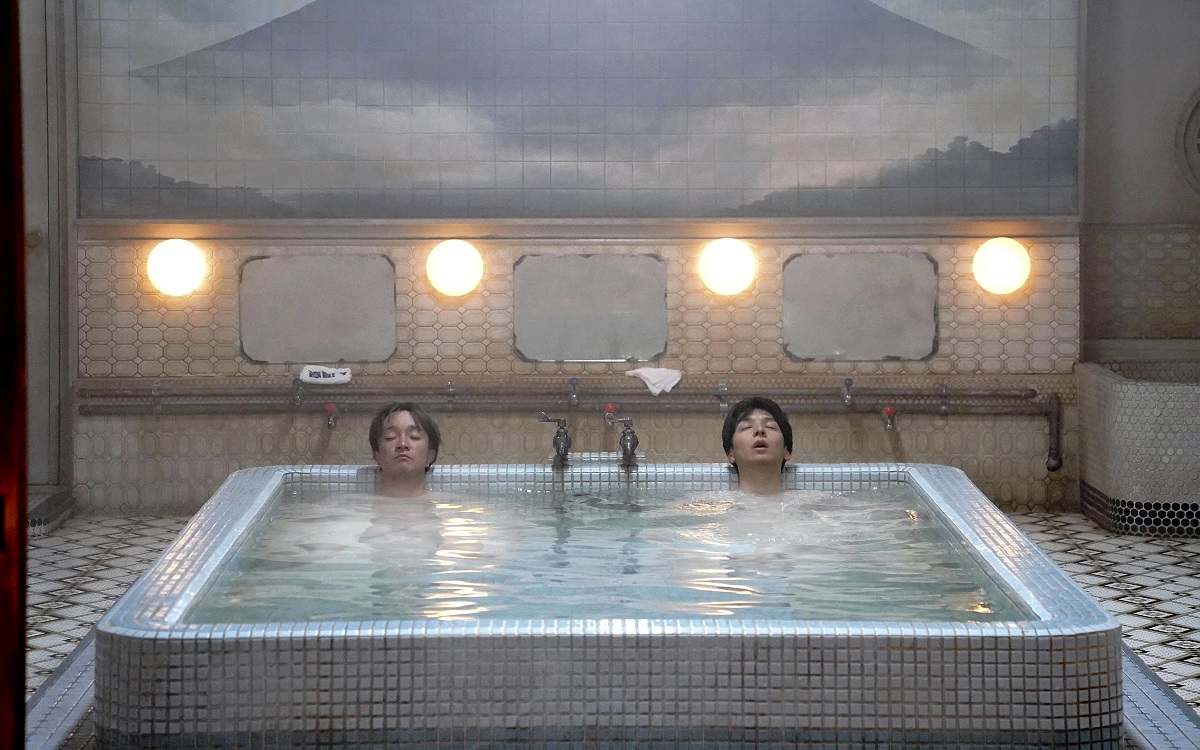 On the other hand, there are scenes in which Goro vigorously argues with his brother Shiro. Hamada said Ikuta helped him immensely in forming the relationship between the siblings.
"Toma-san is full of kindness. I was able to become somewhat like his actual younger brother by fully taking advantage of his generosity."
The illustrious cast also includes veteran actors such as Fumiyo Kohinata and Akira Emoto, as well as singer Yoshimi Tendo.
"It was a dream come true for me," Hamada said of being part of the project. "I really love heartwarming films from the Showa era (1926-89). It's not possible for me to appear in them, but [being in 'Yudo'], I felt as if I could join a masterpiece Showa film thanks to the power of the screenplay, the kindness of the director and the entire group of great actors coming together. It was such a luxury to spend time working with them."
Turning point
Hamada, a Tokyo native, was born in 1988. When he was 9, an entertainment agency scouted him, and that is how his career in showbiz started. He has a rich cache of acting experience, having appeared in various films and TV dramas. He has a composed demeanor and responded to The Yomiuri Shimbun's questions with wit and humor.
When Hamada was in high school, he received an offer to take part in the popular school drama "Sannen B-gumi Kimpachi Sensei" (Mr. Kimpachi in Class 3B), which ran from 2004 to 2005 and became the turning point of his career.
Even though he was a student focusing on studying and rugby, he decided to quit school to throw himself into the drama, which took six months to shoot.
"I made the decision because I thought I'd be able to study at any time," he said. "But I didn't think [acting] would be my life's work."
His career path took a decisive step forward when he starred in the film "Ahiru to Kamo no Coin Locker" ("The Foreign Duck, the Native Duck and God in a Coin Locker"), which hit theaters in 2007.
"I felt really sad when filming was all over," he said, recalling the fully satisfying experience of making the movie.
When the filming was finished, the director, Yoshihiro Nakamura, told him, "See you again."
"That made me genuinely determined to work harder and continue with good performances in any work so that I'd be able to keep that promise," Hamada said.
The promise was kept, and Hamada worked with Nakamura time and again in other films. The actor's filmography includes works by other directors, too.
"I feel a little embarrassed when a film I worked hard on is released to the public," he said, adding that this feeling has not changed over his 25 years in the business. "But that's a positive thing, and I feel absolutely thankful. That's why I just give all I have on-site. They've chosen me and I want them to think, 'We're glad we chose Gaku."
Add TheJapanNews to your Google News feed.