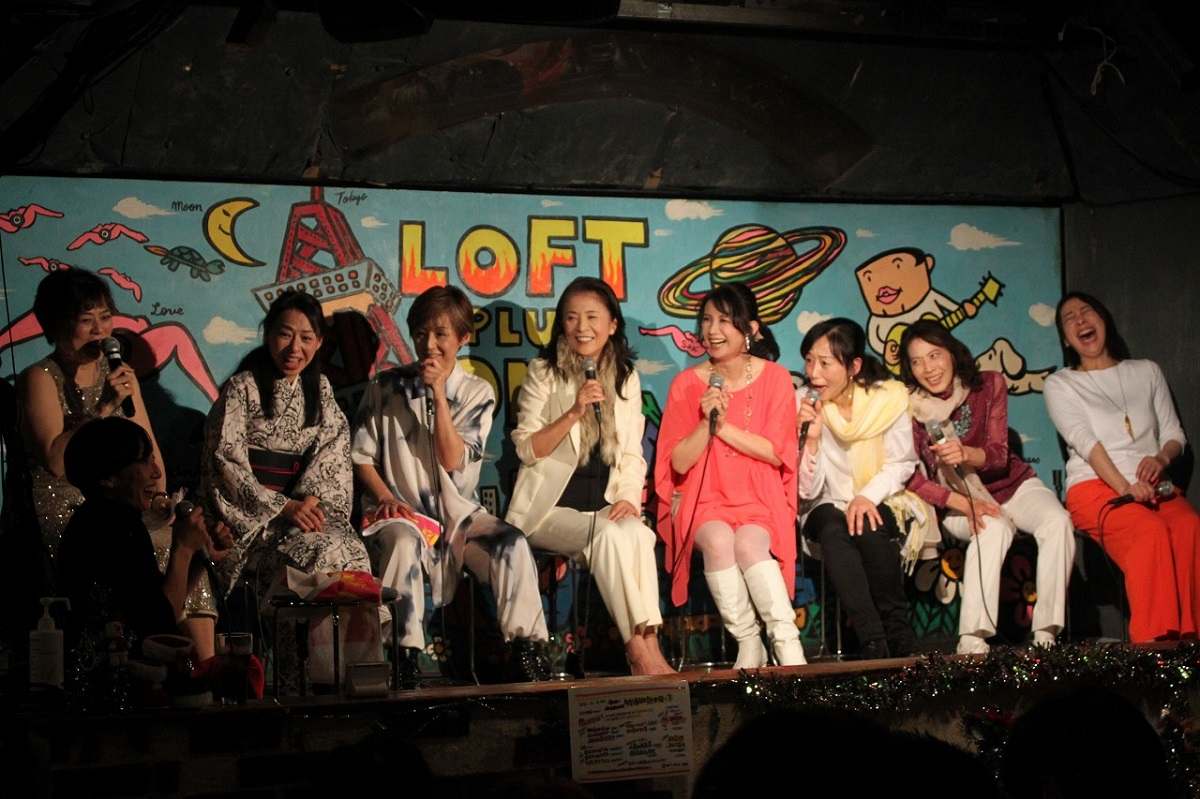 12:00 JST, February 10, 2023
Toward the end of last year, I organized an event with seven actresses who played female leads in the Super Sentai series tokusatsu sci-fi superhero dramas on the TV Asahi network in the 1980s and 1990s. The event was titled "Tokusatsu Bijukujo-bu Matsuri 3" — or the third edition of the festival of attractive older tokusatsu women's club.
It was originally scheduled for the spring of 2020 but was postponed twice due to the novel coronavirus crisis, hence a three-year gap since the previous edition. We approach this event like it's a school club activity for superheroines. I am the club's bucho, or leader. It was immensely moving that we could get together again after such a long time.
The seven actresses included the club's four regular members: Michiko Makino, who played Pink Five in "Chodenshi Bioman"; Sumiko Tanaka, who played Yellow Four in the same show; Mai Oishi (Change Phoenix in "Dengeki Sentai Changeman"); and Yuki Nagata (Yellow Mask in "Hikari Sentai Maskman"). They were joined by two new members, Megumi Mori (Blue Dolphin in "Choju Sentai Liveman") and Rika Kishida (White Swan in "Chojin Sentai Jetman"). Also featured was Mizuho Nogawa, a suit actress who played many female leads after transformation in a full-body suit and mask. All of them spoke about their memories of various things that happened during shooting.
I expected to hear many glamorous stories from the seven superheroines, but what they all talked about revealed how grueling shooting was back then, such as being covered all over with mud and jumping off a cliff in a miniskirt and a pair of pumps. Nogawa recalled an episode in which she was beaten by an enemy and fell over with her legs apart.
"I got told off [by the director] that I should've behaved more femininely," she said, adding that Yuichi Hachisuka, a male suit actor who often played superheroines in masks and full-body suits after transformation, looked much more feminine.
"But hey, you don't think about such things when you're fighting, do you?" she asked around the others, who unanimously nodded in agreement.
The talk was followed by the actresses singing the superheroine songs from their shows. In this section, Mori was clad in a miniskirt resembling her costume in "Liveman" and enamored the audience by energetically moving around on stage and giving a seriously amazing performance, which reminded us all that she used to be a pop idol.
There was also a guest who came to the event for the first time: Yumi Hatano, who played the daughter of Mr. Arashiyama, the superhero team's director (played by the late Shin Kishida) in "Taiyo Sentai Sun Vulcan." The actress, who went by the name Yumi Nemoto at the time, came on stage this time in a white suit that reminded us of the costume for her character, Misa!
Misa was rare among female leads in the series because the character did not transform into a superheroine. Therefore, Hatano would often join suit actors in fight scenes as the only non-suit actor.
"It was tough," Hatano said. "There was no bathroom in location, and I always had tears in my stockings. It really freaked me out when I had to fall in the water in the arms of an enemy monster."
She also talked about Kishida, who often worked with her in the studio as Misa's father.
"We lived close to each other, so we would go to the studio together. He was a gentleman who would buy lunch for all of us even though he ate so little," she said.
Kishida, who appeared in many tokusatsu shows, was known for his acting prowess.
"Performing with him alone made me feel that I improved as an actor. No doubt it was a priceless experience," she said.
After the precious talk time, they performed their respective characters' nanori — a signature set of moves that superheroes perform before fighting — one by one. Then the event ended with Hatano declaring, "Heroines, get into action!" in Misa's voice.
I think that if heroes give you excitement, heroines give you a sense of happiness that makes you smile. It was really fun. I hope to continue our club activities, scouting more new members.
Add TheJapanNews to your Google News feed.