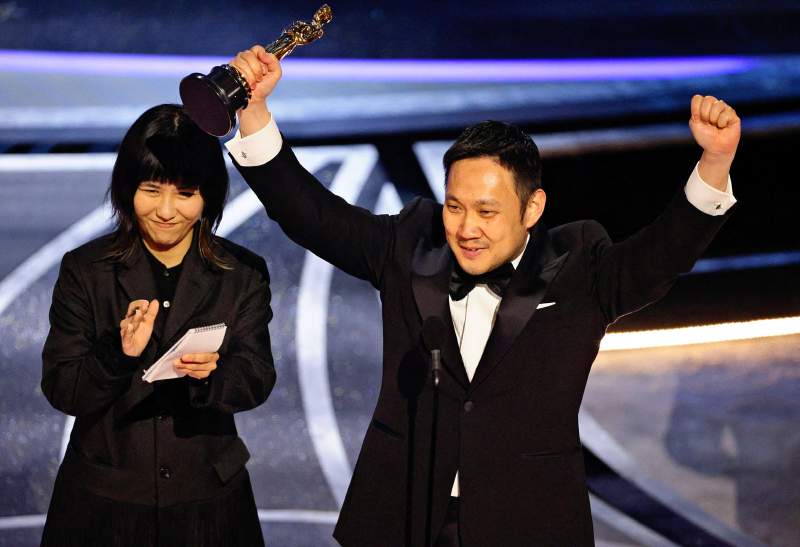 13:59 JST, March 28, 2022
LOS ANGELES — "Drive My Car" won the Oscar for Best International Feature Film at the 94th Academy Awards on Sunday night in Hollywood, laying down a new milestone in Japanese cinematic history.
The last Japanese film to win the award was "Okuribito" ("Departures") in 2009.
Directed by Ryusuke Hamaguchi, the movie was nominated for four Oscars, including Best Picture, Best Director and Best Adapted Screenplay.
"Thank you very much," said Hamaguchi, who spoke a mixture of Japanese and English during his acceptance speech. "I thank the academy."
"Coda," directed by Sian Heder, won the award for Best Picture.
"Drive My Car," is based on a short novel of the same title by Haruki Murakami and stars Hidetoshi Nishijima, 50. The film depicts the grief and emotional resurrection of a theater director whose wife has died.
At last year's Cannes Film Festival, Hamaguchi, 43 and Takamasa Oe, 41, became the first Japanese to win the Award for Best Screenplay.
At the Oscars, Hamaguchi pumped his arms when he took to the podium to collect the award. Though urged to leave the stage halfway through his speech, he continued on, thanking cast members in the audience, as well as those who were unable to attend.
"To all the actors … congratulations!" said a beaming Hamaguchi. "We did it! Thank you very much."
Since "Departures," only one other Japanese movie has been nominated for the best international film award: "Manbiki Kazoku" ("Shoplifters"), directed by Hirokazu Koreeda, in 2019.
Merely being nominated for an award is a major honor for a movie, and "Drive My Car" had some stiff competition, going up against submissions from 92 countries and territories.
At 2 hours and 59 minutes, the movie is longer than average. It has been particularly praised for its sensitive directing and fine adaptation of Murakami's story.
Hamaguchi started making films while studying at the University of Tokyo. After graduating, he studied filmmaking at the graduate school of the Tokyo University of the Arts.
"Ever since his student days, Hamaguchi has put priority on talking with his actors," said film critic Takeo Matsuzaki. "He has continued that policy and crafted a number of high-quality works. His style hasn't changed."
Kanagawa Prefecture native Hamaguchi drew attention at a young age with his graduation work, "Passion" (2008), which weaves a tale around a group of men and women. Following the Great East Japan Earthquake in 2011, he codirected a trilogy of documentary films comprising interviews with people affected by the disaster. This experience helped him develop realistic dialogue and acting in his nondocumentary work.
Hamaguchi has made remarkable progress in recent years. Four women who played lead roles in his 2015 film "Happy Hour" (2015) shared the Best Actor award at the Locarno Film Festival that year. He was also a cowriter of the script for Wife of A Spy directed by Kiyoshi Kurosawa, who won the award for the best director at the 2020 Venice International Film Festival. And last year, Hamaguchi's "Guzen to Sozo" (Wheel of Fortune and Fantasy) won the Silver Bear Grand Jury Prize at the Berlin International Film Festival.