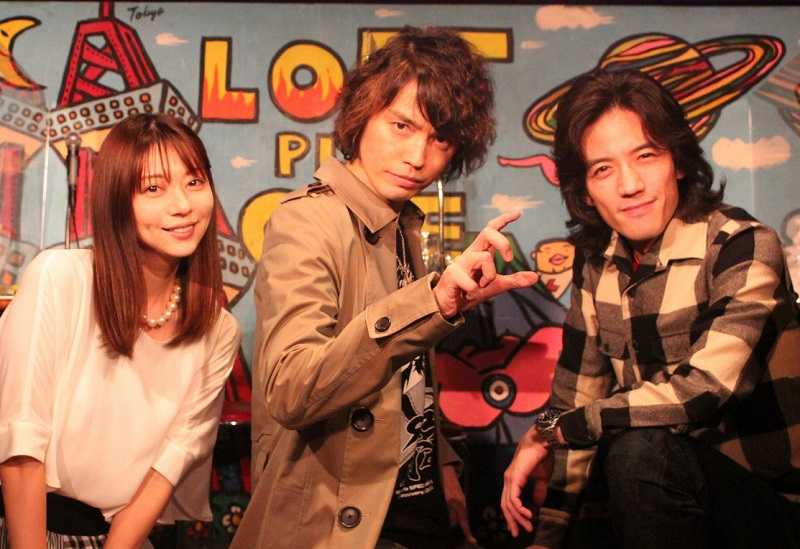 10:30 JST, October 8, 2021
The 913 Matsuri is one of my strangest annual events. Each year, actor Kohei Murakami and I organize a show dedicated to shouting the name Kamen Rider Kaixa, which can be numerically expressed as 913, at 9:13 p.m. on Sept. 13.
Kamen Rider Kaixa, the alter ego of human Masato Kusaka, is one of the masked heroes who appeared in "Kamen Rider 555 (Faiz)." Murakami, who portrayed this character, was very much enamored with him, calling him "the guy with the most distorted personality in the Kamen Rider pantheon." What began as a private annual celebration of his character has evolved into a major event that marked its 10th edition this year and was held without a live audience.
"There were times when I felt that holding the event had become difficult and thought of stopping it altogether. Whenever I felt that way, however, people like my agency's president and Mishio [Suzuki] would encourage me, telling me that I should keep it going. I'm glad I did," Murakami said, thanking me among others.
This year's 913 Matsuri was full of fun activities such as Masato Kusaka quiz time, in which Murakami would re-create famous scenes from "Kamen Rider 555" and viewers had to correctly guess the line that followed in each scene. The actor also passionately performed "Red Rock," Kaixa's theme song, opting to not only sing the lyrics but also intermittently deliver some of Kusaka's lines while fastidiously rubbing his hands with a wet wipe between the first and second choruses. This further brought his hygiene-obsessed character to life before our very eyes. During the song's finale, he re-created Kusaka's death scene, in which he perishes with a broken neck. It was an event filled to the brim with fan service.
Although the event was livestreamed, I think that his live singing voice was markedly different from what can be heard on CDs.
Halfway through the show, two guest performers arrived: Kento Handa, who played the titular Kamen Rider 555, aka Takumi Inui, and Yuria Haga, who portrayed the tokusatsu sci-fi superhero drama's heroine, Mari.
Handa watched Murakami's impassioned acting during the quiz time in the first half of the event.
"You really gave your all [in that performance]. Do you practice at home? That was great," Handa told him with respect and amazement.
I joined the three on stage, and together we did a stage reading of a short bonus manga that can be found at the end of the manga version of "Kamen Rider 913," which had gone on sale that day. Even though the time we spent reading was short, hearing them read out their lines seemed to once again bring their characters to life. They was just as they were nearly 20 years ago, when the show was still on the air. I felt very nostalgic. Moreover, Toshiki Inoue, the show's scriptwriter who also penned the manga's script, sent us an e-mail in which he expressed his perpetual love for 913.
When the clock struck 9 p.m., we joined Murakami in a countdown after he'd changed into the more Kusaka-like attire of a trench coat and the character's transformation belt. At exactly 9:13 p.m., we all shouted "Kaixa!" Even though there wasn't a live audience, I believe many viewers who logged in from across the country also shouted along with us in front of their computers or smartphones. My Twitter feed was filled with a long series of "Kaixa!" tweets, which made me almost teary-eyed.
As part of his parting address, Murakami spoke about the fact that the whole entertainment scene, not only these kinds of events but also theater, music and more, has been in a state of crisis amid the pandemic. I know all too well just what he was talking about. The difficulty of organizing a show with a live audience doesn't necessarily mean the sale of livestreaming tickets will increase dramatically. Things are really getting hard.
"But we can't stop here. Those of you who have watched this show today are our mighty fans. You support us. Thank you," Murakami said and took a bow.
The 10th 913 Matsuri officially came to an end as Murakami and Handa sang "JustiΦ's," the theme song of "Kamen Rider 555," with Handa also providing a guitar backdrop.
I sincerely hope that things will return to normal next year so that we can do the "Kaixa" call with a live audience.
Suzuki is a Yomiuri Shimbun senior specialist and an expert on tokusatsu superhero films and dramas.