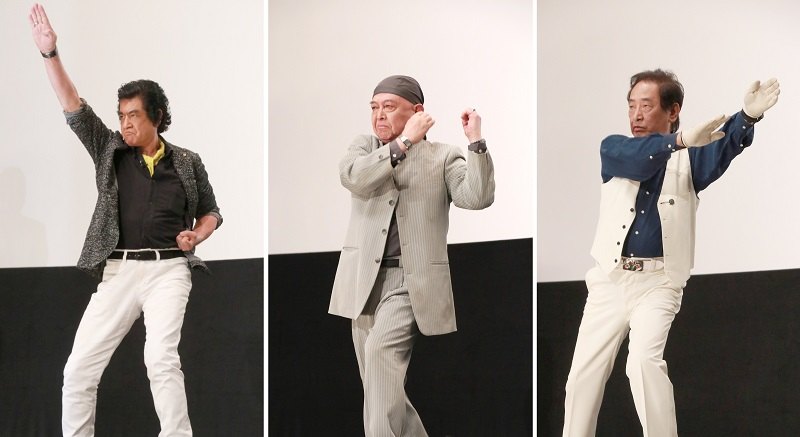 10:30 JST, August 13, 2021
Three Kamen Riders were on stage. Yes, they really were there. Having witnessed this miracle in front of me, I felt so elated, as if I were walking on cloud nine. I also felt nervous.
They had gathered for a special event commemorating the 50th anniversary of "Kamen Rider," a long-loved tokusatsu sci-fi superhero action series. The event, featuring early Kamen Rider films, was organized by Toei Video Co. and took place on the evening of July 19. I had the honor of being the show's emcee.
Among the participants were actors who played the first three Kamen Riders in the 1970s: Hiroshi Fujioka, who played Takeshi Hongo aka the first Kamen Rider; Takeshi Sasaki, who played Hayato Ichimonji aka the second Kamen Rider; and Hiroshi Miyauchi, who played Shiro Kazami aka Kamen Rider V3.
They are like gods to me. Even though I have interviewed all of them and invited the men to events I hold, I had butterflies in my stomach for several days before the event took place and was unsure whether I would be able to keep my cool in front of the big three on such a monumental occasion.
I went on stage feeling tense, but once I saw the smiles on their faces, I instantly relaxed. There they were, strong and kindhearted Kamen Riders, unchanged from the time when I adored them as a little girl.
They spent only 15 minutes on stage but spoke about various things, from their action scenes to the Kamen Rider boom. Sasaki talked about how he was suddenly cast as Kamen Rider after Fujioka was injured in an unfortunate motorbike accident.
"Now I run an izakaya pub [Battamon in Itabashi Ward, Tokyo] and 99.9% of the customers are Kamen Rider fans. I don't mean to be happy about Fujioka's injury, but I wouldn't have been cast in the role if he hadn't gotten hurt. Thank you for getting injured," Sasaki said half-jokingly.
"It's the other way around," replied Fujioka. "When I was struggling on the verge of life or death, he — who used to study acting with me at an actors' training course — made up his mind to play the role for my sake. I'm still grateful to him for that."
Such an exchange really hit home to me. I felt as if I were looking at the double Kamen Rider superheroes 50 years on.
Miyauchi also thanked the two elder Riders.
"Both my seniors, Fujioka and Sasaki, ignited the fire [for the Kamen Rider boom]. V3 could then come onto the scene, riding the waves," he said.
Fujioka praised Miyauchi, in another gesture showing the great relationship between the first two Kamen Riders and V3.
"Miyauchi succeeded us as V3 and worked really hard, even amid explosions on set," Fujioka said, adding, "I'm impressed that [the first three Kamen Riders] are still here."
You could say Fujioka's words — that these three guys are still alive and kicking and it's miracle they were together on stage — nicely sum up the significance of the event. But the miracle didn't end there. The three then agreed to demonstrate their henshin (transformation) routines, incorporating in them their thoughts on the last 50 years.
At the end of the event, Fujioka thanked the late Shotaro Ishinomori, the creator of Kamen Rider, as well as the staff and Ono Kenyukai, a theatrical combat group that collaborated with the creative team of the series in action scenes.
"Kamen Riders have conveyed love and justice," Fujioka said in his closing remarks. "I hope everyone will make them their energy to go on. I also hope everyone will valiantly overcome various problems."
His words were convincing enough to believe that Kamen Riders, though fictional heroes, may truly exist.
Parts of the event can be seen as bonus content in "Kamen Rider The Movie 1972-1988 4K Remaster Box," a new Blu-ray disc box set of early Kamen Rider series films that will go on sale on Nov. 10.