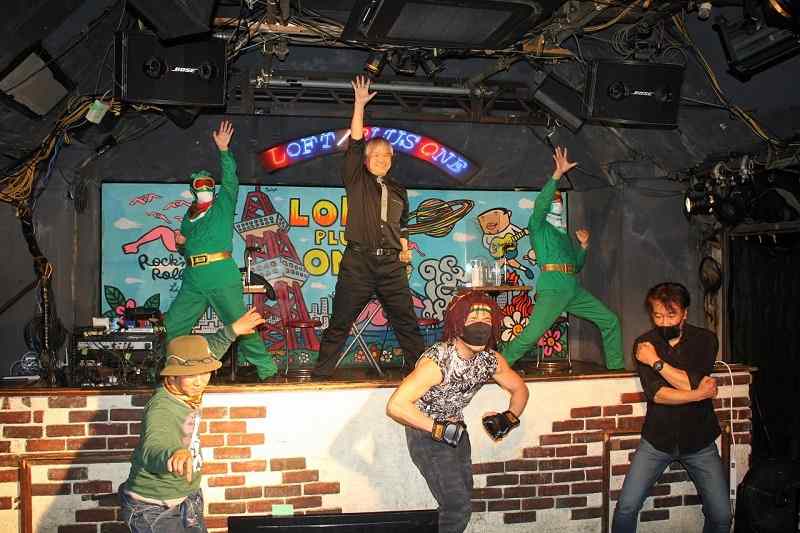 10:00 JST, March 19, 2021
Never did I think last year that I would be organizing my regular events online again in 2021. The other day, I held "Jiro Matsuri Online 2" (Online Jiro Festival 2), the second web-based version of an annual show featuring Jiro Okamoto.
He is a popular suit actor who has portrayed Kamen Rider BLACK and other superheroes in full-body suits after their transformation from human form. The actor boasts an unshakable following from fans who love tokusatsu sci-fi action superhero dramas and films.
The event, being held this year for the 15th time, is a precious occasion each year when he and his fans can connect.When the event was held online in June last year because of the novel coronavirus pandemic, he waved to the viewers, saying, "Let's meet in person next year!" But, oh well.
Personally, I can't help but feel that video streaming is not the ideal way to hold events, when compared to shows in front of live audiences. Of course, there are merits to online events, including the fact that people who cannot travel to the venue for one reason or another can still enjoy performances. However, there are many things theatergoers can only experience in person at the venue such as the heat that permeates throughout the auditoriums and the liveliness of exchanges between the performers and members of the audience.
And yet, one thing about online events stands out as being better than live shows: Viewers can focus better on the words of the featured guest, whereas at live events, their utterances can sometimes be drowned out by the roar of the crowd.
Delving into the words when listening in a quiet environment is one of the great pleasures of streamed shows.
Therefore, I invited the audience to submit their questions and requests to Jiro in advance and asked him to respond at the event. His answers were all interesting, such as how he warms up for action during the chilly winter season and how to rotate the upper body in a beautiful way. He also readily agreed to do outrageous things that are only possible online — like doing "kabedon," or looking at the camera up close as if he is pinning the viewer to a wall. Using a toy sword we prepared, he showed us a little bit of his legendary theatrical combat as well.
The viewers loved the event, which was also blessed with guest performers from Japan Action Enterprise. But I really want to see him get up close with his fans at the venue in person next year. I believe we need to stay patient a little longer.
Suzuki is a Yomiuri Shimbun senior specialist and an expert on tokusatsu superhero films and dramas.
Add TheJapanNews to your Google News feed.