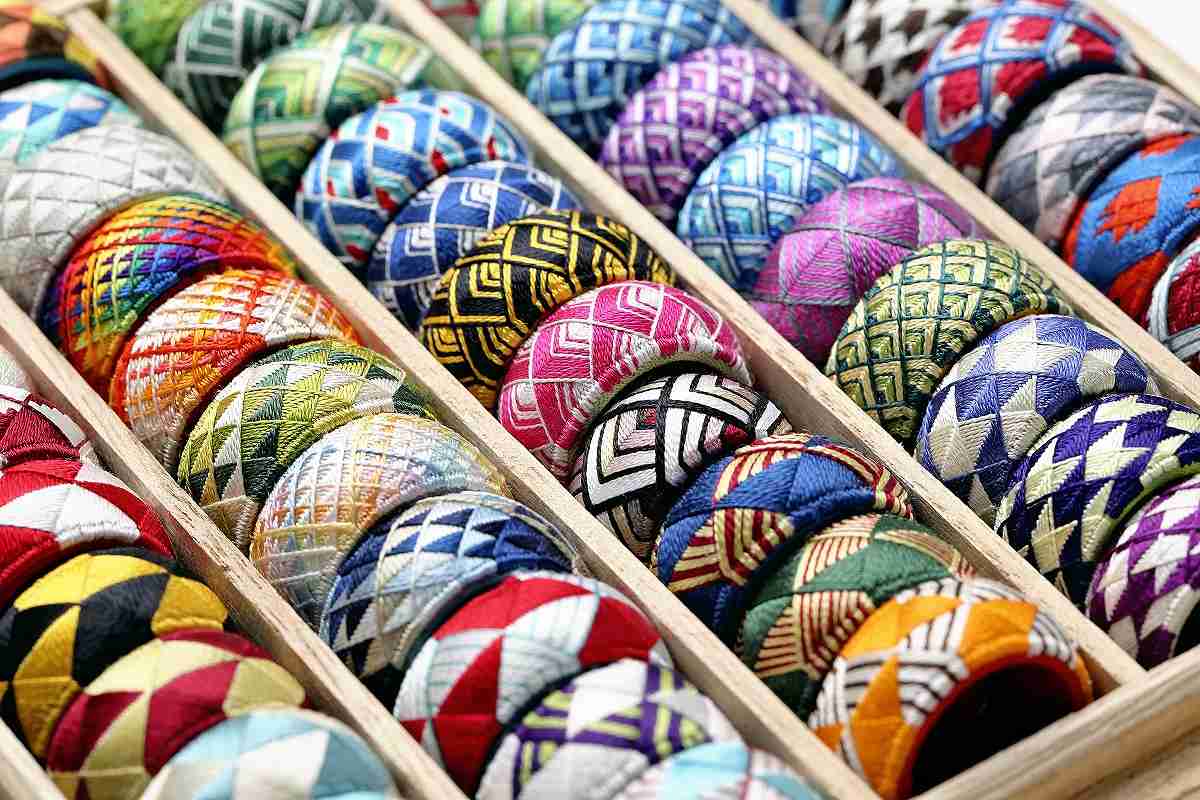 2:00 JST, November 13, 2023
Colorful, ornate and delicately designed ring-shaped Kaga yubinuki thimbles, thought to have been produced for hundreds of years, are making a comeback as enthusiasts make their own by hand.
The eye-catching and beautiful sewing tools originated in Kanazawa, which is a part of the Kaga area in Ishikawa Prefecture, and have been passed down for generations.
Using various motifs, including stars, flowers, animals, dragons and geometric patterns, the thimbles are all made using silk thread.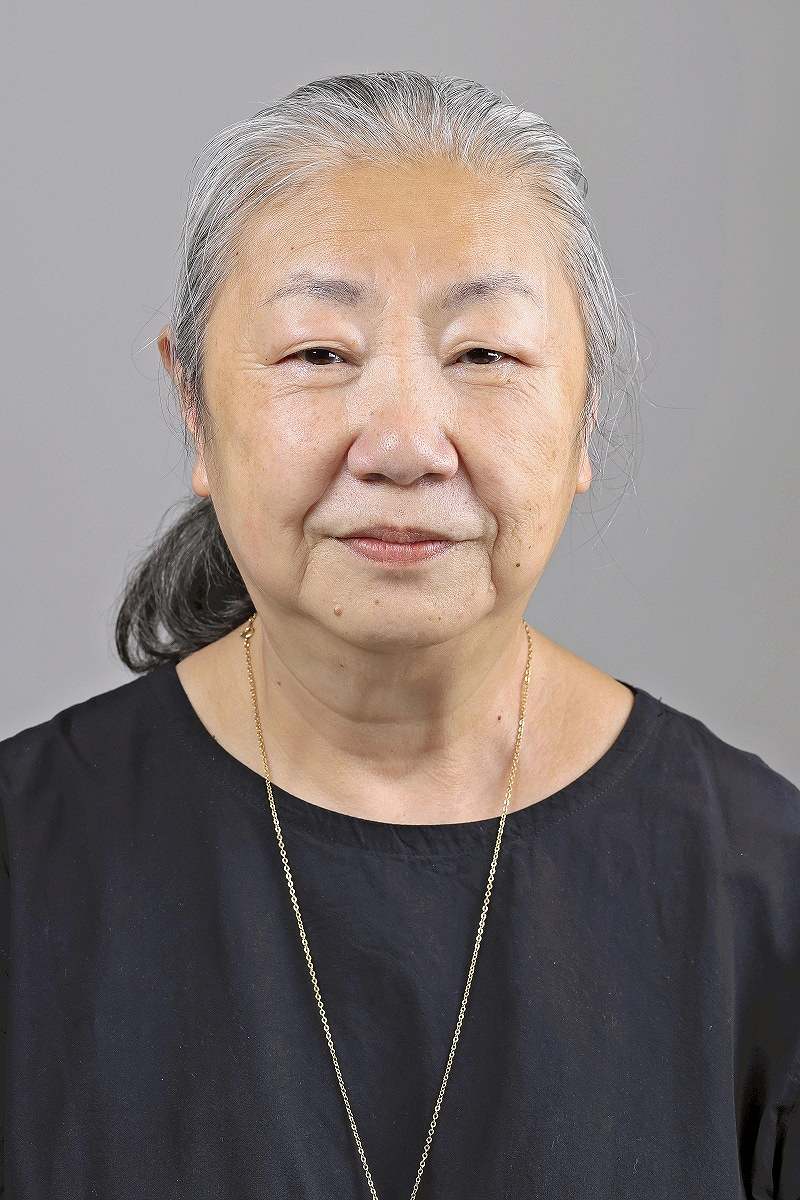 "In autumn, I get ideas from looking at the changing colors of the leaves and Halloween," said Yasuko Ishii, 71, who runs the Kaga Yubinuki Yui no Kai, an organization for the preservation of the traditional craft.
Ishii added that she also gets inspiration from animals and that using gold or silver thread can give the thimble an elegant look.
Ishii, an Osaka Prefecture native, was born in 1952. After being a homemaker for many years, she became a quilting teacher. Ishii then became a Kaga yubinuki instructor and has been teaching, mainly in the Tokyo metropolitan area, since 2004. She also trains Kaga yubinuki artists. Ishii hosts various workshops in the hopes that the craft will become more well-known.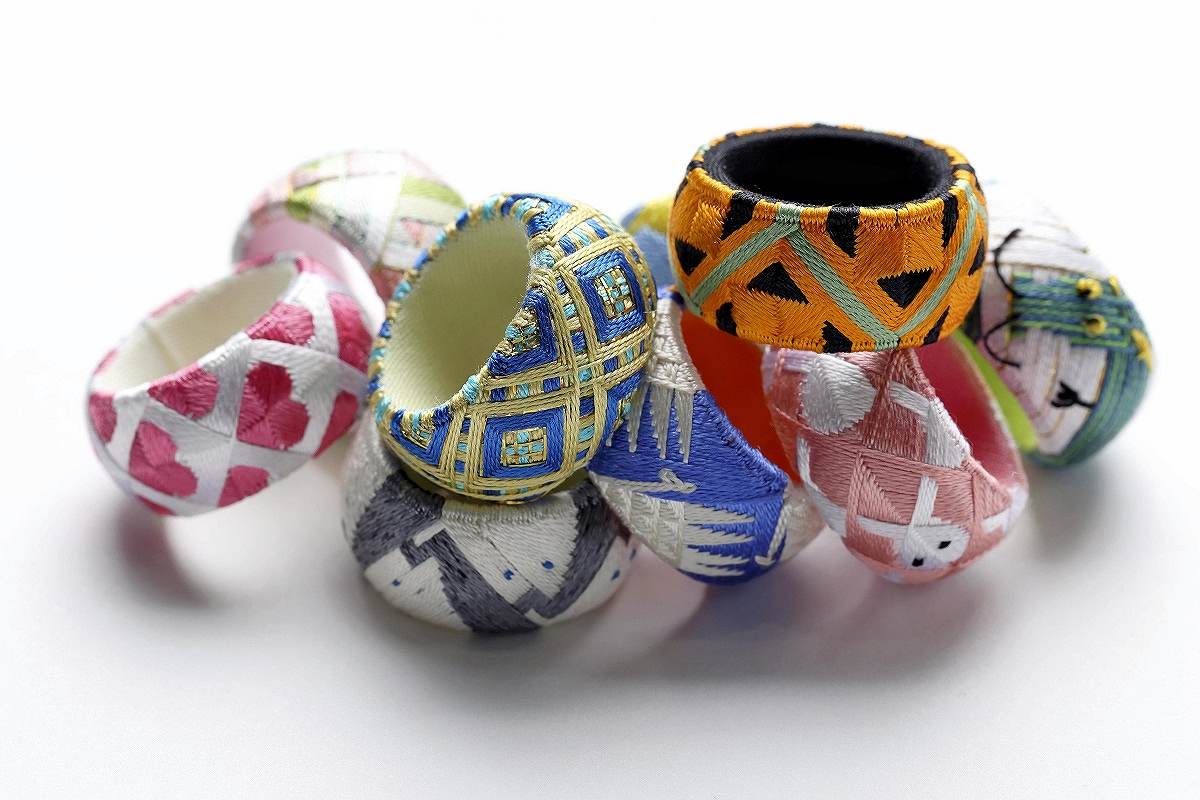 The process of making a Kaga yubinuki is not as complicated as it appears.
Thick paper and tape are used to make the ring-shaped base, which is then wrapped with floss silk. Paper with the pattern drawn on it is wrapped around the base and fixed with tape. The pattern is then stitched using silk thread.
"I really value the time that I can just focus on the work I do with my hands," Ishii said. "I also look forward to seeing whether the finished thimble looks the way I imagined."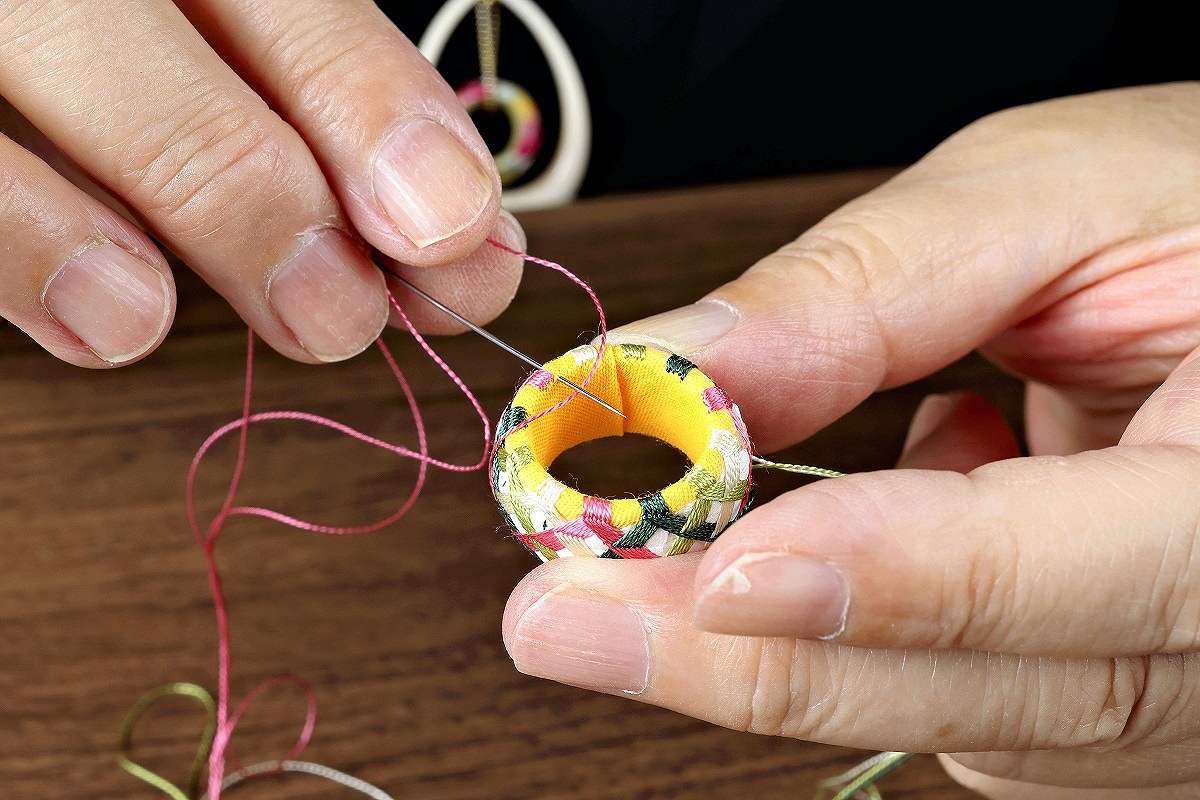 By changing the thimble's size, it can be made into other items, such as a pendant, an earring or a pincushion.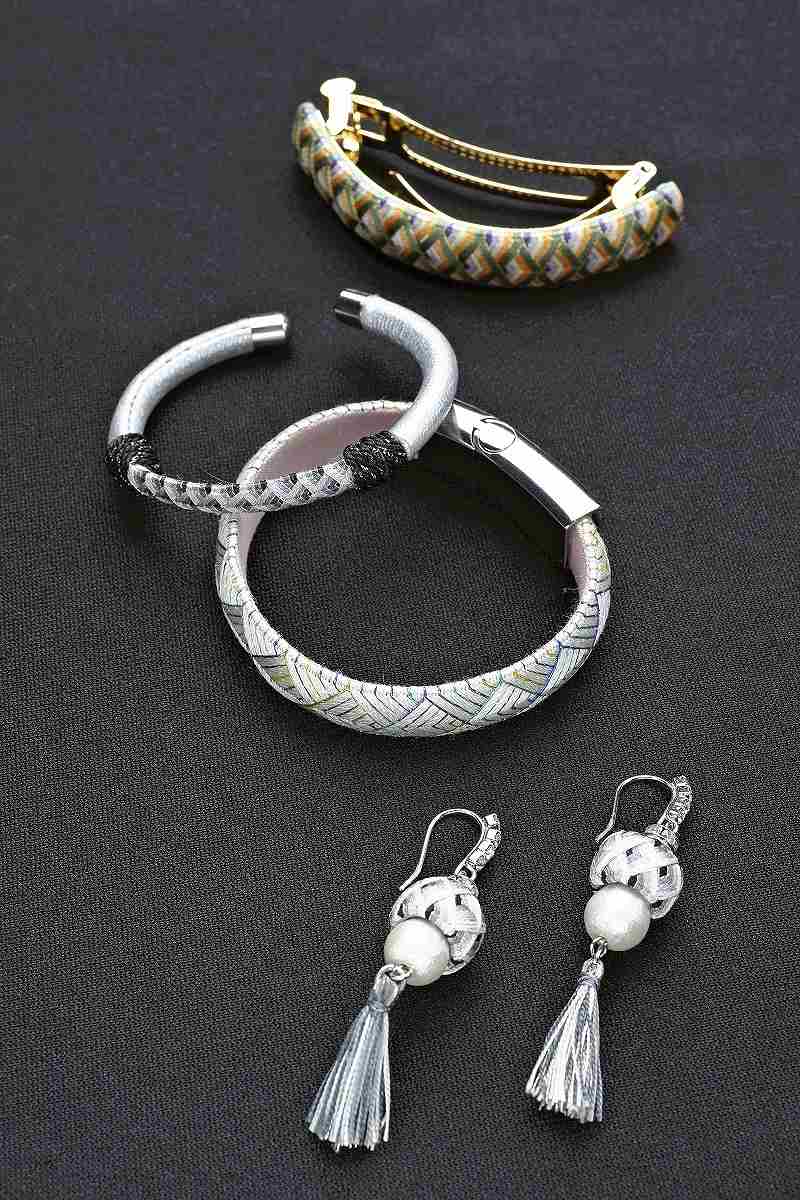 Kaga yubinuki is said to have originated in the Edo period (1603-1867). Kimono seamstresses, who worked with Kaga-yuzen dyed fabric, made the thimbles using extra silk thread. The craft started to become less popular as a result of leather and metal thimbles becoming more common.
Ishii found out about Kaga yubinuki in 2004 when she managed a solo exhibition by an artist in Tokyo. The artisan, who made Kaga yubinuki, said she learned the craft from her grandmother. Ishii, fascinated by the delicate and intricate works on display, studied under the woman and became a Kaga yubinuki instructor.
Kaga yubinuki is so beautifully crafted that people might think twice about using it only as a sewing tool.
"The process is just simple repetition, so you don't have to have much experience with making handicrafts," Ishii said. "It's something you can easily start."
Old fabrics utilized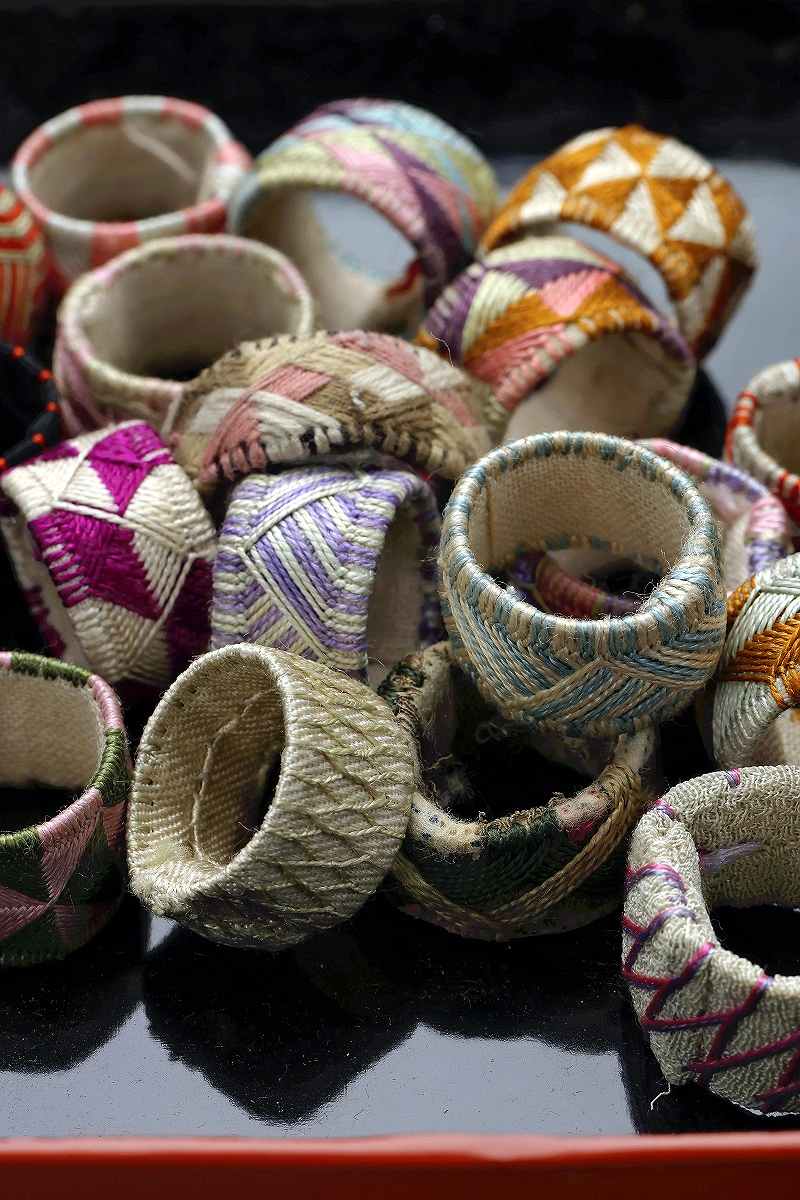 Thimbles are used to push a needle through cloth when sewing by hand. In the past, they were meant to be disposable and made using leftover fabrics, so old thimbles are not very common. However, Ishii has a collection of such thimbles.
A thimble she got in Kyoto has a simple pattern and was made using muted colors.
"Seamstresses in the past might have enjoyed competing with each other and teaching each other various patterns," Ishii said.
In Omi-Hachiman, Shiga Prefecture, there are thimbles that are said to have been made using scraps of kimono fabric that belonged to women from local merchant families. In some other areas, pieces of chirimen fabric, which is a type of crinkle crepe fabric, and leftover kimono fabric were used to make thimbles. In other countries, the most common type is worn on the tip of a finger. There are also thimbles made of silver or ceramic.
Add TheJapanNews to your Google News feed.