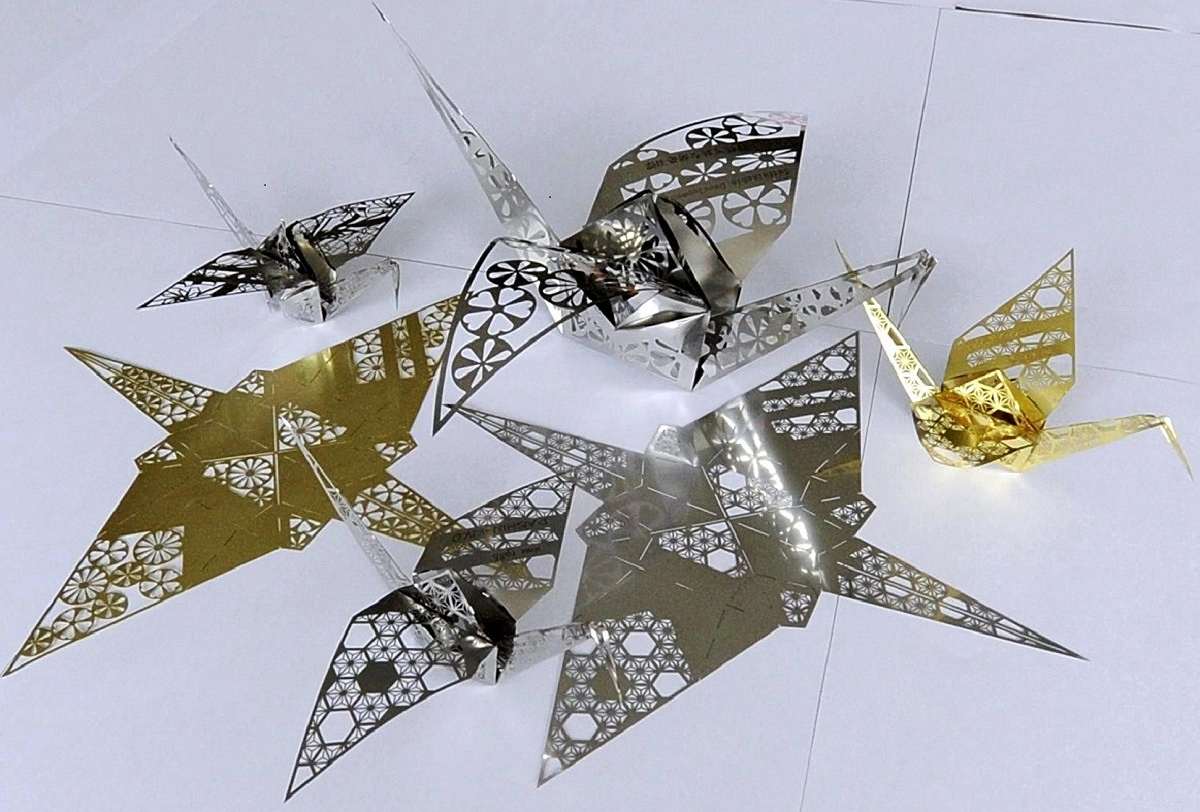 13:00 JST, July 23, 2023
KURASHIKI, Okayama— A machine parts production company in Kurashiki, Okayama Prefecture, has developed an "origami" kit to make orizuru cranes out of thin sheets of stainless steel and brass. The metal sheets, which measure only 0.05 millimeter thick, can be folded as easily as paper.
The unique designs of the ultrathin metals have helped boost the product's popularity, and the firm has received a steady string of inquiries from individuals and businesses.
The company, Daishin-Kiko, produces a wide range of parts including those for automobiles, aircraft and medical equipment. The development of the crane-making kit began after receiving orders for prototype electric vehicle parts that required the cutting of thin metal sheets, a process the company previously outsourced. However, this outsourcing often took a long time and sometimes caused the company to miss delivery deadlines. Moreover, outsourcing made it difficult to respond effectively to clients' detailed requests.
To address these issues, Daishin-Kiko bought a state-of-the-art laser processing machine in December 2021, the first firm to do so in the Chugoku and Shikoku regions. Despite the company's bold move, however, it still often lost business opportunities to other firms to mass produce parts.
The company could not afford to have the newly acquired machine sit idle, so the second-generation president, Daisuke Okada, decided to leverage its capabilities in a creative way.
Okada said he became determined to develop products for consumers and establish the company's brand image. "With this machine, we can do things we couldn't before," he said.
Okada, 38, was keen for the world to learn about the technical capabilities of Japan's small to medium-sized companies, so after deciding to focus on orizuru cranes as a symbol of Japanese culture, he began to develop the metal kits.
Although he strove to recreate an origami-like experience, Okada's initial metal sheets lacked flexibility even when thin, and thus could not be folded. After repeated attempts, Okada's hands would sometimes end up covered in blood.
However, a pivotal moment occurred when he was inspired by kirie paper cutouts. The thin sheets could not be fashioned into a crane shape because the metal would not fold properly, with some parts distorting. But through trial and error, Okada solved this problem by cutting foldable paper cutout-like lines into the metal sheets. He then decided to decorate the cranes' wings with delicate patterns that resemble tortoiseshell, hemp leaves, chrysanthemums, cherry blossoms and bamboo.
Based on the idea of using high tech to produce traditional Japanese goods, the company launched a brand called "Klassical," inspired by the Kurashiki city name and the word "classical." The metal cranes were the first product to be sold under the brand.
The firm named the product Okurizuru — wherein "Okuri" means "gift" and "zuru" means "crane" — in hopes that people would enjoy making and gifting the product.
Currently, the company is working on a second product: stainless steel candleholders that resemble toro lanterns. Four types of candleholders will be made featuring such patterns as cherry blossoms representing spring, fireworks for summer, maple leaves for autumn and snow for winter.
"We'll continue to create products that will make people think 'Daishin is interesting,' by combining excellent designs, craftsmanship and laser processing machine technology," Okada said.
Add TheJapanNews to your Google News feed.