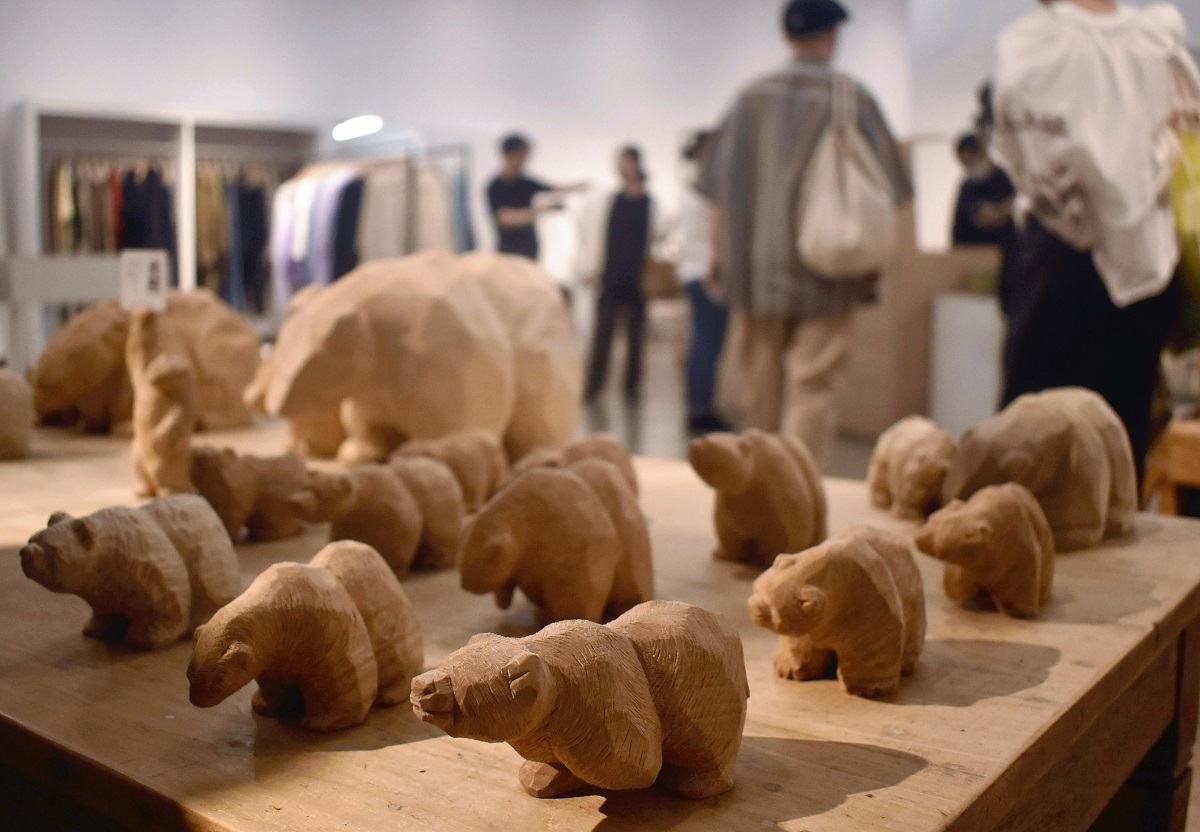 15:00 JST, July 16, 2023
As if coming out of hibernation like their real-life counterparts, the hand-carved wooden bears of Hokkaido are making a comeback.
The intricate crafts that were popular souvenirs during the Showa era (1926-1989) are enjoying renewed popularity as interior knickknacks, works of art and as designs on clothing.
In May, an exhibition and sales event titled "Bears of Hibiya" was held at the chic Tokyo Midtown Hibiya, a business and entertainment complex in central Tokyo. The 200 or so pieces on display showed bears standing, sitting or in other individualized poses, going well beyond the classic scene of a bear clutching a salmon in its mouth.
"It's interesting that the pose and the facial expression vary depending on the artist," said a 30-year-old woman from Tsukuba, Ibaraki Prefecture, who bought four pieces. "I started collecting them three years ago."
Takato Kitaoka, a staff member of event organizer Hibiya Central Market, said: "They are popular with people in their 30s and 40s. On the first day, people formed lines to buy works of their favorite artists."
The wooden sculptures are said to have been first created in the Hokkaido town of Yakumo about 100 years ago, after former vassals of the Owari Tokugawa clan resettled there.
According to Natsuki Ando, a freelance editor who heads a study group of the craft called Tokyo 903 Kai (903 can be read as "ku-ma-san," and "kuma" means bear), the clan's 19th leader brought back a wooden carved bear from Europe, and recommended that farmers make them in the winter to earn extra money.
During the Hokkaido tourism boom in the 1950s and '60s, the carving of a bear with a salmon in its mouth became the representative souvenir and sold well. Its popularity waned as the tourism boom subsided, but has suddenly become a desired object again.
Exhibitions have been successfully held in various locations, and a search on Instagram for "kibori no kuma" (carved wooden bears) yields about 30,000 hits.
In November last year, Tokyo-based restaurant operator Partners Dining opened an establishment called Kibori in Tokyo's Shinjuku Ward, and filled it with about 1,000 carved wooden bears. Last year, high-end variety store Beams Co. produced T-shirts, teacups and other wooden bear-themed goods that sold so well the company had to manufacture more.
Why the sudden surge?
At the Bear Woodcarving Museum in Yakumo, the birthplace of the carved bear, curator Shigeyuki Oya offered a somewhat surprising theory. "Unlike the carved bears during the tourism boom, I suppose it's because the bears these days don't have a salmon in their mouths," he said.
Oya said the salmon-chomping design became entrenched during the tourism boom. The combination of bear and salmon was mass-produced as a straightforward symbol of Hokkaido, and became the "classic" pose for the carvings.
But in reality, even back then all bears were not necessarily munching a salmon, as artists put their creativity and skills on display in devising their own craftwork. Among the disparate items on display at the museum are a bear holding a baseball bat and abstract ones with no bodily features.
"With the end of the era of mass production and mass consumption, the inherent artistry and technical skills are being given another look," Oya said.
Hideyuki Sakamoto, curator at Noboribetsu Bear Park in Noboribetsu, Hokkaido, credits the new-found popularity with how the bears are now depicted. Popular designs these days are stocky, with eyes and mouths carved to look cute. Many have no facial expressions at all.
"Bears have faces that are relatively large for their bodies, which makes them lovable like a stuffed doll," Sakamoto said.
Sapporo sculptor Minoru Yamasato said, "For young people who are not familiar with the salmon version, the craft probably looks new."
The first boom in half a century has been fueled not only by fans, but also new creators.
"Wooden carved bears go well with Western-style furniture, and blend in well with modern interiors," Tokyo 903's Ando said. "They will never go out of style."
Colorful resurrection
Yes, a furniture upcycling company in Takaoka, Toyama Prefecture, launched a project in 2020 to give new appeal to bears that are "hibernating" in homes.
Under its Re-Bear Project, the company, upon accepting unwanted furniture, will also take in any carved wooden bears that have lost their place to be displayed in the home. It then has artists paint them in vibrant colors and resells them, often for tens of thousands of yen and up.
"I wanted people to enjoy a modern version of the carved bears as works of art," said Yes President and Hokkaido native Masanori Ito. "I hope that people will get a new perspective on the quality of Japanese craftsmanship through them."
The Bear Woodcarving Museum in Yakumo, meanwhile, accepts donations of unwanted carved bears and related items, which must be arranged in advance.
Oya said, "While this is a rescue project to pass on history and culture to future generations, as much as possible I want them to be displayed in homes again."
Add TheJapanNews to your Google News feed.