12:10 JST, May 6, 2022
Blunt-tip scissors with yellow handles might come to mind for some people in Japan when recalling their childhood art classes.
For Kobe-based artist Junko Kitamoto, those are the exact scissors she still uses today.
She cuts paper to create art, mainly depicting characters from fairy tales. Each character she makes is no bigger than a ¥500 coin. Up close, even the characters' fingers are visible in her detailed craft.
The owner of the extremely high level of paper-cutting skills is a full-time employee of a company. Her artistic endeavors are created under the name Kiironohasami, which means "yellow scissors."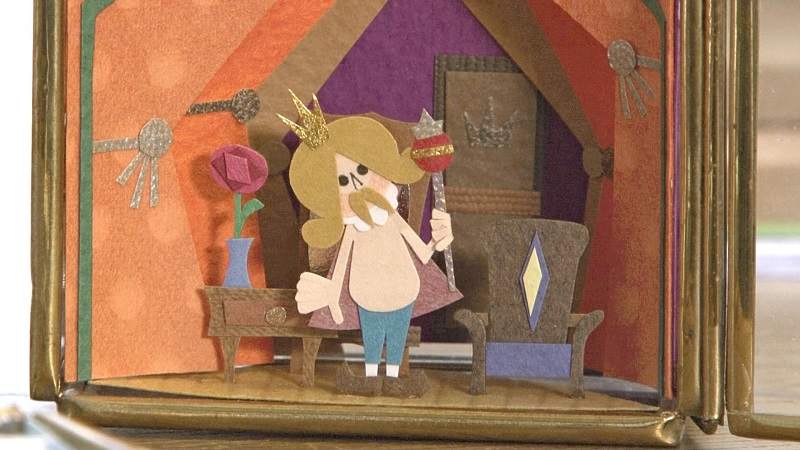 The Yomiuri Shimbun


A scene from "The Emperor's New Clothes"
Kitamoto started her paper art using the same pair of yellow scissors she had owned since kindergarten. After using this first pair for more than 30 years, the handle broke, so she has been using an exact replacement for the past seven or eight years. Kitamoto did everything she could to obtain the same scissors.
"They fit my hand perfectly," she said. "I can't do without these scissors."
She once borrowed scissors from a paper cutting artist. The blades cut sharply, but the sections cut out felt somewhat cold and did not sit well with her needs.
Kitamoto's manual dexterity is her specialty. As a child, she made dress-up dolls out of paper. Through her junior high school days, she sent friends handmade birthday cards.
One day, she found a letter containing a ¥500 coin inside the mailbox at home. The letter was from a friend who was asking her to make some greeting cards. Kitamoto was surprised that someone would pay for her handmade cards. That was when this idea came to her head: "It would be nice if I could become an artisan someday."
After she started working for a company, she began selling her creations at flea markets and bazaars. In the beginning, she made greeting cards, then started making animals by cutting out and pasting together colored paper. She eventually went on to create more elaborate paper dolls.
She calls the style of her work "kiribari-e" (cut-and-paste art). All she needs for her art are scissors, colored paper, adhesives, a black ballpoint pen for facial features and a red pen for cheeks.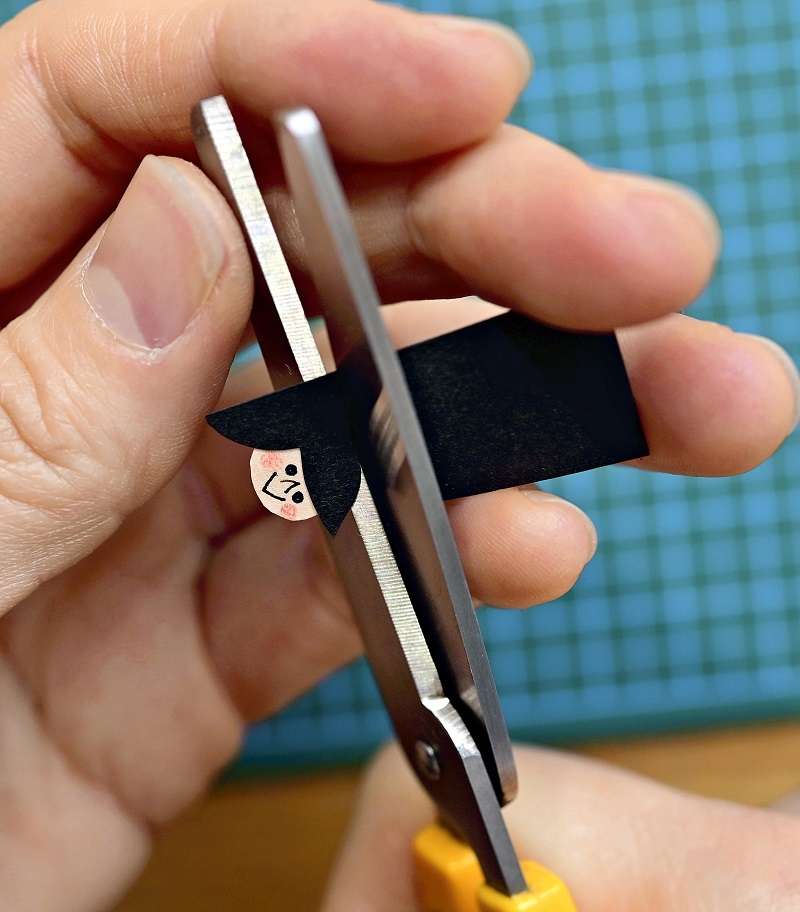 The Yomiuri Shimbun


Kitamoto cuts paper for the hair of a doll using yellow scissors.
To make a kiribari-e doll, she cuts out hair, the head, clothing, limbs and shoes. Then she assembles them by gluing them together, piece by piece. She said there is no need to draw designs. She just cuts out the paper while visualizing the finished work in her mind.
The whole process looks simple, but each piece cut out is tiny. It is almost magical when Kitamoto draws eyes, a nose and a mouth on a face measuring 5 millimeters in diameter. She uses her child-size scissors to cut out a hand smaller than a grain of rice with seemingly magical skill.
Her dolls have expressions on their faces. Their limbs are posed naturally and they look lively. Fans often say they never get tired of looking at them.
Why does Kitamoto make paper dolls in such small sizes?
"Because unconditionally they look cute," she said.
Once, at someone's suggestion, she tried to make a life-size doll, but the whole process was so different that she became flustered and gave up.
She could probably make even smaller dolls, but, she said, "I don't want to make shoddy things by pursuing smallness, so this is the size that works best for me."
Because she works full-time, she engages in her creative activities mostly during weekends.
After a sundries shop agreed to sell her work and she submitted her art to exhibitions, Kitamoto's creations have become known. They have even found their way into a museum booklet and exhibition posters.
The Yomiuri Shimbun


A paper sake brewery worker in traditional attire
When she made a series on sake brewery workers, a local sake brewery heard the news and invited her to hold an exhibition at the brewery's museum.
"It's strange, but when I'm concentrating on creative activities, things don't go so well," she said. "When I get tired and decide to take a break, I get an offer."
Kitamoto still has six unused pairs of yellow scissors, which she scrambled around to get hold of. She is a regular at an art supply store that provides her with plenty of colored paper.
"I have almost a lifetime supply of both," Kitamoto said. "Perhaps the god of paper is telling me to take my time."
Add TheJapanNews to your Google News feed.