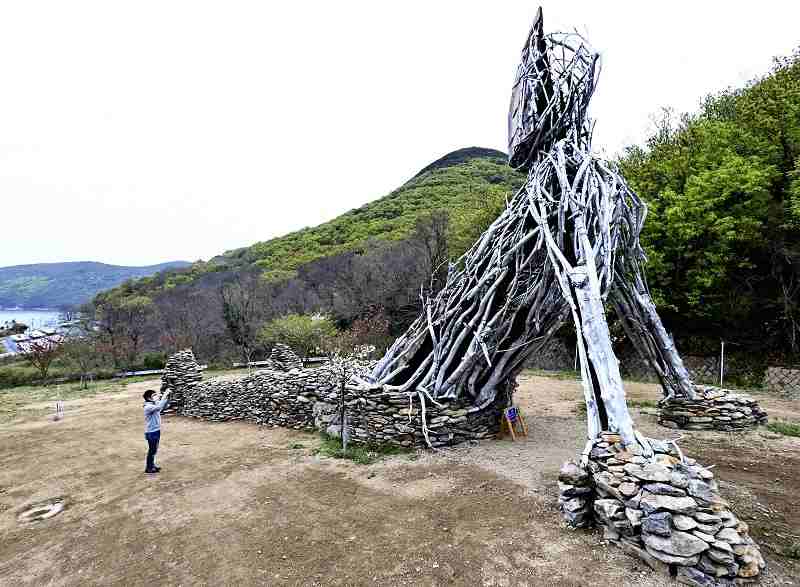 16:24 JST, May 5, 2022
TAKAMATSU — Art lovers are traveling to the Seto Inland Sea as contemporary artists from Japan and abroad display their work in the Setouchi Triennale 2022.
The Setouchi art festival is held every three years, with a primary goal of invigorating island communities and rejuvenating the sea. This year's event is the fifth incarnation of the festival and comprises three phases: spring through May 18; summer from Aug. 5 to Sept. 4; and autumn from Sept. 29 to Nov. 6. Thorough measures are being taken to avoid the spread of the novel coronavirus.
Kagawa Gov. Keizo Hamada declared the event open at a ceremony in Takamatsu on April 14, with 34 artists appearing on the stage. Hamada is the chairman of the festival's executive committee.
'Giant' appears on Shodoshima
The triennale is being staged this year at two harbors and 12 islands overall. The spring phase takes place in the two harbors and on eight islands.
"Daidaraurutorabou," an artwork on display on Shodoshima island in Kagawa Prefecture, depicts a giant 9.5 meters high and 17 meters long. It was created by Toshimitsu Ito together with supporters from Hiroshima City University's Faculty of Arts, and was built by combining such materials as driftwood and stones removed from local construction sites and elsewhere.
"I was surprised at the size," a 72-year-old woman from Takamatsu said. "The pandemic is still going on, but I want to enjoy the art festival while taking precautions against infection."
Hiroshi Sugimoto's "Glass Tea House 'Mondrian,'" created in 2014, is on display at Benesse Art Site Naoshima on Naoshima island. Sugimoto is a renowned contemporary artist who actively works in photography and architecture.
A tea house for the traditional Japanese tea ceremony is usually an enclosed space with a hanging scroll and flowers to express the season. However, the walls and ceiling of Sugimoto's work are made of glass so people inside can directly experience the season and surrounding nature outside. The glass tea house is globally acclaimed — it was presented at the Venice Biennale International Architecture Exhibition in 2014 and at the Palace of Versailles in France.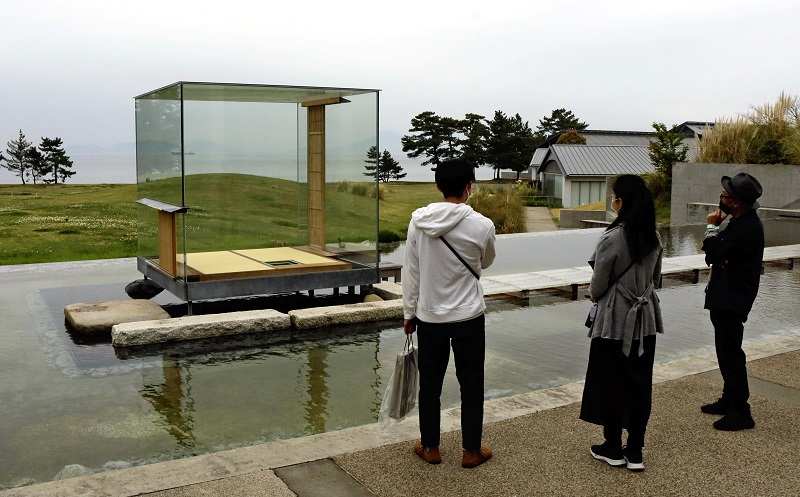 Gentle lighting at out-of-use inn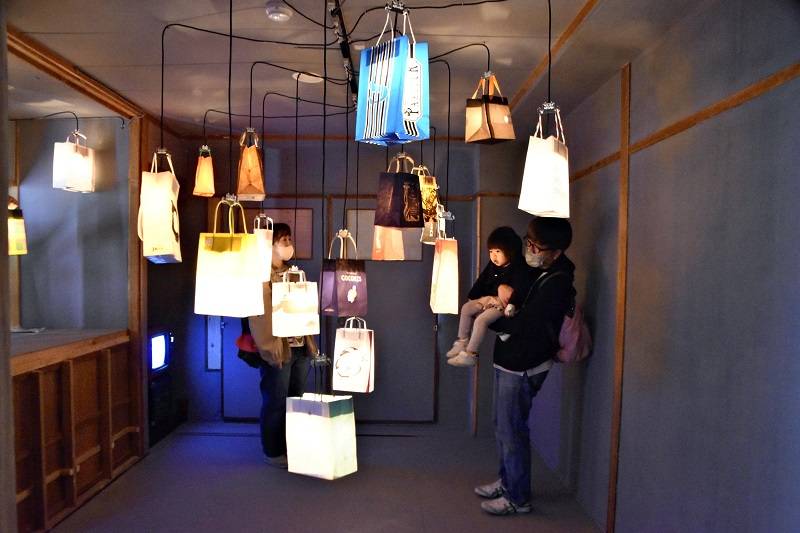 On Megijima island, works by eight individual and group artists are on display at the former Kotobuki-so inn.
Megijima is known for the popular legend of Momotaro, or Peach Boy. It is said to be the actual location of Onigashima (the island of oni ogres), where Momotaro and his animal followers travel to defeat oni. However, Okayama and other prefectures, there are various places that also lay claim to the legend of Momotaro.
"Onigashima pika-pika Centre" was created by Iwasawa Bros., formed by Hitoshi Iwasawa and Takashi Iwasawa as a tribute to the island and the legend.
The installation creates a fantastic space in a former guest room — about 20 paper bags containing light bulbs are suspended from the ceiling like lanterns, emitting a gentle glow. The work is based on the duo's idea that the ogres did not rob people of their treasures but received them as gifts instead. In the creators' minds, the ogres used the bags that contained these gifts to make lanterns.
The duo said they want people to "enjoy looking at things around them from a slightly different perspective."
Time ticks away in old house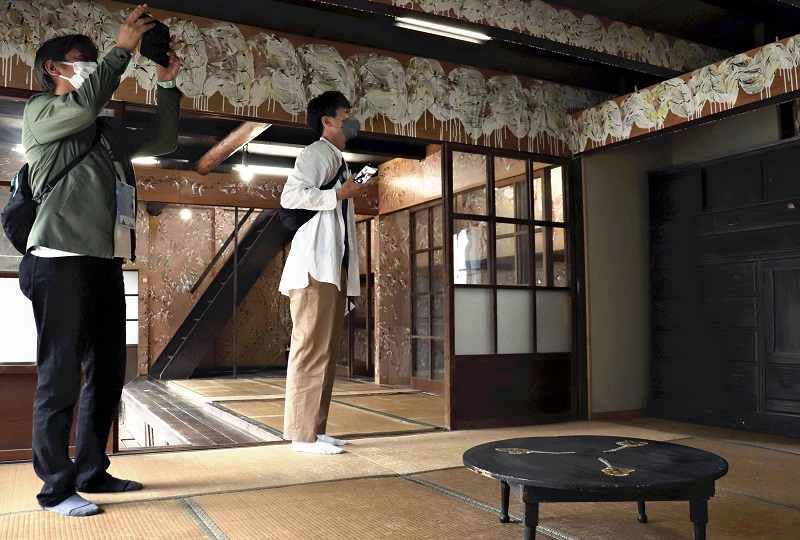 On Ogijima island, "Generative drawing for Japanese paper house 2.0" by Goro Murayama of Tokyo takes up an entire two-story house that was built about 90 years ago. White and yellow lines are drawn on interior walls of the old house, which was used as a store and residence by a merchant family.
The motif was drawn from daffodils that Murayama found on the island.
"I hope visitors will feel the time marked by this building, amid the unique sensation of time passing on the island," said Murayama.
3D work by Junko Koshino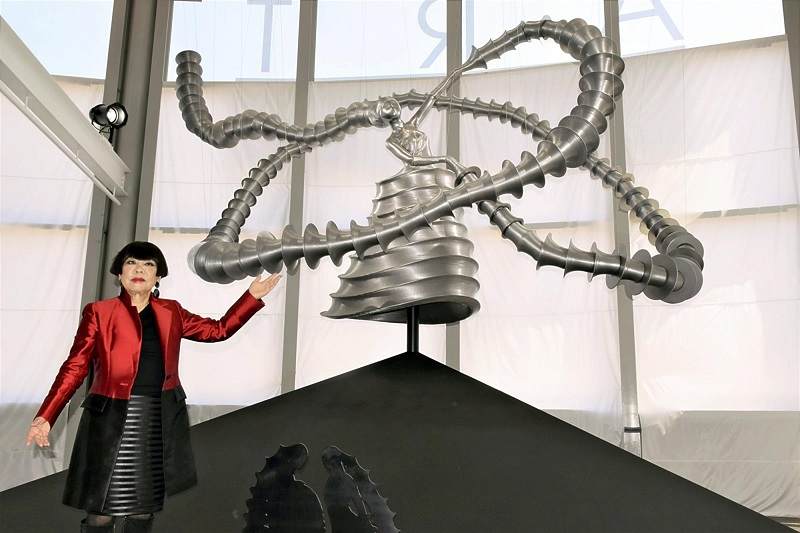 Before the opening of the art festival, a three-dimensional work by renowned fashion designer Junko Koshino was unveiled on April 4 at the Art no Show Terminal, a renovated ferry terminal at Tonosho Port on Shodoshima island.
This is Koshino's third time to participate in the festival.
Made of acrylic resin, the work is titled "Taikyoku no Bi: Mugen ni Tsuzuku En" (Beauty of opposite: Infinite circle). It measures 4.5 meters wide and about 6 meters high, and was created by one of the largest 3D printers in the world, using a dress designed by Koshino as its motif.
"I want many people, especially children, to feel an unforgettable impact when they see this work," Koshino said at the unveiling ceremony. "I hope they will look down on the work from the second floor and see its details."
"I hope that art will spread near the sea, which is connected with the world, and contribute to the further prosperity of Shodoshima," Koshino said.