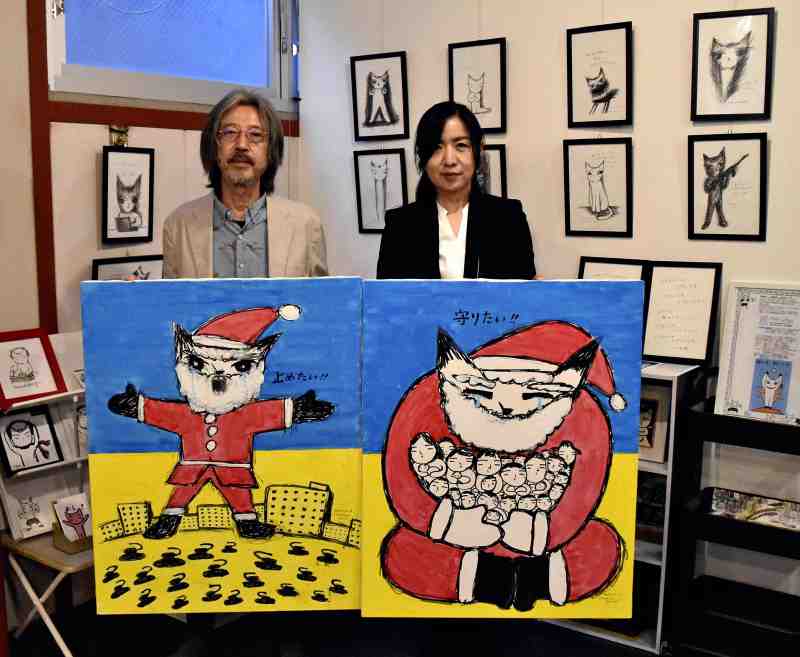 12:23 JST, April 7, 2022
Deep sorrow over Russia's recent invasion of Ukraine has driven Takashi Ono, a printmaker from Katsushika Ward, Tokyo, to exhibit about 30 new works he created in protest of war.
Known for his cat motifs with heartwarming one-liners, Ono also illustrates for The Yomiuri Shimbun's "Kotoba no Album" (Album of words) interview series in the evening edition.
He was encouraged to give an exhibition after reading a quote in the series, which said, "Those who can do things should do what they can." Ono said he hopes to share his desire for peace with as many people as possible.
Among the cats depicted in the exhibition, one is in prayer and another stands with its front paws stretched out in protest. All of the cats express sadness and melancholy, unlike his usual cats, which are somewhat humorous.
An acrylic painting 90 centimeters high and 70 centimeters wide depicts a cat dressed as Santa Claus shedding tears while cuddling children. In another painting, a Santa Claus cat stands in front of a squadron of Russian military tanks to block their attack on a Ukrainian city.
An artist with a career spanning 40 years, Ono, 70, has also drawn works with pen.
When he learned from news reports that Ukrainian children and civilians were being killed in the Russian invasion day after day, "I felt I could not just stand by any longer," he said.
Driven by emotion, he took up a pen and drew about 10 pictures in one night.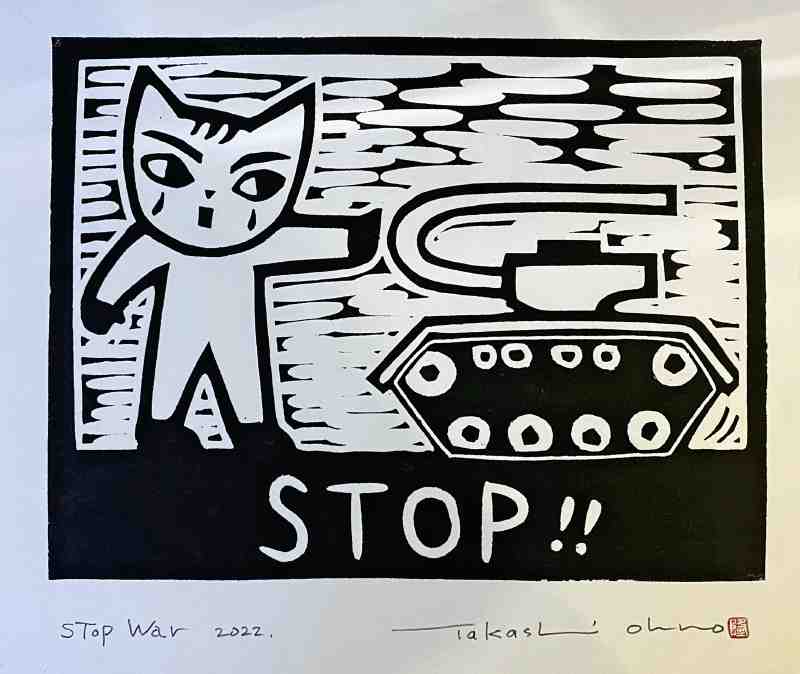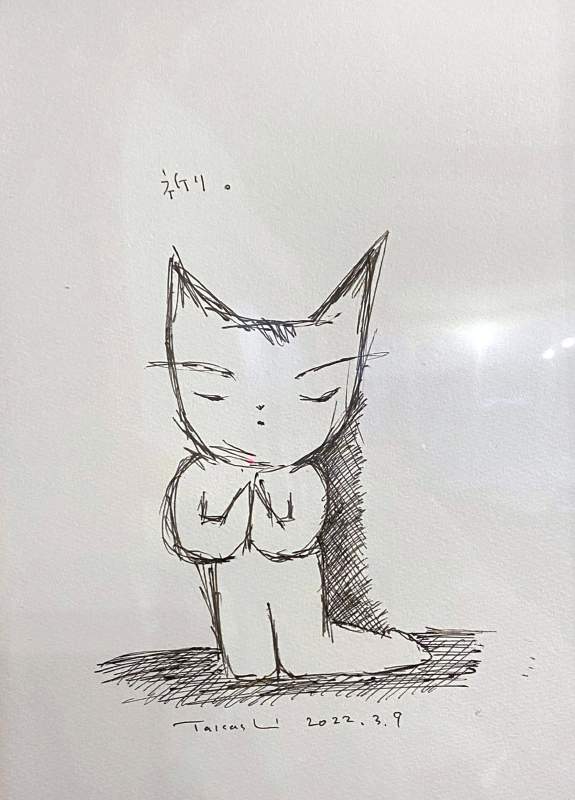 At the same time, he was struck by a sense of helplessness in the face of the attack in a country far away. "Drawing pictures can't end the fighting," he thought to himself. In one work, he wrote: "Only Russian President Vladimir Putin can stop the war. No matter what I write here, it won't mean anything."
Feeling sad and hopeless, Ono remembered a quote he had come across through his work on the Yomiuri Shimbun series, which features the mottoes of famous people based on interviews with them.
It was when he illustrated for an interview with Yumiko Watanabe, the president of a nonprofit organization that provides learning opportunities for children from poor households. In the interview, Watanabe says she started her activities based on her father's words: "Those who can do things should do what they can," he had said about the idea behind serving meals to children in his neighborhood.
"What I can do is draw pictures," Ono thought to himself.
Until then, he had never displayed his pen drawings to the public, humbly thinking that they are only doodles.
Emiko Okawa, 53, who heads Atelier Okawa, suggested to display them. "While prints undergo preliminary sketching and composition processes, pen drawings are improvisational, so they can better express the artist's emotions," she said to Ono.
The exhibition started in February and Okawa continues to support it.
"The pictures are vigorous and convey his anti-war sentiment directly," said a 21-year-old university student who visited the exhibition. "They make me feel that I must keep thinking about this and not forget."
Ono said that he feels his idea is being conveyed to young people through the exhibition more than expected.
"I still have conflicting feelings, but I can't help but draw," he said.
He also said, "I hope the day will soon come when I can give an exhibition of funny works in my usual style and make people laugh together when they see them."
Ono has created a print depicting a cat blocking a military tank along with the word "STOP!" The prints are sold for ¥500 each, with all proceeds to be donated to Ukraine.
The exhibition is being held on the second floor of FITNESS-SCHOOL121 in Katsushika Ward until May 29. It is open Thursday and Sunday from noon to 6 p.m. Admission is free and reservations are recommended for smooth entry.
Add TheJapanNews to your Google News feed.