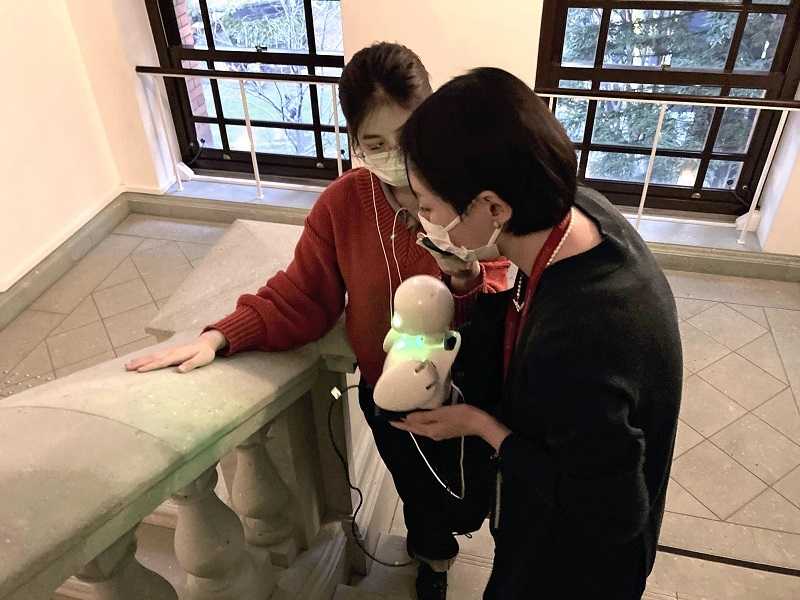 21:00 JST, April 6, 2022
A growing number of art museums are using cutting-edge information technology to attract visitors, enhance enjoyment and break down physical barriers.
Comfort of home
"This is the first time that 'Pond with Water Lilies' by [Claude] Monet has been shown in Japan," explained a Mitsubishi Ichigokan Museum staffer to a visitor holding a 23-centimeter-tall humanoid robot. Upon hearing this information, the robot nodded and flashed its eyes in response to the reactions of a different visitor who was enjoying the tour remotely.
Such was the scene in December, when a robot named OriHime was part of a tour organized by the museum, based in Tokyo's Marunouchi district. The museum was attempting to allow people unable to visit in person to enjoy its exhibits.
OriHime is fitted with an internal camera and speaker, allowing remote visitors to look at artworks, converse with staff and convey their feelings through gestures — all from their comfort of their own home.
These semi-remote tours involve three people: A staff member, a remote visitor and an actual visitor who attends the museum and holds the robot (people apply in pairs for the tours).
The museum has conducted remote tours four times in the past two years. A disabled person and a woman living in Shizuoka Prefecture are among those to have enjoyed the tours in cooperation with friends or relatives.
Manami Maeda, in charge of the museum's education-promotion activities, said: "One participant told me, 'I felt as though I'd left my disabled body, allowing my senses to roam free.' As staffers, it's easy to explain about the exhibits because remote participants can respond using voice and gesture."
OriHime robot tours were also conducted last year at the Hideaki Anno Exhibition held at the National Art Center, Tokyo, in the Nogizaka district of the capital, and at the Yokohama Triennale in 2020.
The National Art Center, Tokyo, released an audio guide app in March 2020 to introduce its building.
"Firstly, let's experience the vast soaring space of the first-floor lobby," says a typical phrase from the app.
Visitors move throughout the building — designed by renowned architect Kisho Kurokawa (1934-2007) — while listening to explanations on different topics with a smartphone.
The app, which was developed to coincide with the Tokyo Olympics, is available in English, Chinese and Korean. It also has been used for architectural tours during the novel coronavirus pandemic. "We were able to maintain suitable distance between tour participants, so we could avoid close-contact conditions," said Natsumi Yoshizawa, an official of the museum's educational promotion office who works in the curation department.
Other museums, too, have started using smartphones with audio guide apps installed. According to the app's developer, 28 Inc., use of the system jumped 2.8-fold last year from 2020.
An official of the company said: "[The app] cut maintenance costs for conventional devices serving the same purpose, and save on labor costs for lending out such devices. Demand for the app has increased amid the novel coronavirus crisis as a measure to prevent infections."
The use of smartphones for purposes other than audio-based guided tours also has grown: Some museums and exhibition organizers have stopped distributing printed lists for exhibits, and instead encourage visitors to download data to their smartphones via QR codes displayed in the venues.
Game tie-up
Services that allow people to view artworks via the internet continue to gather pace. The Ohara Museum of Art in Kurashiki, Okayama Prefecture, has recreated its exhibition spaces using virtual reality technology; visitors can now enjoy online virtual tours of the museum while listening to curators talk about specific works and collections.
The Mitsubishi Ichigokan Museum, the Metropolitan Museum of Art in the United States and the National Palace Museum in Taiwan, meanwhile, allow images of artworks in their collections to be downloaded into the Atsumare Dobutsu no Mori (Animal Crossing) video game.
Last year, the Sumida Hokusai Museum in Sumida Ward, Tokyo, demonstrated the use of automatic simultaneous interpretation technology, during which an artificial intelligence program translated Japanese explanations into English, then relayed the text to a monitor at a remote place.
A number of similar experiment are planned for the future. "By using local 5G networks [which enable high-speed, large-volume data transmissions in limited areas], I want to devise ways of utilizing IT to continue attracting people to our museum," Maeda said.
Add TheJapanNews to your Google News feed.