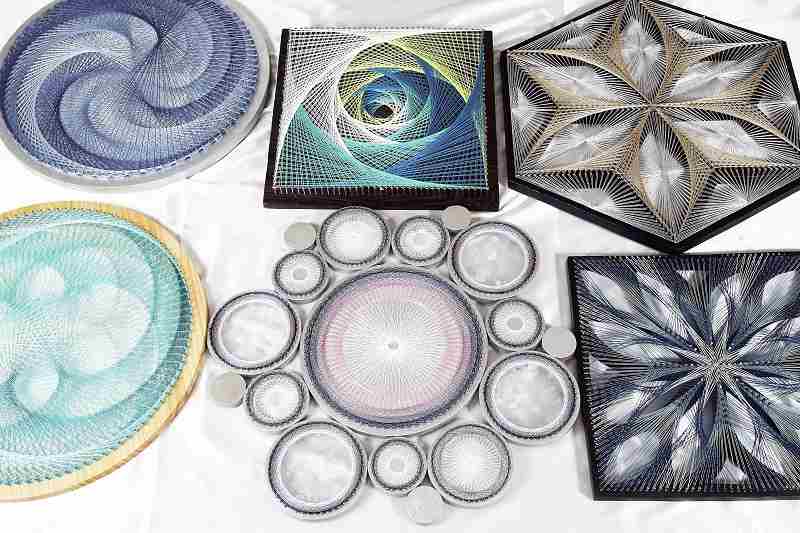 15:29 JST, August 26, 2021
With the breeze weaving through the amazing geometric patterns of their threads, works of string art are perfect for the hot summer season.
String artists hook colorful threads onto nails attached to wooden frames to create a variety of beautiful patterns. Any room can be aesthetically improved with the addition of some string art on the wall.
String artist Kumiko Misaki was born in Hyogo Prefecture and studied ceramics at the Osaka University of Arts. She became fascinated with the beauty of the form about eight years ago when she attended a class at the invitation of a friend.
"String art's great beauty lies in the colors created by the overlapping threads," she said. While honing her skills in arranging the strings, she also makes her own wooden frames using a technique she learned at a joinery, making her works all the more beautiful.
The strings form straight lines when they are tightly stretched, but they can also appear curved by slightly shifting the height of the nails.
"There are not many straight lines in nature, and only humans can create them," Misaki said. "It is really fun to draw curves while using straight lines." A large piece of string art can take up to three months for her to complete.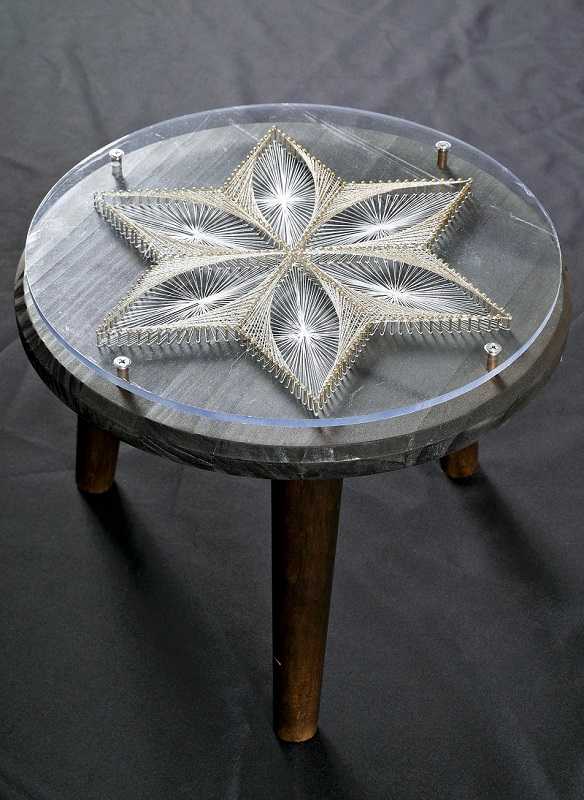 Recently, Misaki has been expanding the scope of her work to include three-dimensional pieces.
She uses threads of various materials such as hemp, silk and polyester, with different thicknesses depending on the work. Her favorite is temari thread, ordinarily used to make temari thread balls, because it appears to shine in the light. She sometimes uses threads that she has dyed herself with indigo.
By combining threads of delicate colors, she can express beautiful Japanese scenes.
"The color of the ocean is completely different from the color of the sky, even though they are both blue," Misaki said.
It is also fun choosing threads that can express exquisite colors, she said.
She has held solo exhibitions in a number of places, including New York and Tokyo.
Misaki is also working to popularize the string art form by offering courses for beginners, which can be completed in about three hours. In the courses held in the Kansai region and other parts of the nation, students are asked to attach threads of the color of their choice onto the nails of a wooden frame.
"When you concentrate on attaching the threads, you become absorbed in the process," she said. "After completing the work, participants often say, 'My head feels clearer.'"
Misaki hopes to use string art to express "the spaces created by light and shadow," she said.
"They're fun to make and display. I hope people can find a new way of expressing themselves."
Easy for beginners
Wakai Sangyo Co. in Osaka, which manufactures and sells screws and other products for professionals, has developed a brand of string art called Nail It. It sells kits for beginners that include threads and instructions.
The firm offers a variety of colors to choose from, with 21 colors for nails and 20 colors for thread. If you follow the instructions in the kit, you can draw a dog, a car, a star or even letters like "welcome." The Nail It website (https://www.wakaisangyo.co.jp/nailit/ ) also has how-to videos.
"What's great about it is how easy it is to make. It's not as difficult as knitting," a Wakai Sangyo official said.