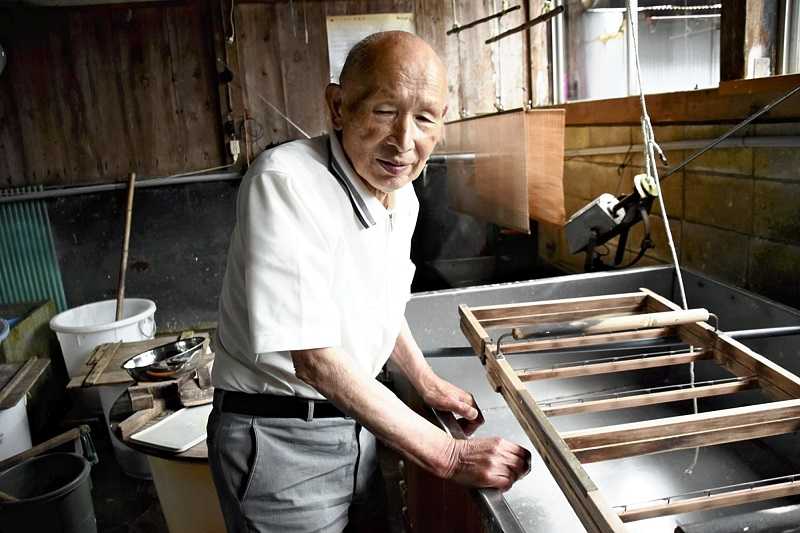 11:16 JST, July 17, 2021
ECHIZEN, Fukui — With more and more contemporary artists turning to traditional washi Japanese paper for their artwork, Echizen washi, which has long been made in Fukui Prefecture, is being particularly valued for its artistry and design.
The Goka district in Echizen is known as the "paper-making village." Washi-making in the district dates back to the 8th century, with the area's clear water and rich nature fostering advanced techniques.
Artists gather in the district from all over the nation to exhibit their washi-themed artwork at the Imadate Contemporary Art Paper Exhibition, "Imadate Art Field," which has been held since 1979.
During the exhibition, pieces are displayed in places such as paper mills, shrines, warehouses and a community center, largely filling the district with young people.
Living treasure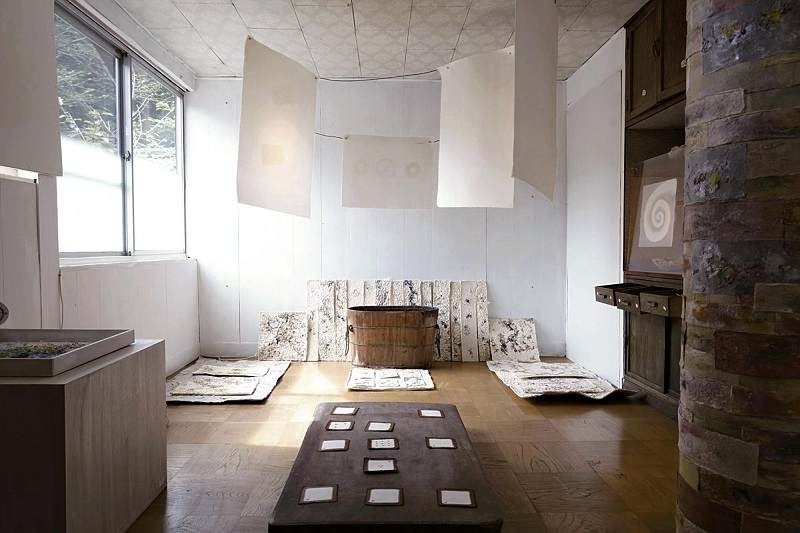 One contemporary artist with a studio in the Goka district is Ichibee Iwano IX, 87, a living national treasure who succeeded his father, who held the same title.
Known for having a beautiful luster, suppleness and durability, orders for his paper come in from world-renowned art museums. Iwano's paper has been used by the Museum of Fine Arts, Boston, to reprint Katsushika Hokusai's woodblock works and by the Louvre Museum in Paris to restore cultural properties.
Now that he is over 80, he does not make paper as much as he did, but his inquisitive spirit for creation has not diminished.
His contemporary piece "Untitled," unveiled last year, bears the five-ringed Olympic logo which appears when light is filtered through the piece's thick sheets of paper placed on the exhibition space's ceiling.
"I usually make nothing but traditional pieces, so I always feel like playing around with [my] artwork," he said. "I turned my quick idea into a piece without thinking about it. It's not an artistic thing, but a playful thing."
Flexible creation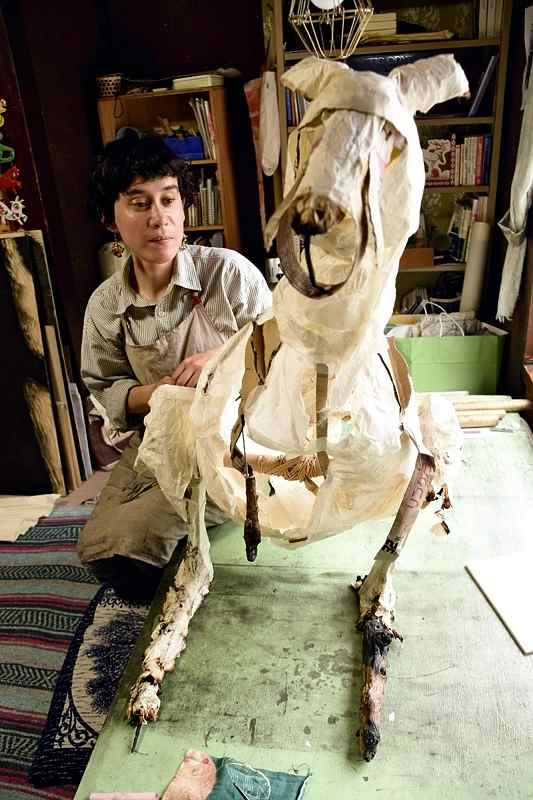 The sight of a kangaroo made of washi paper greeted me when I visited the about 9-square-meter studio of contemporary artist Toby Kobayashi in Echizen. The space was brimming with more than 100 swaths of handmade paper.
With its charred legs and tail, the kangaroo seemed to be somewhat pitiful. Inspired by the massive wildfires in Australia, Kobayashi created the sculptural work and called it "A Kangaroo: Shape of Fire and Water."
She pasted washi paper she made herself onto a cardboard frame. For the burnt legs, she used wood that had been burned during a lightning strike in the precincts of shrines.
"Washi has a unique warmth," she said. "It brings life to the piece and makes it feel as if it is alive."
She considers the advantage of washi paper as a material for art to be its flexibility, which expands the range of creativity as it can be rolled or crumpled up and unfolded again.
"I can immediately try out any expression that comes to mind."
Durable even in the face of high winds
World-famous artists have also used washi paper as a material for their artwork, as it is thin, strong and has a certain warm translucence to it when held up to the light.
Theo Jansen chose Echizen washi for the sails of his "strandbeest" sculptures that ambulate in the wind. He marveled at the paper's sturdiness in the face of strong winds.
"It's strong and soft. I can't believe it's a natural material. It has a beautiful texture and feels good to the touch. The Japanese should be very proud of their paper-making skills," he said.
Jansen was skeptical at first. "Paper is weak against water and gets easily torn," he said.
However, Jansen was won over by washi after a paper wholesaler in Echizen recommended it.
Yoshinao Sugihara, 59, is involved in connecting washi producers with customers from around the world. He calls himself a "washi sommelier."
With the help of young craftspeople in Echizen, Sugihara improved the strength and water resistance of paper by applying glue derived from konjac potato to the surface.
With Sugihara coordinating, the material has been used in the show window decorations of French cosmetics brand Guerlain, as well as in the work of American sculptor Richard Serra. Some stores in France even sell it as interior decor.
Echizen washi materials
Echizen washi paper is made from the bark of shrubs such as kozo, mitsumata and gampi. Paper made from kozo mulberry trees is strong, while paper created from gampi has a glossy surface. Paper made from mitsumata is said to be a median between previous two.
---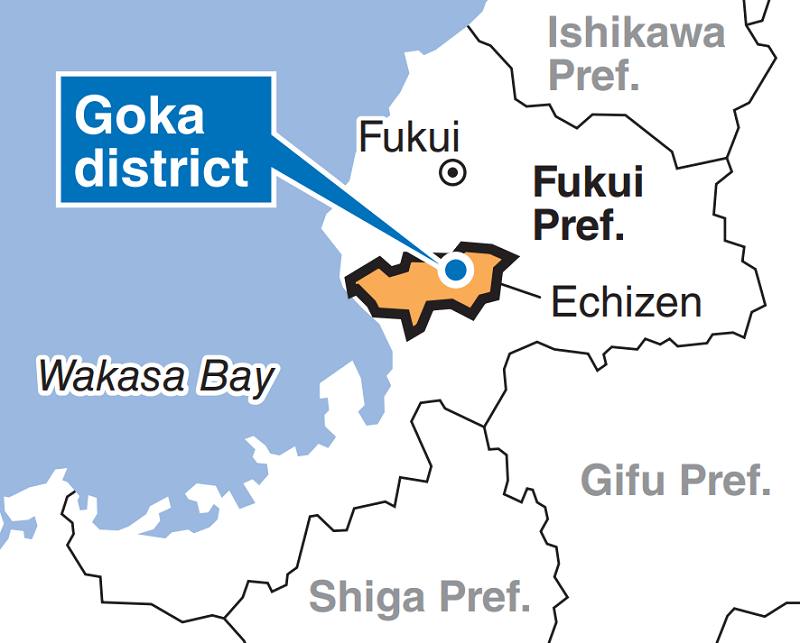 A map of Fukui
---
Add TheJapanNews to your Google News feed.