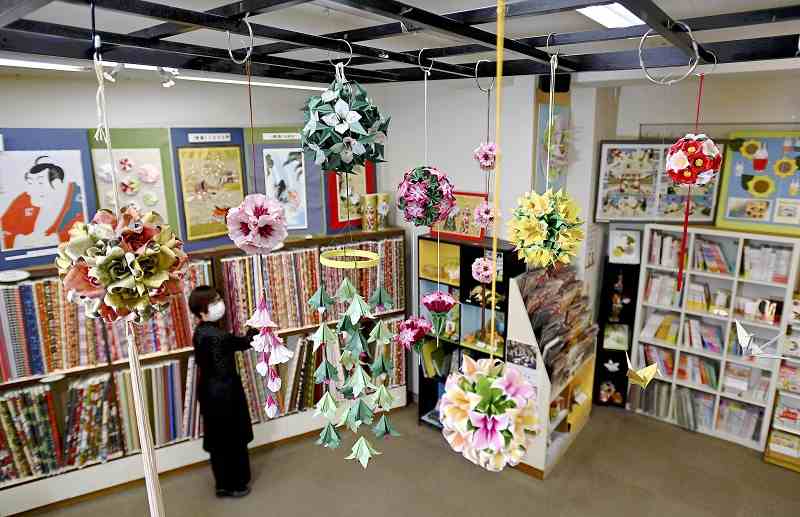 15:13 JST, July 1, 2021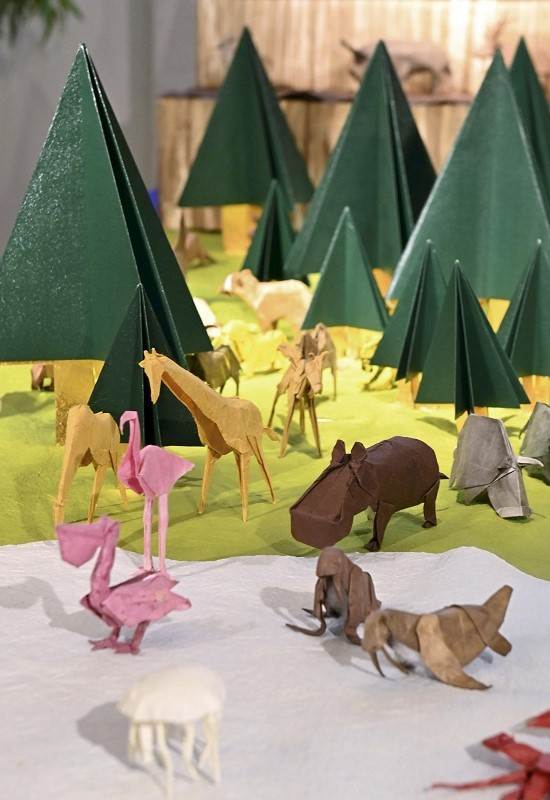 Introduced to origami as children, many people find few opportunities to indulge in the paper-folding art as adults. How about applying it to interior design?
Along with adding flashes of color to a room, I find that origami can give your life a little lift with small decorations you can change with the seasons.
"The good thing about origami is that anyone can try their hand at it right away," says Kazuo Kobayashi, director of the Ochanomizu Origami Kaikan museum in Bunkyo Ward, Tokyo. "So why not try decorating your room with it?"
Turning a piece of paper into a three-dimensional piece of art by folding it also transforms it into a decorative item with a strong presence. This is different from what we did as children, and is something that can be appreciated as adults.
Among the origami that Kobayashi recommends is "kusudama," or decorative balls, which have served from long ago as decorations that bring good fortune.
The basic method to make one uses 40 sheets of paper, each of which are folded into a flower-like shape. Connecting them with a string produces the kusudama sphere. Coordinating shades of the same color, such as dark blue, light blue and purple, results in a chic product.
"In Japan, there is a culture of color in which people appreciate the subtle differences in hues," Kobayashi said. "By combining different colors, we can create a space with atmosphere."
When hanging the kusudama balls from the ceiling, they gracefully swing with the airflow of the room, and don't appear out of place in Western rooms, too. Detailed instructions are available in several books, including "Kurashi ga Hanayagu Jitsuyo Origami" (Practical origami to make your life more beautiful), published by Ikeda Publishing Co. under the supervision of Kobayashi.
According to Kobayashi, origami is said to have originated around the seventh century when paper was introduced to Japan from China, and became popular among the masses during the Edo period (1603-1867). From the Meiji era (1868-1912), it became widespread after it was adopted for school activities.
"As origami came to be widely known overseas as a form of Japanese culture, it resulted in more varied works being created," Kobayashi said.
Large pieces require time and experience, but it is also rewarding to make simple items for each season that can be frequently replaced. For this season, frogs and hydrangeas are perfect. At the origami museum, there are kits on sale with instructions.

Kobayashi hopes that people will incorporate paper more into their daily lives through origami.
"The soft texture of the paper gives you a sense of tranquility," he said. "I hope people will reevaluate the beauty of paper while getting a taste of the Japanese culture of origami."
Material, design make differences
When the subject of origami comes up, it often brings to mind the 15-centimeter-square colored paper generally used at schools. But by using other materials such as Japanese washi paper, decorative items can be created with different textures.
The origami museum has a collection of about 2,000 different kinds of paper. Many brightly colored papers dyed by screen-printing and other techniques are displayed together.
In the dyeing room on the fourth floor, craftspeople dye washi with brushes, and the handmade products are available for purchase. The world of origami can only expand further with wide availability of different kinds of paper.

Add TheJapanNews to your Google News feed.